AMWAY NETWORK 21 Widow Seeks Advice
We call them AMWAY NETWORK 21 widows (or widowers) because they claim to have lost the spouses they loved to the cult-like effect the multilevel marketing (MLM) giant and its affiliated groups.  E.W. (not her real name or initials) wrote to us from Poland seeking advice on her marriage to an AMWAY / NETWORK 21 independent business owner (IBO) who is allegedly destroying the family financially and incurring crushing debt.
(UnhappyFranchisee.Com)  AMWAY International is a global Multi-Level Marketing / Direct Sales organization that offers individuals worldwide the opportunity to become AMWAY Independent Business Owners (IBOs).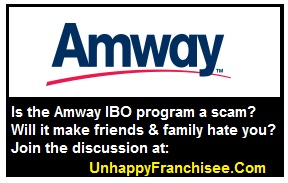 According to the AMWAY website:  "More than 3 million people worldwide are already forging their own path to success. We offer opportunities, the support of a corporation that is family owned, that is financially stable and has been in business for over 50 years."
NETWORK TWENTONE INTERNATIONAL, or Network 21, acccording to Wikipedia, "provides complete 'turnkey business support solutions' for Amway Independent Business Owners from meetings and function production including education, recognition and motivation to web applications and multi-media products designed to aid you in building a profitable Amway business."
NETWORK 21 "Empire Builders" (direct sales people / MLMers) make money selling Business Support Material (or "BSM") to fellow AMWAY IBOs ("Independent Business Owners") as well as potential IBOs.
According to detractors, both AMWAY and NETWORK 21 are predatory organizations that prey on naïve, vulnerable and/or just plain greedy individuals and lead them to financial ruin using cult-like tactics and promises of great financial wealth.  Some refer to the selling of Amway Business Support Materials as the AMWAY Tool Scam.
We have received AMWAY COMPLAINTS & numerous accounts of the devastating effects that AMWAY can have on marriages when one partner gets consumed by the fervor and comradery of AMWAY, while the other is abandoned with the cold hard reality of unpaid bills and mounting debt.  (Also see AMWAY Addiction Kills Marriage)
E.W. from Poland seeks guidance from others who have seen or lived through the marital nightmare of competing with AMWAY as "the other woman."
E.W. writes:
Good afternoon,

My name is E.W., I am writing from Poland. I'm very sorry to bother you, but I need help. I have no idea what to do. I will tell you my short story, I hope you will understand me right, my English isn't perfect…

Two years ago I met on my way life wonderful man. Chris is good, brilliant and very intelligent person with a big heart.

Three things  are most important for him: God, family and decent living conditions It is difficult to describe how big is my feeling for him.. One year ago we married and have amazing little baby.

Four months after our wedding, my dear husband told me he has some financial debts, big debts…

On the beginning I was angry for him, crying all the time because he didn't told me about such a important thing earlier. Chris promised me, he will pay off the all debts during the year. I felt his love and I trusted him. I was waiting for better ages without financial troubles…

Between the lines, what is very important, I need to say that Chris from 15 years has been active in Amway Company and Network 21.

Before I met Chris, I have never heard about Amway. I thought it is normal, conventional company like most business… I had no idea about dangerous manipulations and social engineering.

From  some time I have noticed, that Chris treats Amway and Network 21 like religion.   For him Amway is the best company that he has ever known and the only company professes the most important rules in life: God, familiy, financial freedom and to serve other people.

Chris says that Amway is like IQ TEST – if you will  understand the rules and catch the sense of Amway "plans," you have high IQ.  Well…  I have never done it.

From couple of months, I was more and more terrified of Amway philosophy, especially that I recover in Chris mobile phone that his debts are more that he declared on the beginning.

During our marriage he took credit as well, without my awareness.  Actually his debts is over 200 000 PLN (about $60 000 USD) and it is still growing up. Chris says that he hasn't still the money from Amway because he is not sufficiently  involved, so it is only his fault.

I told him we can't live in such a way longer. I worry about our future and future our son.  I told him also that he has to go abroad to earn the money and pay off all his debts, because he is not able to earn this money in Poland.

I told him that he has to choose:  Amway or me and our family. He said that I am not able to understand him and that the Amway is the only way for good live for us…

In March I have taken a decision to divorce with him, it wasn't easy for me but I leaved him.

I am distraught, I have no idea what to do… I don't want to lose him.  Please, please understand that I love him all my heart. Farther it is necessary to save a man.

What can I do???? The worst is that his mother is connected with Amway also and she hates me that I criticize this disgusting company…

Please don't live me alone, you are my only hope.

Please…

With sincerely,

E.W.
ALSO READ:
IS AMWAY A SCAM?  (1000+ Comments)
AMWAY IBOs: Why Everyone Hates You
FRANCHISE DISCUSSIONS by Company
ARE YOU A CURRENT OR FORMER AMWAY IBO OR AN AMWAY SPOUSE??  HAVE YOU BEEN INVOLVED WITH NETWORK 21 OR "AMWAY TOOL SCAM"?  SHARE A COMMENT BELOW.
TAGS: Amway, Amway Quixtar, Amway Independent Business Owners, Amway multi-level marketing Amway Direct sales, Network 21, NETWORK TWENTYONE, MLM, Direct sales, MLM scam, network sales scam, amway scam, network 21 scam, Network21, Amway Poland