CLUBSTORE OUTLET Franchise Overview
Clubstore Outlet was the hot new franchise opportunity for about a second.  Failed and struggling franchise owners have been abandoned by the franchisor, with some being crushed by debt and lease obligations.  Franchisor Tapp Palmer claims the money's all gone.  And the consultants and franchise brokers who pitched Clubstore Outlet would revolutionize retail are down the road, chasing fat commission checks from their next hot new mess. (This page serves as an index of our posts on the Clubstore Outlet franchise and Tapp Palmer). by Sean Kelly
(UnhappyFranchisee.Com)  We are inviting all those involved with the conception, planning, marketing, promotion, selling, and implementation of the Clubstore Outlet franchise launch to help us piece together exactly what happened and why.
We especially want to know:  where did all the money go, and to whom?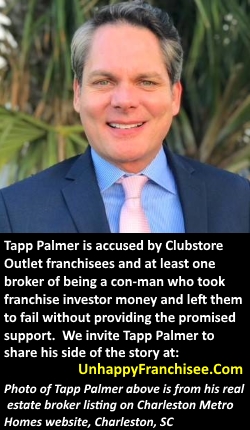 Clubstore Outlet is by no means the largest or most devastating predatory franchise scheme we've covered here on Unhappy Franchisee, but it is worthy of a thorough analysis, autopsy, and an "outing" of the players.
Because of the meteoric launch and rapid collapse of the Clubstore Outlet dream and scheme – which happened over the course of only about 2.5 years – and because of its limited size, players and factors, it can potentially provide a succinct case study and a revealing look into how and why a segment of the franchise industry focuses on launching and selling "hot new franchises" by companies without the capital, experience, wherewithal and sometimes even the intention of remaining in business even medium-term.
Who makes money gaining the trust of mom & pop franchise investors, convincing them to go all-in on an unproven, untested scheme with no track record?
How much lucre do they extract from the house of cards before it collapses?  And why are they not at risk of civil or even criminal repercussions?
What follows is an index of sorts of our investigative posts on Clubstore Outlet… very much a work in progress.
Are you familiar with Tapp Palmer, the Franserve brokers and the Clubstore Outlet franchise scheme?  Please share your information and opinions (anonymous is fine) with a comment below or by emailing ADMIN at UnhappyFranchisee[at]gmail.com.
Clubstore Outlet Franchise:  What Happened?
It appears that 20 franchisee-owned Clubstore Outlet discount retail stores opened since the franchise launched in 2015.  Franchisor Tapp Palmer claimed he ran out of money and is not providing the franchise support he owes franchise owners.  By our count, 11 franchise stores have closed and the 9 remaining are struggling to survive on their own without the support they paid for.
The Clubstore Outlet chain may have blown away without notice if it weren't for a few brave and outspoken franchise investors such as Bruce & Cindy Schooley of Neenah, Wisconsin who have sued Tapp Palmer and gained media attention.  Others have sought to warn others by posting comments on this and other websites.
Here's our first overview, and a call for comments and information:
TAPP PALMER, Clubstore Outlet Franchise: What Happened?
To Paid Consultant Chris Conner, Clubstore Outlet Was a Success
It turns out that the Tapp Palmer's franchise development consultant was Christopher Conner and  Franchise Marketing Systems (FMS).  Read about Christopher Conner and why he was banned from engaging in franchise-related business for 5 years by the California Department of Business Oversight:
CLUBSTORE OUTLET: Chris Conner, Franchise Marketing Systems (FMS) Success Story?
Did Tapp Palmer Have a $275,000 Meal & Travel Spree?
How does a small start-up franchisor blow through millions of franchisee money in a short amount of time?  How did Tapp Palmer even spend $275,000 on meals and travel in 2006 alone?  And who else got a share of the Clubstore pirate's booty?
TAPP PALMER Clubstore Outlet: Where'd the Money Go?

What Role Did Franserve Franchise Brokers Play in the (Alleged) Clubstore Outlet  Scam?
Chris Conner of Franchise Marketing Systems claims credit for the strategy of using highly commissioned franchise brokers to hype and pitch Clubstore Outlet individual and area development franchises.  From the pack of commissioned brokers, Kim Marinoff was the queen… and was named Chief Development Officer in Summer 2017, and kept pitching even after things were going horribly wrong:
KIM MARINOFF Franchise Consultant & Broker
FRANCHISE BROKERS LIE: The Kim Marinoff Story (Video)
KIM MARINOFF Responds to Criticism on UnhappyFranchisee.Com
Kim Marinoff STILL Telling The Franchise Lie (Coming Soon)
NOTE:  Companies and individuals discussed on UnhappyFranchisee.Com are invited to provide corrections, clarifications, rebuttals and alternative points-of-view by posting a comment below or emailing us in confidence at UnhappyFranchisee[at]gmail.com.
ARE YOU FAMILIAR WITH TAPP PALMER, KIM MARINOFF & THE CUBSTORE OUTLET FRANCHISE?   PLEASE SHARE YOUR OPINION AND/OR YOUR STORY BELOW.
ALSO READ:
FRANCHISE DISCUSSIONS by Company
READ The Series "Dr. John Hayes' Franchise Fraud School & Pay-For-Praise Emporium!": Dr. John Hayes' Franchise Fraud School
TAGS: Clubstore Outlet, Clubstore Outlet, Clubstore Outlet franchise, Tapp Palmer, Kim Marinoff, franchise brokers, franchise consultants, franchise coach, franchise advisor, IFPG, Franchise Brokers Association, Kathy Hylton, Pamela Currie, Jerry Rieder, Dennis Martineau, attorney Pete Dosik, Shary Thur, Thur Retail, Christopher Conner, FMS, Franserve, Franserve franchise brokers, International Franchise Professionals Group, unhappy franchisee