UBuildIt: Jon Gruden Would be a Safer Hire Than David Rutkauskas
Bob Brauderick:  If you need a franchise salesman to hawk the UBuildIt franchise opportunity, disgraced former Raiders Coach Jon Gruden would be a safer choice than David Rutkauskas. 
Jon Gruden didn't tweet his racist, misogynistic, homophobic messages publicly. 
Gruden's mansion doesn't have 3 mortgages and a foreclosure action against it.
And, finally, Jon Gruden has a track record of success.
Full Disclosure:  Former CEO of Beautiful Brands, Inc. David Rutkauskas once sued our former website FranchisePick, doxxed our publisher, and Twitter-attacked him with a barrage of nasty, racist, sexist, misogynistic  and, inexplicably, antisemitic slurs.  Mr. Rutkauskas later dropped the suit & issued a public apology.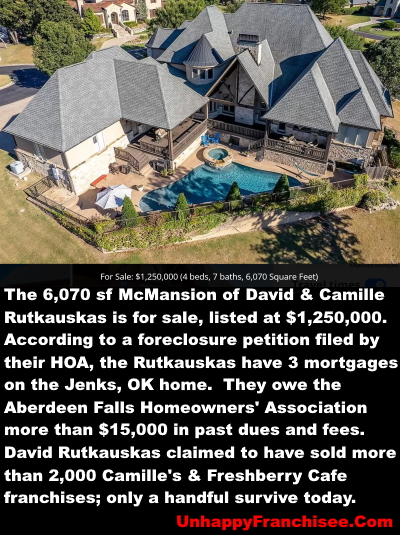 (UnhappyFranchisee.Com) The Las Vegas Raiders may regret their decision to have hired the likely sexist, racist and homophobic Jon Gruden as their head coach.
However, the Raiders' risky hiring decision looks downright enlightened compared to UBuildit CEO Bob Brauderick's decision to bring on David Rutkauskas as franchise salesman.
While Jon Gruden's offensive emails might have remained private, Rutkauskas' slurs on every group from Jews to African Americans to the LGBTQ community are already public (see below).
Rutkauskas tweeted them, for heaven's sake.
And while both Gruden & Rutkauskas built gaudy mansions, Gruden could afford his.
According to a public foreclosure petition, Rutkauskas has 3 mortgages on his Tulsa McMansion and owes his HOA more than $15,000 in unpaid dues and fees.
The Raiders obviously justified the risk of hiring Gruden because he has a winning track record.
Rutkauskas has a track record of selling franchises that either never opened or opened and failed.
David Rutkauskas claims to have had 1000+ Camille's Sidewalk Cafes franchises, 1000+ Freshberry Yogurt Cafes, 30 Coney Beach hot dog joints and numerous Rex's Chicken franchises open or in development in the past 15 years.
Today, there appear to be less than 10 surviving Camille's, 3 U.S. Freshberry locations, no Coney Beachs and 1 Rex's Chicken location.
In 2013, David Rutkauskas Unleashed a Twitter Storm of Attacks on a Journalist Who Exposed Debunked His False Success Claims
David Rutkauskas Public Tweets
Include…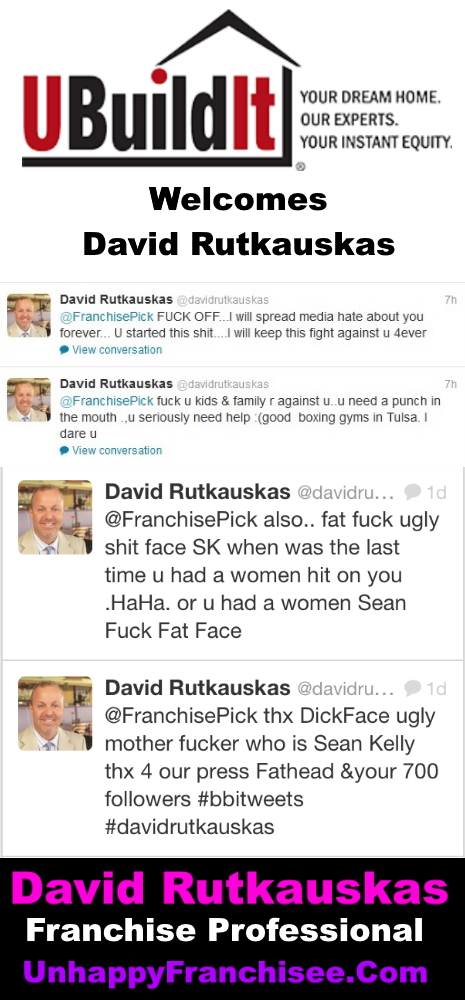 Anti-Semitic Slurs…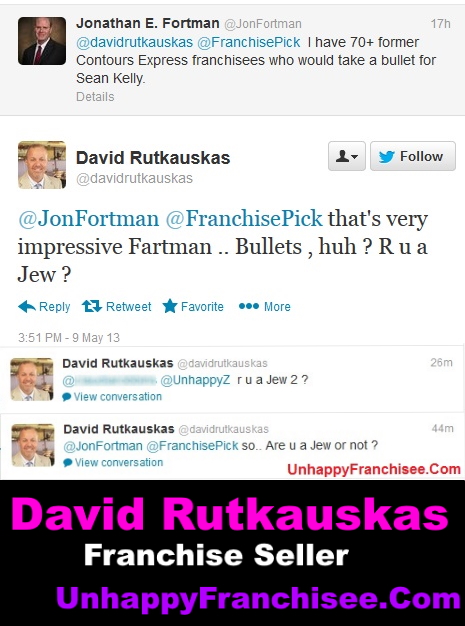 Anti-Gay Slurs…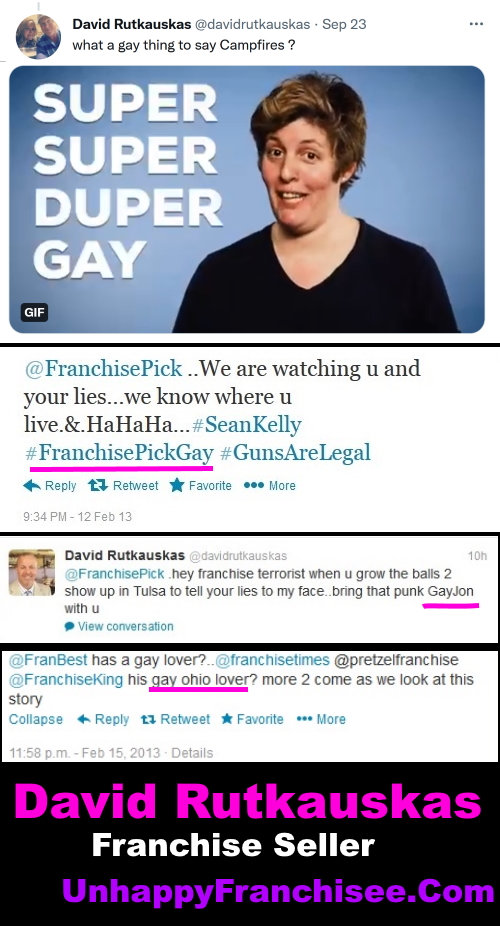 Racist Slurs…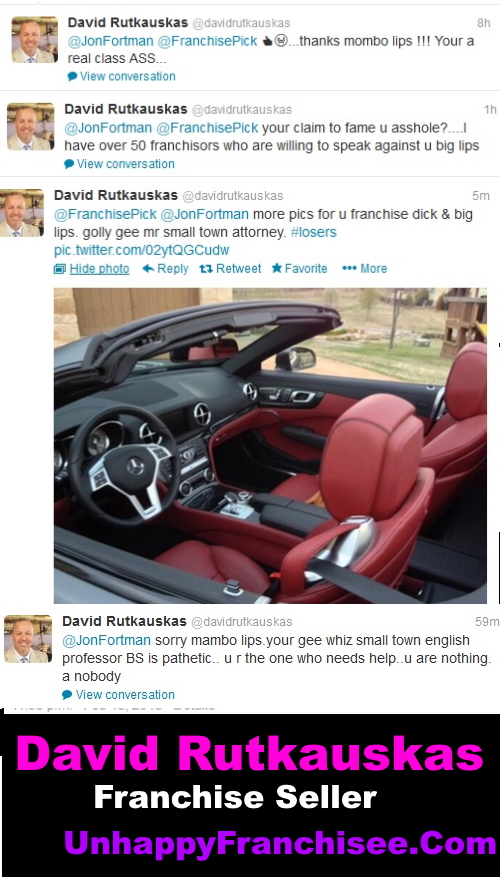 Braggadocio…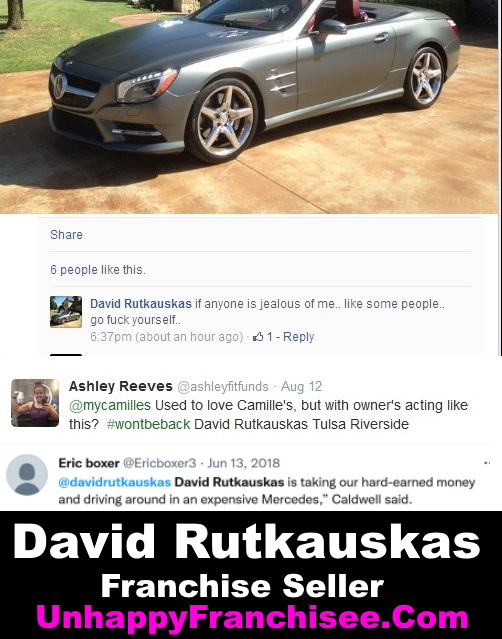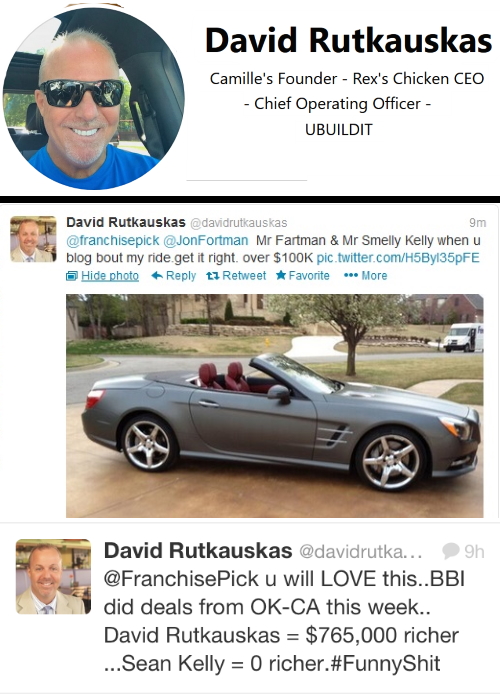 UBuildIt Discloses David Rutkauskas as Franchise Seller
Along with their 2021 California Registration, UBuildIt's Bob Bausman filed a Sales Agent Disclosure Form naming David Rutkauskas As Franchise Seller.
FRANCHISE SELLER DISCLOSURE FORM [CALIFORNIA]

1. List who will solicit, offer or sell franchises for the Franchisor in this state:

A. Name: David Rutkauskas

B. Business address and telephone number: 10720 South Fir Place, Tulsa, OK 74037, 918-850-6762

C. Present employer: DCR Management, LLC; Rex's Chicken; Camille's Cafe

D. Present title: Owner

E. Employment during the past five years.

For each employment, state the name of the employer, position held, and beginning and ending dates:

| | | | | | |
| --- | --- | --- | --- | --- | --- |
| Employer | Position | Start Date | End Date | Location | OK Corporation Status* |
| DCR Management LLC | Owner | 01/2016 | Current | Tulsa, OK | Inactive |
| Rex's Chicken | Owner | 06/2008 | Current | Tulsa, OK | OTC Suspension |
| Camille's Café | Owner | 10/1996 | Current | Tulsa, OK | OTC Suspension |
| | | | | | |

According to the OK Secretary of State website, most of the corporations related to David Rutkauskas' stated employers are either Inactive or Suspended.
Corporation
Registered Agent
Start Date
Status
Registered Agent
DCR Management LLC
3512535003
29 Dec 2015
Inactive
DAVID R RUTKAUSKAS
CAMILLE'S SIDEWALK CAFE, INC.
1900679689
10 Jul 1996
OTC Suspension
DAVID R RUTKAUSKAS
CAMILLE'S FRANCHISE SYSTEM

HOLDING, INC.

1900679722
26 Dec 2001
OTC Suspension
CAMILLE'S INTERNATIONAL, L.P.
3312057585
3 Jan 2005
Cancelled
DAVID R RUTKAUSKAS
REX'S CHICKEN, INC.
1912165995
11 Jan 2008
OTC Suspension
Robert B. Sartin
REX'S FRANCHISE SYSTEM, LLC
3512207687
14 Oct 2008
In Existence
Robert B. Sartin
UBuildIt Was Once Named A "Worst Franchise" Opportunity by Forbes
UBuildIt once has over 100 franchises, but has been in steady decline.
In 2014, Forbes named UBuildIt to its list of worst franchise opportunities.
According to Entrepreneur, the Oklahoma-based UBuildIt had declined to 81 franchises by 2017 and fell to just 51 franchises by 2020… a 37% decline in just 3 years.
Now that the two Oklahoma salesmen have joined forces:  Franchise investors beware.
ALSO READ:
David Rutkauskas Apologizes, Will Drop Lawsuit
BEAUTIFUL BRANDS David Rutkauskas Admits to Franchise Failures
David Rutkauskas & Camille Rutkauskas Foreclosure Petition Rutkauskas HOA Foreclosure 2021 (PDF)
UBuildIT Rated a Worst Franchise by Forbes. Do You Agree?
UBuildIt Responds to Forbes Worst Franchise List
FRANCHISE DISCUSSIONS by Company
ARE YOU A UBUILDIT FRANCHISE OWNER OR FORMER BBI FRANCHISEE?  ARE YOU FAMILIAR WITH THE DAVID RUTKAUSKAS, BOB BRAUDERICK, OR THE UBUILDIT FRANCHISE OPPORTUNITY?  SHARE A COMMENT BELOW.
TAGS: Jon Gruden, Jon Gruden emails, David Rutkauskas, Camille Rutkauskas, Beautiful Brands, UBuildIt, UBuildIt franchise, Bob Brauderick, franchise bullying, franchise opportunity, franchise complaints, Aberdeen Falls Homeowners Association, Rutkauskas Foreclosure, franchise opportunity, franchise complaints, unhappy franchisee