David Rutkauskas' FRESHBERRY Franchise Closures [UPDATED]
Originally published March 5, 2015
In the early 2000s, Tulsa franchise seller David Rutkauskas created the illusion that the franchise concepts under his Beautiful Brands umbrella were highly successful and growing.
With the help of eager local publications, like Tulsa World and The Journal Record, and restaurant industry trade publications like QSR & Fast Casual, Rutkauskas was able to publish exaggerated expansion numbers in press-releases dressed up as legitimate news.
One of Rutkauskas's favorite techniques was to sell a franchisee the option to open a number of units in a given area, and then count those options as franchises that were "in development."
This created the illusion of growth that far exceeded reality.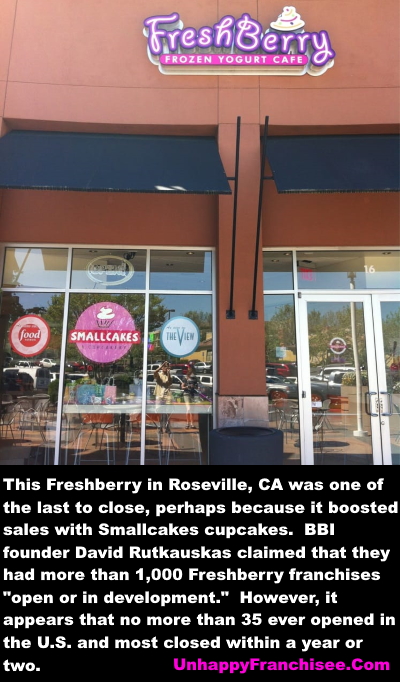 Partners in Illusion: How Local & Trade Media Helped Rutkauskas Sell the Dream
FreshBerry frozen yogurt franchise opportunity was aggressively marketed and sold by David Rutkauskas & Beautiful Brands International (BBI).
News stories created the impression that BBI's Freshberry Frozen Yogurt Cafe was hugely successful, with more than 1,000 locations being actively developed worldwide.
In reality, we believe that Freshberry never opened more than 35 or so U.S. locations, and many of those closed within a few years.
Adding to the exaggeration was the fact that many that they counted as full locations were actually co-branded with Smallcakes cupcake franchise, as neither seemed to be viable on their own.
As of 2021, but three Freshberry-branded stores have closed or rebranded, and its likely they have no contact with the franchisor.
On November 30, 2010, The Journal Record stated:
"There are now 35 FreshBerry Frozen Yogurt Cafes open, 12 under construction, and more than 1,000 units in development in Oklahoma, Colorado, New Mexico, Kansas, Missouri, Arkansas, Texas, Louisiana, South Carolina, California, Arizona, New York, Nevada, Florida, Saudi Arabia, Bahrain, Qatar, Kuwait, Oman, the United Arab Emirates, Jordan and Egypt."  ("Freshberry to open in Portugal, Venezuela")
As of 10/14/21, it appears that out of a total of 31 U.S. franchise locations, 28 Freshberry locations have closed and only 3 remain open.
Some of the most recent closures had been listed for sale, unsuccessfully, at prices well below the estimated start-up costs of $165,750 to $386,200.
In our opinion, Beautiful Brands did a masterful job getting publications such as Tulsa World, QSR & Fast Casual to promote FreshBerry as a franchise success story.
However, it appears to UnhappyFranchisee.Com that BBI has sold hundreds of FreshBerry franchises that have not opened – and never will.
Of course, we are drawing this information from publicly available sources (the company franchise disclosure document, websites, articles).  We have asked the company for verification of accuracy and completeness, but have not yet heard back from them.
Nearly All FreshBerrys Franchise Locations Closed Prematurely

According to the 2012 FreshBerry Franchise Disclosure Document, the total investment necessary to open a FreshBerry franchise unit is $165,750 to $386,200,  including a $25,000 franchise fee and a $5,000 to $6,000 for materials, payable to BBI.
Each FreshBerry franchise closure potentially could represent the loss of the approximately $165,750 to $386,200 initial investment, and also the capital added while trying to keep the business open, a settlement with the landlord on the remaining lease term, and other expenses and liabilities.  It could mean personal bankruptcy and loss of assets and credit scores for the franchisee.
Investigation by UnhappyFranchisee.Com has revealed that the number of FreshBerry franchises that have closed has reached the number that are open:
FreshBerry Stores Open (US)*
Freshberry  Stores Closed (US)*
NV  Reno

NV  Sparks

NC  Raleigh (Hillsborough St.)

AZ  ScottsdaleCA  Bakersfield…

CA  Carson City

CA  Fremont

CA  Roseville

CO  Denver

FL  Bradenton (new owner)

FL  Hialeah

FL  Miami (Flagler St.)

FL  S. Miami  (SW 57th Ave)

FL  Orlando

FL  Wellington

IL  Chicago  (E. Ontario)

LA  Marrero

NC  Charlotte

NC  Mooresville

NC  Raleigh (Six Forks Rd.)

NC  Wilmington (Market Street)

NC  Wilmington (Univ. Commons)

OK  Jenks

OK  Stillwater

OK  Tulsa (11085 S. Memorial)

SC  Charleston


SC  Mount Pleasant


SD Rapid City

TX  Dallas (Park Lane)

TX  Houston  (Vintage Pk Blvd)

TX  Farmer's Branch/Dallas

Updated 10/14/21
Hundreds of FreshBerry franchises were reportedly sold, but not opened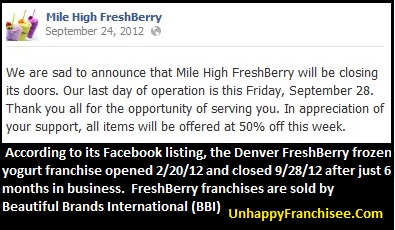 For years, we have read the gleeful announcements of huge expansion deals and franchise packages sold by Beautiful Brands, yet haven't seen much about the franchise units ever opening.
On 12/23/09, QSR wrote that BBI announced that it would be expanding into Virginia & Maryland through a 100 unit franchise expansion deal.
"Virginia and Maryland are a big part of our overall expansion strategy," David Rutkauskas, Beautiful Brands founder, president, and CEO, was quoted as saying.
As of 1/10/13, the number of FreshBerry locations open in Virginia and Maryland is 0.
April 1, 2010, BBI announced a franchise deal to open 275 Freshberry franchises and 275 Rex's Chicken franchises throughout throughout Oklahoma, Colorado, New Mexico, Kansas, Missouri, Texas, and Arkansas.
"Without a doubt, this is the largest deal in BBI's history," David Rutkauskas told QSR magazine. "The appeal of both concepts tops the charts as golden opportunity franchises and solid investments in two clearly defined industry segments."
As of 1/10/13, the number of FreshBerry locations open in Oklahoma (1), Colorado (0),  New Mexico (0),  Kansas (0),  Missouri (0), Texas (1),  and Arkansas (0) is 2.
Rex's Chicken has 1 company store in OK, and 0 in the other states mentioned.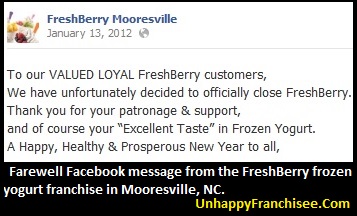 6/17/10, BBI announced "a major five-state development deal between BBI and Frozen Dreams Franchise Group (FDFG), which calls for at least 300 new FreshBerry Frozen Yogurt Cafés within Central California, Northern California, Arizona, Nevada, Idaho, and Utah. "
QSR quoted David Rutkauskas as saying "We're thrilled to be partnering with Frozen Dreams to reach this geographical milestone and continue making our western growth strategy a sweet success."
As of 1/10/13, two and a half years later, the number of FreshBerry locations open in California (3), Arizona (0), Nevada (2), Idaho (0), and Utah (0) is 5.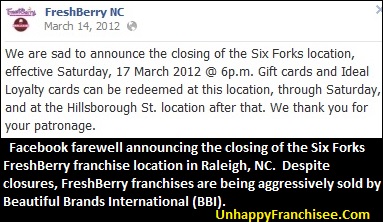 In 2010 & 2011, QSR magazine repeatedly reported that Beautiful Brands International had more than 1000 FreshBerry franchises "in development."
As of 1/10/13, the FreshBerry website lists 16 U.S. Freshberry locations and 26 International FreshBerry locations:  a total of 42 locations.
What happened to the more than 958 locations that were announced, then never mentioned again?
UnhappyFranchisee.Com extends its condolences and best wishes to the owners and staff of the closed FreshBerry franchises, and to the investors in FreshBerry franchises that never opened.
* Estimated, as of 4/24/14.  We have asked the company for verification of accuracy and completeness, but have not yet heard back from them.  Some stores may have gone independent & rebranded rather than closed completely.

ALSO read about CHERRYBERRY Franchise Closures 2012
ARE YOU A FRESHBERRY FRANCHISE OWNER OR FRANCHISEE? 
ARE YOU FAMILIAR WITH THE FRESHBERRY FRANCHISE OPPORTUNITY OR BEAUTIFUL BRANDS? 
SHARE A COMMENT BELOW.
DISCLAIMER:  Our posts contain the personal opinions of UnhappyFranchisee.Com, based on publicly available information… and we could be wrong about anything and everything.  We invite our readers and the companies we discuss to set us right.
TAGS: FreshBerry, FreshBerry Frozen Yogurt, FreshBerry franchise, FreshBerry Frozen Yogurt Franchise, Froyo, Froyo franchise, Frozen Yogurt franchise, Beautiful Brands International, David Rutkauskas, franchise failures, franchise closures, franchise graveyard, Unhappy Franchisee, QSR magazine, Fast Casual, Tulsa World