THE MAIDS Franchise Marketing: Misleading or Uninformed?
THE MAIDS Franchise Marketing:  Is it intentionally misleading?  What do you think?
(UnhappyFranchisee.Com)  The Maids franchise pitch states that you don't have to worry about losing your $200K investment with The Maids because "Franchises have a success rate of approximately 90% as compared to only about 15% for businesses that are started from the ground up."
The only problem is:  It's not true.
The "90% franchise success rate" (we call it The Franchise Lie) has long been discredited as a dangerous fiction.
It's a favorite tool of the franchise fraudster and snake-oil salesman.
In fact, even the International Franchise Association (IFA) issued a letter to its members instructing them to discontinue any reference to that blatant whopper.
In the IFA letter, published nearly 10 years ago, then-President Matthew Shay wrote:
We strongly urge you to remove any information from your Web site and published materials that make such a claim.

The use of such data, in the absence of current research, could mislead prospective franchisees who are attempting to conduct responsible investigations.
The Maids franchise website includes a link to the supposed source of its claim.
The link leads to a general index of franchise articles on About.Com.
We clicked on one of the article links, only to read this by Michael Seid:
Years ago, franchisors regularly claimed success rates based on studies conducted by the Department of Commerce, the Small Business Administration, or Dun & Bradstreet… You won't see these studies quoted any longer and if you do, I would avoid that franchisor.
Interestingly, The Maids links to a website that basically instructs you to avoid The Maids franchise!
Are you familiar with The Maids franchise company and/or The Maids franchise opportunity?  Please share your opinion with a comment below (anonymous is fine).
The Maids:  Remarkably Clueless?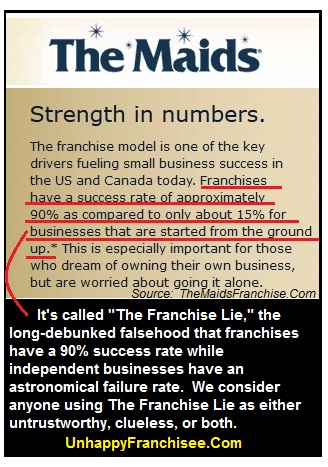 In the constitutionally protected opinion of UnhappyFranchisee.Com, the team charged with marketing and selling The Maids franchise opportunity (requiring an investment of $200,000) is either intentionally misleading or remarkably uninformed.
The Maids may claim that they are remarkably uninformed…
That they somehow didn't get the memo from their own franchisor association…
That the full extent of their franchising knowledge is what they read on About.Com…
Or that prolonged inhalation of cleaning fluids has impaired their cognitive functions…
Yet, while being uninformed is not an admirable trait in a franchisor, it may be better than the alternative… blatant dishonesty.
The Maids:  Intentionally Misleading?
At UnhappyFranchisee.com, we get a little touchy when we suspect a franchise company is trying to minimize or even lie about the risks associated with buying their franchise.
We've seen homes lost, retirement accounts drained, marriages and even lives ended.
We think that the very least a franchise company can do is be honest about the fact that a significant number of franchises fail every year, and that if a franchisee and/or his/her family will be devastated if they fail, they should not invest.
We have no hesitation in calling out the individuals who are collecting commission checks and/or salaries derived from fraudulently obtained franchise fees and royalties.
So we pose this question to The Maids International executives Daniel I.Bishop (Chairman of the Board and Director), Colin M. Bishop (President and Chief Executive Officer and Director) and  Ronn Cordova (Vice-President Franchise Development), which is it:
Is The Maids franchise marketing intentionally misleading?  Or are they remarkably uninformed?

We will let you know what they say.
In the meantime, please share your opinion below.
ALSO READ:
FRANCHISE DISCUSSIONS by Company
ARE YOU FAMILIAR WITH THE MAIDS FRANCHISE OPPORTUNITY OR THE MAIDS INTERNATIONAL?  SHARE A COMMENT BELOW.
TAGS: The Maids, The Maids franchise, The Maids franchise opportunity, The Maids franchise complaints, The Maids franchise lawsuit, The Maids failure rate, The Maids International, Daniel Bishop, Colin M. Bishop, Ronn Cordova, The Franchise Lie, Franchise Success Rates, Franchise Failure Rates, unhappy franchisee