THE MAIDS Franchise Complaints
The Maids franchise complaints include ineffective marketing, a murky failure rate, having to sell a price-driven, commodity service, and misleading franchise marketing.
Are you familiar with The Maids franchise opportunity?  What do you think?  Share your experience – positive or negative – below.
(UnhappyFranchisee.Com)  The Maids franchise opportunity has inspired a website by the former owner of a failed franchise in Houston.
It's called The Maids Franchise Startup Failure and it's written by a The Maids franchise owner named Ron who claims to have lost nearly half a million dollars with this venture.
Ron and his wife were successful franchisees of another concept, and Ron's background as a Chemical Engineer is evident in his detailed analysis of what went wrong.
We have included some excerpts of his assessment of The Maids franchise.  Please include yours below.
The Maids Complaint:  Franchise Failure is Costly
Ron and his wife suffered a devastating financial loss with their franchise:
We closed the doors having spent almost half a million dollars and 18 months of the hardest work of our lives and will be paying that SBA loan for 7 years.  If you want to burn a lot of money and work your butt off, The Maids is (on the basis of our experience) an excellent choice.
Despite The Maids marketing mantra "As a franchisee with The Maids, you are never alone," Ron claims The Maids was indifferent to his plight:
…there was no communications with The Maids in Omaha once they learned we were going to shutdown the business.   In my naive manner, I expected them to be at a minimum sympathetic.  After all, a Franchisee had lost over $400,000 which is a life altering experience for most anyone.
The Maids Complaint: a Low-Margin, Commodity Product
Ron writes:
Based on my personal discussions with customers when providing quotes, I believe our business is a "commodity" in our marketing area.

People only care about costs.

What you tell them about quality of the clean you deliver doesn't mean anything to most.

I do not think that growing a customer base in our marketing area is possible using prices that would allow us to be profitable.

Put another way, we have been trying to accomplish the impossible.
The Maids Complaint: Franchise Failures Are Hidden
Ron writes that The Maids franchise failures are not evident to prospective franchisees, since the territories are often taken over by adjoining franchisees rather than being "closed."
For instance, Ron's total investment was $400,000, but since he received a $30,000 "fire sale" payment from another franchisee for his territory, his franchise was technically "transferred," not closed.
Writes Ron:
While we were performing investigation of advisability of investing in a The Maids Franchise, we didn't see a lot of examples of failed attempts.  Now we think we understand the reason for that situation.  The disappearance of The Maids Of SW Houston which was our business name will never appear anywhere.  Because we desperately needed money we "gave" the rights to Fort Bend County to an existing franchisee along with all operating equipment and supplies for $30,000.  The only change that will occur in company statistics is significant growth of the existing franchise.  This is conjecture but I suspect there have been many other situations precisely like ours where a franchise just disappeared when in reality it failed dismally.
The MaidsComplaint:  Difficult Manpower Challenges
Ron wrote:
From the beginning, we faced very difficult manpower challenges.  We hired a Field Manager and a person designated as Team Leader and took them to corporate training with us.  Both were terminated within 6 weeks of beginning startup.  Locating employees was challenging, problems were many and turnover was high… At the end of 18 months, we had lost over $400,000, monthly losses were around $5,000 per month with negative cash flow of $8,000 per month so we decided to discontinue operation.
The MaidsComplaint: Ineffective Marketing
Ron complained that marketing campaigns designed by The Richards Group were implemented despite being demonstrably less effective than previous materials.
He wrote:
During the summer of 2013, as I frantically looked for the cause of the revenue flat line, I thought about the new material and wondered whether it contributed to our business downturn.   We conducted a test sending 1000 of the classic designed every door direct mail and 1000 of the new stuff to the same neighborhood and used tracking phone numbers to record performance.  The original marketing material outperformed the new stuff by a factor of 4 to 1.   After I sent an email to a franchisee who was attempting to help us identify the cause of our problems, he forwarded my email to the responsible person in the Marketing department  in Omaha.  She replied saying something like "3 to 5 years will be required for acceptance of the new Marketing concepts"…  we did not have "3 to 5 years".   We needed a solution now.
The Maids Complaint:  Misleading Franchise Marketing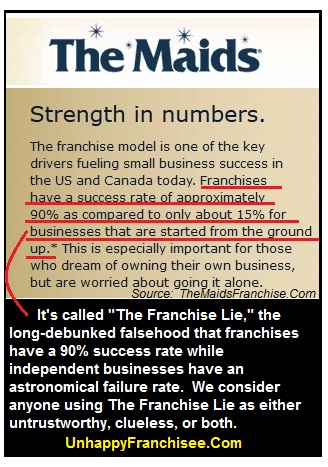 OK, this complaint comes from UnhappyFranchisee.Com and is illustrated here: THE MAIDS Franchise Marketing: Misleading or Uninformed?
The Maids franchise marketing website states the bogus and widely discredited claim that "Franchises have a success rate of approximately
90% as compared to only about 15% for businesses that are started from the ground up."
We believe it's in everyone's best interest for franchisees to make this important investment having a realistic understanding of the risks of franchising, and the consequences of failure.
ALSO READ:
FRANCHISE DISCUSSIONS by Company
ARE YOU FAMILIAR WITH THE MAIDS FRANCHISE OPPORTUNITY OR THE MAIDS INTERNATIONAL?  SHARE A COMMENT BELOW.
TAGS: The Maids franchise, The Maids franchise opportunity, The Maids franchise complaints, The Maids franchise lawsuit, The Maids failure rate, The Maids International, Daniel Bishop, Colin M. Bishop, Ronn Cordova, The Franchise Lie, Franchise Success Rates, Franchise Failure Rates, unhappy franchisee