NORRIS McLAUGHLIN P.C. Joins NYC Bagel Scam Team
Norris McLaughlin Law Firm has now joined the NY Bagel Cafe aka NYC Bagel Sandwich Shop franchise scam team.  Norris McLaughlin NJ attorneys Steven J. Reed & Anthony Caruso are reportedly threatening legal action against at least one victim of the illicit NYC Bagel scheme.
(UnhappyFranchisee.Com)  Joe Smith, Dennis Mason and the NY Bagel Scam gang have a new partner on the team:  Bridgewater, NJ based Norris McLaughlin attorneys Steven J. Reed and Anthony Caruso.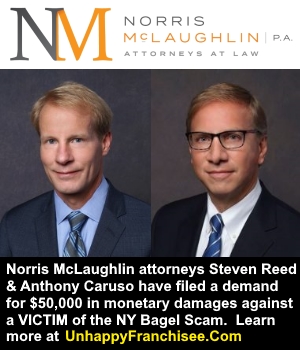 According to documents shared by an undisclosed source, Steven J. Reed and Anthony Caruso have filed a demand for arbitration with the American Arbitration Association against a victim of the NY Bagel Scam.
The demand specified monetary damages of $50,000 as well as additional non-monetary relief, including declaratory relief.
The victim is a widowed woman who answered a Craig's List ad for a NY Bagel Cafe franchise opportunity.
A smooth-talking franchise salesman, who identified himself as "Brian Scofield," convinced the woman to fedex a check for $27,500 to a mail drop in Whitehouse Station, New Jersey.
Some time after sending her check (but before opening her store), she learned some disturbing things about NYC Bagel Sandwich Shop, CEO Joe Smith, and Brian Scofield.
One surprise was that Brian Scofield does not exist.  Brian Scofield is an alias of a notorious franchise salesman named Dennis Mason.  Brian Scofield is one of several aliases used by Mason to hide his checkered past of franchise lawsuits, bankruptcies, and legal investigations and complaints.  NYC Bagel was required by FTC regulations to disclose this information to the victim prior to signing an agreement, but did not.
Another surprise was that the company had also neglected to disclose it many prior franchise failures, closures, civil lawsuits, unpaid judgements and enforcement orders made by state franchise regulators who determined that Joe Smith and Dennis Mason engaged in deceptive and fraudulent franchise practices.
The NYC Bagel Sandwich Shop victim learned that she had not been provided with a Franchise Disclosure Document (FDD) as required by the Federal Trade Commission, and that the franchise agreement she was given did not appear to have been signed by Joe Smith.
The victim's attorney notified Joe Smith that they were now aware of his fraudulent practices, and that her client would not be moving forward with the development of the NYC Bagel Shop franchise.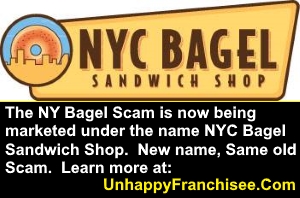 In an dazzling act of chutzpah, Joe Smith (assumedly) directed Norris McLaughlin to file the arbitration complaint with the American Arbitration Association (AAA).
Apparently, defrauding victims into sending them $27,500 under false pretenses is no longer good enough  for Joe Smith and the NYC Bagel Sandwich Shop gang.
They now want to create as much turmoil and extract every last dollar they can.
And apparently, attorneys like Steven Reed and Anthony Caruso are all to happy to help… likely for a percentage of the spoils.
Does Norris McLaughlin Harass Scam Victims by Advancing Groundless Claims?
In its "Principles of Professionalism," the New Jersey Commission on Professionalism in the Law (NJCOP) states:
A lawyer should conduct himself or herself with dignity and fairness and refrain from conduct meant to harass the opposing party. A lawyer should not advance groundless claims, defenses objections, arguments and positions.
UnhappyFranchisee.Com has sent a letter to Norris McLaughlin Chairman John Vanarthos, asking how he justifies what appears to be a groundless claim intended to harass and silence a scam victim.
We asked:
…considering that SMS Franchise LLC could not have furnished the most basic legal requirement for the sale of a franchise (a valid Franchise Disclosure Document or FDD), do you believe that attorneys Steven J. Reed and Anthony Caruso had reasonable grounds for filing an arbitration demand against a scam victim?

"And if there weren't sufficient grounds for this act of legal aggression, what other purpose could there have been other than a desire to harass and/or silence victims?

Is Norris McLaughlin's role as victim harasser and intimidator a deliberate profit center (area of practice) for the firm, or an indication that attorneys like Steven J. Reed and Anthony Caruso are not required to do a modicum of due diligence (or independent thinking) before launching baseless litigation?
We will continue to reach out to Norris McLaughlin P.C. and attorneys Steven J. Reed and Anthony R. Caruso for clarification of their actions on behalf of NYC Bagel Sandwich Shop and the NY Bagel Scam, and whether they will continue this type of litigation in the future.
If you or someone you know has sent money for a NYC Bagel and Sandwich Shop franchise, please contact UnhappyFranchisee[at]Gmail.com or NYBagelFranchiseScam[at]Gmail.com on a confidential basis.
ALSO READ:
NY Bagel Scam website
NY Bagel Scam links on Unhappy Franchisee
NY BAGEL CAFÉ Franchise: How Many Have Closed? [UPDATED]
NY Bagel Café Franchise Scam Overview
FRANCHISE DISCUSSIONS by Company
ARE YOU FAMILIAR WITH NORRIS McLAUGHLIN LAW FIRM,  STEVEN REED, ANTHONY CARUSO, THE NY BAGEL CAFE aka NYC BAGEL SANDWICH SHOP aka NEW YORK BAGEL SCAM, JOE SMITH, DENNIS MASON (AKA BRIAN SCHOFIELD)?  PLEASE SHARE A COMMENT BELOW.
TAGS: Norris McLaughlin P.C., Attorney anthony Caruso, Attorney Steven Reed, Attorney John Vanarthos, Norris McLaughlin law firm, NYC Bagel & Sandwich Shop, NY Bagel Cafe, NY Bagel Cafe & Deli, NYC Bagel, NYC Bagel & Sandwich Shop, New York Bagel Cafe, NY Bagel Franchise, Joe Smith, Joseph Smith, Dennis Mason, Brian Scofield, NY Bagel Scam, NYC Bagel Scam, New York Bagel Scam, Craigslist Scam franchise, NY Bagel Cafe franchise opportunity, NY Bagel franchise, NY Bagel franchise opportunity, franchise complaints, unhappy franchisee