ARTISTWORKS Auto-Renew Complaints – Share Yours
Artistworks provides impressive online musical instruction programs that combines guidance from top musicians, innovative multimedia teaching aids, and a "unique social online learning environment."  Unfortunately, some contend that Artistworks uses misleading and deceptive "sales" techniques and a sleazy auto-renew policy to secretly extract the hard-earned dollars of unsuspecting customers. by Sean Kelly
(UnhappyFranchisee.Com)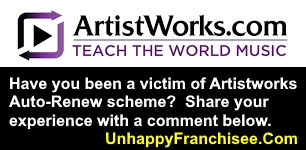 As a Christmas gift last year, my wife gave me the go-ahead to sign up for the online music school called Artistworks.
The Artistworks website offered three membership options during sign-up:  3 months, 6 months and a 1 year.
Last November, I chose the three month option for $99 and used it until the end of the February when my three month subscription concluded.
It was a pretty impressive program and the three months provided plenty of instruction to work on for the remainder of the year.  I planned to maybe sign up for another three month program some time in the future.
In August, my wife noticed another $99 charge from Artistworks on my debit card.  We looked back through past statements and found a total of three unauthorized $99 total charges totaling $297.00 that had gone unnoticed.
When I contacted Artistworks about the charges, I was informed that "In order to keep you learning without interruption, all of our memberships are set to renew automatically" and "we do not offer refunds."
When I forcefully pressed the matter and filled out their "special refund exception request form," "Adam" came back with the second wave of unacceptable offers, such as a partial refund, discount off services or other enticements designed for those less indignant than I.
I had to jump through numerous hoops, threaten all-out war, post a negative review, leave messages for and converse with Artistworks Product Manager Dawn Mendoza, and follow up in order to finally receive a refund of the $297.00 they took from me.
Artistworks Has Earned Dozens of Online Complaints and an "F" Rating from the Better Business Bureau
Artistworks policy of extracting unearned dollars from unsuspecting music students has helped earn the company an "F" rating from the Better Business Bureau and about two dozen scathing complaints on the TrustPilot review site in the last year alone.  Here is a sampling:
On August 30, 2018, Jeff gave Artistworks a 1-Star rating and wrote:
I canceled my subscription after my last payment, yet they billed me again.
ArtistWorks replied:
Hi Jeff,

I am very sorry to hear that you had this experience with us at ArtistWorks! We try to clearly communicate the auto renewal process to our students at the time of checkout. We are very sorry for any miscommunication that happened regarding this and we would love to resolve this billing issue in your account as soon as possible. I will email you dirctly from my personal business email, to solve this very quickly. We greatly appreciate you as a member of our community at ArtistWorks.

Best regards,

Rachel
Customer Support
July 13, 2018, William gave Artistworks a 1-Star rating and wrote:
Tried to purchase 4 months of lessons for the price of three as advertised. Charged much more than expected because of an auto-renew subscription that charged my credit card every 3 months with no notification. I will never use this website again.
ArtistWorks replied:
Hello William,

I'm really sorry for any miscommunication about your auto renewal. I'll be reaching out to you personally from my work email so we can discuss this further.

Sincerely,

Adam
Customer Support
July 13, 2018, Michael gave Artistworks a 1-Star rating and wrote:
Beware, company automatically renews subscriptions without authorizations and makes bery difficult to cancel
ArtistWorks replied:
Hello Michael,

I'm going to send you an email where hopefully we can talk more about your recent experience with us.

Sincerely,

Adam
Customer Support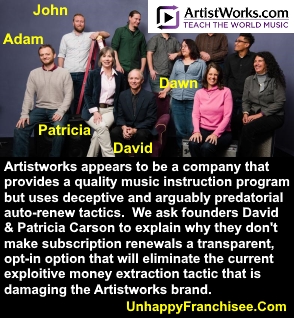 July 12, 2018, Monte gave Artistworks 1 Star and wrote:
Don't fall for automatic renewal..
Be extremely careful when signing up for lessons. By default your account is set for automatic renewal. You get no notice of up coming renewal, your credit card gets charged and in my case for an additional year, with no method to cancel. They gave me no option to cancel, just a too bad email saying read our renewal agreement. As a result, I won't ever use them again, I'm not even sure that I've opted out, no option to cancel, only able to turn off auto renewal. Wouldn't even give me the option to renew for a shorter period like 3 months.
I have no complaints with the lessons, other than not having enough time to use them. Now stuck with another year I likely won't use either.
I would give them zero stars if I could for their customer service.
ArtistWorks replied:
Hi Monte,

We are very sorry about this miscommunication that you had with us. I want to reach out directly to your email so that we may resolve this issue for you as soon as possible. I have looked into our past emails and see that we sent over the Refund Request form that will need to be filled out so that we can verify the refund process. I will send it right away through my personal business email so that we can start this process promptly and hopefully resolve this misunderstanding.

Kind regards,

Rachel
July 12, 2018, Ellen gave Artistworks a rating of one star and wrote:
Auto-renew can result in an expensive surprise
They sign you up for automatic renewal by default. If this were a monthly service for a small sum of money it would not be a big deal, but it is only once a year, and the cost is hundreds of dollars. Lesson learned to always go into everything I buy and turn off the autorenew.
ArtistWorks replied:
Hi Ellen,

Thank you for your feedback and we are very sorry that the auto renewal happened to your account. We strive to have the best online music service and value you as a member, and would love to resolve this for you! I have reached out directly to your email so that we can discuss some options to solve the auto renewal for you!

Kind regards,

Rachel
There are dozens more recent complaints about Artistworks auto-renew on the Trustpilot site.  Here is one registered with the BBB:
06/19/2017  I was charged a yearly membership without mu authorization. When I sent an email to *****, from Artist works customer service, she stated that they send an email before payment is procured, Then, after i stated, "I did not receive that email", she stated that this was a miscommunication on my part that they do not send that type of email.
Here is a thread from the Complaints Board website:
Artist Works / music education website rip off
1 68 Coombs St 94559 Napa United States, United States Review updated: Oct 21, 2017

JJ Rae:  Cancelled my yearly renewal, before the renew date and strangely it was never cancelled. I got charged 240.00. When I asked for refund. That offered a $25 and a gift card. WHAT?
Then Drina in customer service stated that they send an email to alert you of the charge. When i stated that i never received that email? She said it was a miscommunication on my part and they don't send an email.
DO NOT SIGN UP FOR THIS COURSE!! They will continue to charge you without authorization…

MCBrinitzer:    I'm having the same issue. While I understand that auto renewal was noted in the initial subscription, I didn't recall the exact date and expected at least an email notice up the upcoming renewal. Instead one morning last week I awoke to a note from Paypal that my account had been hit for $240. I have been unable to use the last 6 months of my original subscription so of course I had not logged in during the renewal period either. Still, I'm just getting a lot of happy "we'll fix this" stuff and have submitted exception forms, but no resolution. Absent some form of notice about the upcoming renewal, this policy is just a big "gotcha". I would never do business like that, and I will never do business with them again. I feel like emailing my instructor and letting him know who he is associating with.

Shourya Sarcar:  Same here. It is shameful that they charge for services never offered. Check on BBB. They are rated F.
About Artistworks – A Deceptive Education Service?
According to their website,  "ArtistWorks is dedicated to providing anyone, anywhere in the world with affordable, interactive access to some of the greatest music teachers in the world. Our mission is to "Teach the World Music". ArtistWorks' patented Video Exchange® Learning Platform connects master teachers with enthusiastic players in an industry unique social online learning environment where each interaction becomes a learning experience for all. Our goal is to provide the most comprehensive music education destination available online."
Artistworks features some great instructors who are not only talented players and teachers, they are wonderful people.  The bluegrass offerings include Banjo School with Tony Trischka, Mandolin School with Mike Marshall, Fiddle School with Darol Anger, Bluegrass Guitar with Bryan Sutton, Dobro School with the Infamous Stringdusters' Andy Hall, Bass School with Missy Raines, Bluegrass Vocal School with Michael Daves.
The Artistworks auto-renew scam is defended as being standard practice among online membership service providers by senior management:
David Butler, Chairman, CoFounder ArtistWorks, Inc was the AOL's VP of Technology and Strategy for 11 years.
Adam Butler, Artistworks Content Manager/Customer Service
Patricia Butler, CEO, CoFounder ArtistWorks, Inc.  "designed the business plan and enhancement of the Online Video Exchange Learning platform."
John Graves, VP of Business Relations & Operations, ArtistWorks, Inc. is a professional musician who "embodies the mission and brand of the company."
Dawn Mendoza, Product Manager, Artistworks, Inc. has managed customer service since 2014.
Do You Have an Artistworks Auto-Renew Complaint? Share It Below.
ALSO READ:
FRANCHISE DISCUSSIONS by Company
SCHOOL OF ROCK Franchise, Sterling Partners CEO Controversy: UPDATED (Topic Index)
School of Rock Names Rob Price CEO Amid Dzana Homan Controversy

Contact UnhappyFranchisee.com TAGS: Artistworks, Artistworks music school, music instruction, Artistworks music lessons, Artistworks complaints, Artistworks rip-off, Artistworks scam, Automatic Renewal complaint, Auto-Renew, AutoRenew complaints, AutoRenew scam, Auto-Renew complaints, Membership Renewal scam, Online membership scam, Tony Trischka, Adam Butler, David Butler, Patricia Butler, John Graves, Dawn Mendoza