7-ELEVEN: No 7-Eleven Protest Group Holds NY Bodega Walk
The grassroots New York No 7-Eleven protest group is hosting its second Bodega Walk today from noon – 1 pm.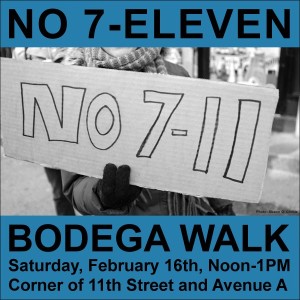 The Bodega Walk is launching from the 7-Eleven construction site at 11th Street and Avenue A.
The No 7-Eleven group protests are in response to the announcement that 7-Eleven plans to open 100 new stores in Manhattan by 2017.
The group is taking to the streets to spread awareness both to New York inhabitants and to the owners of local bodegas who are unaware of the plans.
[Image source:  No 7-Eleven Facebook page]
NYU News quoted Liberation Iannillo, the social media strategist of No 7-Eleven:  "The purpose of the bodega walk is to connect with the people and businesses in our community and make them aware 7-Eleven is planning a strategic, corporate takeover of our neighborhood."
Iannillo claims that 7-Eleven openings "choke out local convenient stores, bodegas and delis, and have a negative impact" on the character of New York neighborhoods.
No 7-Eleven launches grassroots, social media campaign
No 7-Eleven has launched an aggressive anti-corporate campaign, establishing both a FaceBook page and Twitter account.
According to the No 7-Eleven FaceBook page:
'No 7-Eleven' is a grassroots campaign by New Yorkers taking a stand against the increasing flood of chain stores like 7-Eleven which threaten to undermine the free market, damage the local economy and whitewash the character of our communities.

"7-Elevens are boring. They are bland. They are not New York. They are Pringle-izing our population." – Bob Holman, founder of the Bowery Poetry Club

To Pringle-ize: 1. To treat citizens like consumers. To commodify humanity so we fit in a tube.
The group is also taking to the streets, hosting Bodega Walks every two weeks, distributing flyers, press releases and anti-7-Eleven stickers for display in neighborhood stores.
But aren't 7-Eleven franchisees small business owners too?
The group acknowledges that 7-Eleven stores are owned by franchisees, who are also small business owners.  However, they still operate under the control, direction and homogenized branding of the franchisor corporation.
According to the NYU news story covering the first walk:
…Robert Galinsky, a bodega walk organizer, said although each store may be independent, they are still under the guise of a larger corporation, which causes a disconnect with the store and local community.

"During Hurricane Sandy, the bodegas were open and giving away coffee and giving away food," he said.  "The 7-Elevens were closed. It's part of that corporate mentality, 'We better check with corporate headquarters to find out.' When you have an individual bodega, you check with yourself, you check with your heart, you check with your community. That's what this is about."

Eileen Myles, another organizer of the No 7-Eleven group and NYU English professor, further explained how franchise stores undermine a community.

"They don't stand with the neighborhood on summer nights or in disaster," she said. "They don't hold your keys for friends, give you credit, know you and your pet for years … Bodegas and their employees are our neighbors and our friends."
7-Eleven director of corporate communications Margaret Chabris fired back at the Sandy criticisms, pointing out that it was 7-Eleven – not local bodega owners – that contributed $450,000 to Hurricane Sandy disaster relief.
Plus… local bodegas don't have SlurpeesTM or Big GulpsTM.
And wasn't it the price gouging, limited hours and selection, cleanliness and service issues that prompted the rise of chain c-stores in the first place?
In the end, consumers will vote with their wallets as to whether they value consistency over character.
Which do you think will win the hearts and minds of neighborhood New Yorkers?
Also read:  7-Eleven Franchise Complaints
WHAT DO YOU THINK?  DO 7-ELEVEN FRANCHISES DESTROY THE CHARACTER & SOCIAL FABRIC OF URBAN NEIGHBORHOODS? 
OR DO THEY PROVIDE THE CONSISTENT, EFFICIENT SERVICE CONSUMERS PREFER?
PLEASE SHARE A COMMENT BELOW.
TAGS: 7-Eleven, 7-Eleven franchise, 7-11, 7-11 franchise, 7-Eleven franchise complaints, 7-Eleven protest, No 7-Eleven protest, No 7-Eleven Bodega Walk, No 7-Eleven group, 7-Eleven New York, 7-Eleven New York Franchises, convenience store franchise, 7-Eleven franchisee, 7-11 franchisee