POSIGRIP Dealer Scam Complaints
(Unhappy Franchisee) Are you familiar with the PosiGrip Business Opportunity?  If so, share a comment below.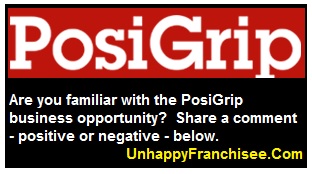 PosiGrip: A highly profitable business opportunity?
According to the PosiGrip website:  "PosiGrip® offers a highly profitable turnkey, home based business, with virtually no competition. We include national advertising, a complete marketing program and no franchise or royalty fees* (*U.S. Market Only). Also, due to the new federal mandate, as a PosiGrip® Operator, you can offer your customers a federal tax credit just for using your cost effective services, and they will receive a two-year guarantee. It's easy to say yes to PosiGrip®."
PosiGrip:  A total scam & Ripoff?
For the past several years, commenters on Ripoff Report have been complaining that PosiGrip is a scam.  Here's the latest from Thomas:
AUTHOR: Thomas – Box Springs (United States of America)

SUBMITTED: Wednesday, June 08, 2011

POSTED: Wednesday, June 08, 2011
I bought a dealership about 1 year ago! First of all it's not a Franchise!!!! It's just a dealership you purchase, you don't even get a Territory!! The product works fine and is easy to apply. The problem is the company itself!

It's just a "whole in the wall" in Daytona FL, 2 rooms and a small warehouse. The training you get takes 30Minutes! I should have canceled my check and run the moment I saw it…well I didn't…my mistake!

Now to the facts: it's extremely difficult to sell the stuff!

There is ABSOLUTELY NO support from Posigrip!

The advertisement they promise never happens! They don't attend any trade shows as they promise you! I never got any lead from them, there are NO corporate accounts as they promise. In the whole 12 month the only times they did contact me was for money. They offer a free display for expo, which you'll get…the display is a piece of sh… it cost you more shipping than yopur own one would cost you.

They don't even send you an email about new products, what's going on in the market or whatever!

The post cards, introductions, or whatever they offer you….just forget about it – to much work, to much cost – not working at all!!

There are other companies in the market with the same product. If you think that business is for you, talk to them, but stay away from posigrip! It's a very big ripoff!

Any questions or complaints or ideas or if you think I'm wrong or if you have any helping ideas!!
ARE YOU FAMILIAR WITH THE POSIGRIP OPERATOR OPPORTUNITY?  IS IT A PROFITABLE BUSINESS… OR A SCAM?  SHARE A COMMENT BELOW.