HAPPY HOUR MAGAZINE Franchise Complaints
(UnhappyFranchisee.com) Are you familiar with Happy Hour Magazine and the Happy Hour Magazine franchise?  If so, please share a comment or insight below.
UnhappyFranchisee.com has been meaning to put together a Top 10 Franchise Opportunity Warning Signs.  So, thanks go out to Happy Hour Magazine for inadvertently inspiring our first 2 potential Warning Signs That There Might Be Problems With Your Franchise Opportunity:
#10:  The company has a franchise complaint on RipOffReport.com before it has its first franchise.
#9:  In addition to its franchise opportunity, the company website and domain name are also for sale.

Is Happy Hour Magazine an Illegal Franchise?
Happy Hour Magazine is a free San Diego bar & restaurant scene publication founded by a young entrepreneur named Brad Nemire. According to his LinkedIn profile:
Brad Nemire is the Founder/Publisher of Happy Hour Magazine. What started as a unique idea has quickly become one of San Diego's most desired print publications. Happy Hour Magazine Orange County just launched May 1, 2010.

Happy Hour Magazine San Francisco is launching 1.11.11!

Brad has plans of starting a Happy Hour Magazine in every major city in America, with goals of making it the go-to guide for anyone wanting to enjoy a happy hour.
[Graphic, above:  franchise solicitation at HappyHourMagazine.com]
If you Google "Happy Hour Magazine franchise," you'll find links to both the company's franchise solicitation as well as anonymous allegations on several websites (RipoffReport.com, ScamInformer.com) that Happy Hour Magazine is an illegal franchise opportunity.  Here's an excerpt of one dated May 17, 2011:
…The opportunity offered by Happy Hour Magazine is disguised as a franchise. A prospect originally from San Francisco had approached Happy Hour Magazine for the opportunity to open up for San Francisco. The prospect was still living in San Diego. After six months of purchasing the license the prospect was supposedly trained and ready before the launch to start out in January of 2011. After much confusion of business practices between the Publisher within a few months the prospect looked into further investigation of the agreement.

The prospect informally brought to Happy Hour Magazine's awareness of illegal franchising. NO further action was taken by Happy Hour Magazine after offering a month to resolve the issue. The prospect searched out for a franchise expert and franchise lawyer. A letter of demand was given to the sole proprietor of Happy Hour Magazine. Which was another month to refund…. Sketchy deal and bad representation of the company.
In order to legally sell franchises in the state of California, Happy Hour Magazine would need to be in full compliance with FTC regulations (which would include providing prospects with a Franchise Disclosure Document, or FDD) as well as being registered with the CA Department of Corporations.  It's not clear whether Happy Hour Magazine complied with either state or federal requirements.
Happy Hour Magazine's Tale of Two Websites
Oddly, there appears to be two Happy Hour Magazine websites, one that contains the franchise solicitation and one that does not.
If you Google "Happy Hour Magazine," the first four search results take you to HappyHourMagazine.com.  HappyHourMagazine.com promotes both the San Diego bar scene publication and the opportunity to start and run a franchised Happy Hour Magazine in other major cities.  But there's also a curious pop-up message that reads:
This website and the domain name "HappyHourMagazine.com" is for sale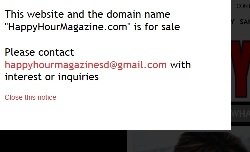 Farther down in the search results is a second, more convoluted URL, HappyHourMagOnline.com which seems to be more current and contains no mention of the franchise opportunity.  The HappyHourMagazine.com domain appears to be registered to web company RaeSea Internet Marketing, and HappyHourMagOnline.com appears to be registered to Nemire.
[Graphic, left: Popup screen at HappyHourMagazine.com]
It's not clear whether there are multiple disputes here, but it certainly seems to be a messy situation and a very poor start to a new franchise launch.
UnhappyFranchisee.com invites clarification from all parties.  We also stress to our readers that, as with all franchise purchases:  Buyer Beware.
If you're familiar with the Happy Hour Magazine franchise or franchise dispute, please share a comment below.