MUSCLE MAKER GRILL Franchise Complaints
Muscle Maker Grill franchise complaints include struggling, failing and unhappy franchise owners.
Are you a Muscle Maker Grill franchise owner, employee or customer?  Please share your view of the Muscle Maker Grill franchise below.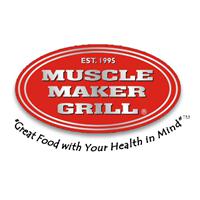 (UnhappyFranchisee.Com)  The Muscle Maker Grill franchise system, founded by Rod Silva and headquartered in Colonia, New Jersey,  claims to be a rapidly growing success story.
According to a recent company press release:
Muscle Maker Grill®, a fast-casual restaurant franchise that serves freshly prepared meals with its guests' health in mind, announces it has signed 13 franchise agreements to develop 22 locations throughout the country.

.

Among the 22 franchises, which raises the total number of Muscle Maker Grill locations under development to 220, are the brand's first Nebraska, Arizona, Nevada and North Carolina restaurants.

.

"This is a significant achievement for Muscle Maker Grill and we are thrilled to report our steady growth and continued expansion into the Midwest and West," said Rod Silva, founder of Muscle Maker Grill. "Our truly unique concept of great food with your health in mind is gaining popularity throughout the U.S. We look forward to helping each of our new franchisees grow their local presence with unparalleled corporate support."
Are Muscle Maker Grill Franchises Successful?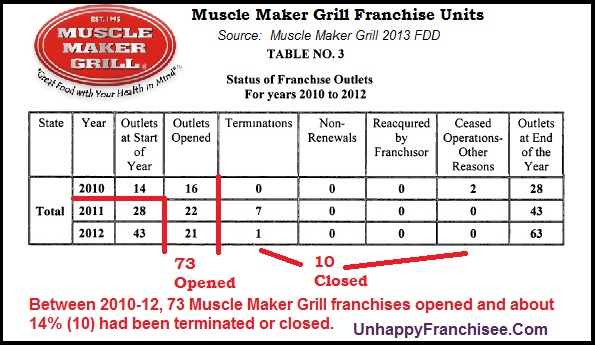 Muscle Maker Grill has 70 locations listed as open on its website.
It's press release states that it has 220 locations "under development" and will open 100 locations in the next few years.
But is Muscle Maker Grill's hunger for growth stronger than its concern that every franchise location succeed?
The franchise failure/termination rate already appears to have reached about 14%.
The 2013 Muscle Maker Grill Franchise Disclosure Document (FDD) indicates that of the73 Muscle Maker Grill franchise restaurant locations that opened between 2010 and 2012, 10 (14%) failed or were terminated.
As some of those franchises were newly opened, it seems likely that failure rate will increase.
Each Muscle Maker Grill franchise represents an investment between $179,500 – $430,000.
Some of the franchise locations that have been deleted from the Muscle Maker Grill location list include:
Miami, FL
Chelsea, NY  (92 8th Ave.)
Englewood, NJ
Long Branch, NJ
Matawan, NJ
Montclair, NJ
West Caldwell, NJ
Austin, TX
We hope Muscle Maker Grill franchise owners, employees and customers will share their thoughts and experiences (anonymous is fine) so prospective franchisees can make more informed decisions.
See the full Muscle Maker Grill press release here:
MUSCLE MAKER GRILL Franchise Announces Aggressive Growth Plans
ARE YOU FAMILIAR WITH THE MUSCLE MAKER GRILL FRANCHISE OPPORTUNITY?  PLEASE SHARE A COMMENT BELOW.
TAGS: Muscle Maker Grill, Muscle Maker Grill franchise, Muscle Maker Grill franchise complaints, Muscle Maker Grill complaints, healthy fast food, Rod Silva