MATCO TOOLS Franchise Video Battle [UPDATED]
The MATCO TOOLS Franchise Information Video is narrated by Senior Vice President of Sales Tim Gilmore, and posted for public viewing by the company on YouTube.
It begins:  "Hi. My name is Tim Gilmore, Vice President of Sales for Matco Tools in Stow, Ohio.
"Having started as a Matco Tools distributor over 20 years ago, I'm in a unique position to talk to you about an opportunity to become part of the Matco Tools franchise team.
"I want to give you a sense of who we are at Matco and a brief history of our unique business model…"
Matco Franchise Video Comes Under Fire
The original franchise sales video we posted here (and that had been promoted by Matco Tools on YouTube.com for over a year), came under fire by Matco franchise owners who claimed that it contained fraudulent claims by now-President Tim Gilmore about the success rates of franchises vs. independent businesses.
In the original video, Matco's Tim Gilmore states that a "recent study" by the U.S. Department of Commerce proves that 91% of all franchises are successful.
Not only does that study not exist, claim unhappy franchisees, but Matco's own SBA loan default rate is 37%.
Matco Tools franchisee Debbie Solko posted an angry response to Tim Gilmore's claims in a homemade video ("Gilmore Lies") she posted to YouTube.
Franchisee Debbie Solko Attacks Matco Tools Sales Claims as Lies
Within days of franchisee comments about the video on UnhappyFranchisee.com and an angry video posted on YouTube, Matco Tools took their franchise sales video offline.
Matco Tools Removes The Video from YouTube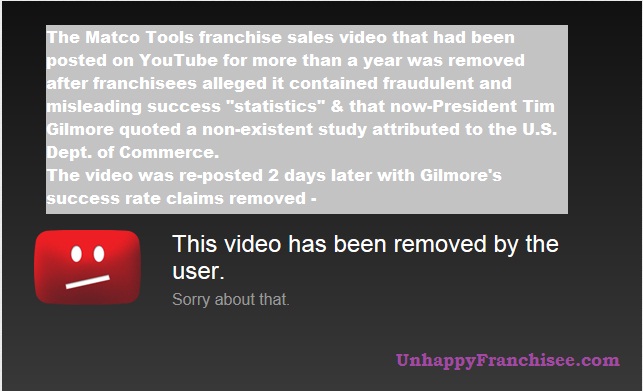 Matco Tools Posts an Edited Version with Success Statistics Removed
A few days later, the video was replaced with a version that had the controversial statistics crudely edited out.
Watch the REVISED Matco Tools Franchise Information Video below:
UnhappyFranchisee.com has been host to a heated discussions and numerous complaints by current and former Matco Tools franchise owners who feel that Matco represents the nature and risk level of its franchise opportunity.
What do you think?  Does Mr. Gilmore provide a factual and accurate picture of the Matco Tools franchise program and opportunity?
Matco Tools Franchise Posts & Discussions
MATCO TOOLS Franchise Complaints  June 8, 2011 (3000+ comments)
MATCO TOOLS: Franchisee Alleges Franchise Fraud (Video)  January 4, 2012
MATCO TOOLS: Lady Matco Speaks Out (Video)  January 1, 2012
MATCO TOOLS Franchise Defenders Speak Out December 7, 2011 (Comments defending Matco invited)
MATCO TOOLS Distributor Franchise December 7, 2011 (Overview with links)
MATCO TOOLS Franchise Report Alleges Distributor Churning  November 29, 2011
MATCO TOOLS 2011 Franchise Disclosure Document (FDD) & Other Resources  November 22, 2011
MATCO TOOLS Class Action Lawsuit, "Secret" Sales Projections  November 22, 2011
FRANCHISE LAWSUIT Alleges Matco Tools Scam, TD Bank Fraud  November 15, 2011
Failure Rates of the 10 Most Popular Franchises  April 26, 2010
ARE YOU FAMILIAR WITH THE MATCO TOOLS FRANCHISE DISTRIBUTOR PROGRAM? WHAT DO YOU THINK? SHARE A COMMENT BELOW!
To contact the author and site admin, email UnhappyFranchisee[at]gmail.com