MATCO TOOLS 2011 Franchise Disclosure Document (FDD) & Other Resources
Matco Tools distributor program has become a hotly debated subject on UnhappyFranchisee.com.
This post is meant to provide significant reference material and important documents for the ongoing Matco Tools franchise distributorship debate.
A blog post on MATCO TOOLS Franchise Complaints set off a lively debate between Matco distributors.
One point of contention is the high default rate reported on SBA loans.  According to CNN, even among the franchises with the greatest number of loan defaults, Matco Tools is the riskiest:  Failure Rates of the 10 Most Popular Franchises.
Further heating up the debate is a class action lawsuit filed against Matco Tools & TD Bank alleging they conspired to defraud the SBA and new Matco distributors into entering high-risk loans that were likely to fail.  Read about the lawsuit here:
FRANCHISE LAWSUIT Alleges Matco Tools Scam, TD Bank Fraud
MATCO TOOLS Class Action Lawsuit, "Secret" Sales Projections
Why are some Matco Tools distributors adamant that the Matco distributor program is fair while others insist that the Matco System is rigged for them to fail?
One point of difference seems to be that the rules are different for distributors with older agreements.  For that reason, we are posting the Matco Tools Franchise Disclosure Documents (FDD) for 2010 and 2011.  These are the versions Matco Tools filed with the state of Minnesota to meet its franchise disclosure laws:
Matco Tools distributors who had joined prior to October, 1992 were eligible for a special Charter Agreement.  Some have contended that those with the oldest agreements have the most lenient terms and greater chance of success than those who sign today.  The Charter Agreement Q&A's were posted on the Matco Distributor Association Facebook page: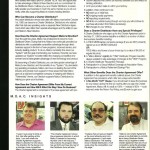 MATCO TOOLS Charter Agreement Q&A Part 1 (click to enlarge)
.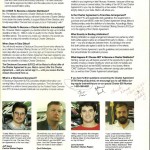 MATCO TOOLS Charter Agreement Q&A Part 2 (click to enlarge)
.
Relevant Links:
Debbie Solko's Lady Matco distributor site
Matco Tools Distributor Association Facebook Page
Matco Tools Franchise Sales Site
Do you have any relevant resource documents that we can post?  If so, feel free to email them to UnhappyFranchisee[at]gmail.com.
ARE YOU FAMILIAR WITH THE MATCO TOOLS DISTRIBUTORSHIP? SHARE A COMMENT BELOW.
Contact the author or site admin at UnhappyFranchisee[at]gmail.com.