LIBERTY TAX: Are Liberty Tax Franchise Owners Living Their Dreams?
Liberty Tax is looking for dreamers.
Liberty Tax is looking for dreamers willing to invest their savings, retirement accounts and/or home equity and a good portion of their time and energy into a Liberty Tax franchise.
Liberty Tax is recruiting hard for dreamers – They are even willing to waive the $40,000+ franchise fee. (See email ad below, left)
But are Liberty Tax franchise owners really living the American Dream of business ownership… being their own bosses… controlling their own destinies?
Does the portrayal of the Liberty Tax franchise in the recruitment materials match the reality as reported by current and former Liberty Tax franchise owners?
We've included excerpts from a current Liberty Tax franchise ad, and asked Liberty Tax franchise owners to share their thoughts below.
"At Liberty, Dreamers are Welcome."
In a franchisee recruitment page currently running on Franchise.Com, Liberty Tax describes their target franchisee:
"At Liberty, dreamers are welcome."
"dreamers who want to work for no one … but themselves"
"have big dreams."
"forward thinkers"
"dream of success."
"Possess a passion."
"Won't accept average."
"an exclusive group"
"No Tax Experience? No Worries."
"motivated"
"prepared to jump in with both feet"
"people who have that fire in their belly and a desire to succeed"
"Liberty franchisees are CEOs"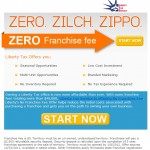 Who they'll be as Liberty Tax franchise owners:
"embracing proven marketing plans, working seasonally and connecting through cutting-edge social communications."
"high profile."
"you'll have a proven system to follow that was 40+ years in the making"
"have access to more than 600 years of managerial experience, tax industry expertise and street-savvy marketing."
"work really hard for 3 ½ months then spend the rest of the year pursuing other interests… Go on vacation. Raise alpacas. Learn to yodel…"
What they'll get as Liberty Tax franchise owners:
"we will give you every bit of training you need—and then some. We'll start with a week-long session at our corporate office in Virginia Beach, VA; follow it up with online and printed manuals, traditional and non-traditional training methods, webinars, onsite training, off-site training, conference calls and newsletters.
"Hewitt shares his insight with his franchisees, as a hands-on CEO, hosting conference calls, seminars and personally answering his e-mails."
"A seasonal workforce keeps overhead lower than nearly any other industry."
"No inventory. No worries about inventory loss."
"Competitive advantage, population trends, traffic counts, visibility and more"
"Our team of experienced Site Selectors works one-on-one to locate, negotiate and sign the perfect location for your Liberty Tax office."
"You will be in business for yourself with a very powerful partner "
"We have nothing to hide."
On the Franchise.com ad, Liberty Tax states "We have nothing to hide."  So we invite Liberty Tax franchise owners to share whether the Liberty Tax franchise has enabled them to live their dreams and control their own destinies.
How well does the Liberty Tax marketing materials reflect the reality of the opportunity?
Do you think that recruiting "dreamers" with an emotional appeal to their egos and self-image is a wise, long-term strategy?
WHAT DO YOU THINK?  SHARE A COMMENT BELOW.