LEARNINGRX Brain Training: What LearningRX Costs
LearningRx franchise brain training centers provide educational  and tutoring services throughout the U.S.

LearningRX claims "We change lives every day through the incredible power of brain training! Our programs are designed to target weak cognitive skills and help anyone from age 4 to 94 to achieve guaranteed results. Our goal is to ensure that people of all ages can receive the help they need to train their brains, get smarter, and be successful in life."
But what do LearningRX services cost?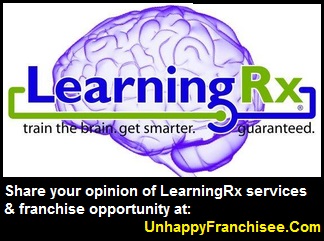 According to one company insider, LearningRX will not disclose their fees and costs publicly or over the phone, as they have a very aggressive and systematic sales process designed to get parents into an initial meeting (called an "Assessment") before disclosing their program's substantial costs.
No matter how hard you press for their fees over the phone, LearningRX will tell you that costs vary from situation to situation because their program is customized to particular students, and the Director will cover that in the Assessment.
However, our LearningRX insider claims the programs and related costs are fairly standard and predictable.
The LearningRX insider has provided us with a detailed overview of the slick sales process parents can expect (see the related post, to be published soon), as well as ballpark costs and fees currently charged by LearningRX (below).
Former LRX writes:
The shortest duration program LRX centers do is 12 weeks, though this number is increasing as centers sell longer and longer programs. The program is sold in 4 week increments, but the most common program lengths are 12, 24, and 36 weeks.

The program is delivered either as a partner or a pro program.

In the "Partner" program, there are three hours in the center with a trainer and three hours at home with you (or with the online digital trainer called Max).

In the "Pro" program, you will be in the center 5 hours per week. You will often pay more per hour for the Partner program, but there is little justification for this. It is true that the center trains you to train your student, but you also end up doing as much work as the trainer in the center (or more). Be this as it may, we can estimate program costs now.

Let's use $85 as a per hour estimate. 12 weeks in a 3 hour per week (in the center) program at $85 per hour puts you around $3000.  The center I was in had this closer to $4000. So let's say $3000 – $4000. This is your baseline for a 12-week partner program.

Now, in the Pro program, you'll have 12 weeks in a 5 hour per week program at $85 per hour. Your calculator will pop out $5000. I have heard some centers are less than this and some more, so this is a good estimate.

If you are going to expect changes in reading *or* math, then double the above, because you'll be placed in a 24-week program. Partner in the $7000 range. Pro in the $10,000 range. Plus or minus.

If you are going to expect changes in both reading and math, then triple the above, because you'll be placed in a 36-week program. Partner in the $10,000 plus range. Pro in the $15,000 range. Plus or minus again.

What you cannot know is how much change you can expect to see in your child and how much value you place on this change….

Many parents end up happy.

Some end up disappointed.

Some should be disappointed, but aren't….
Also read:
LearningRX Complaints: Falsified Test Results
LearningRX Insider Secrets: How to Negotiate a Better Price from LearningRX (Coming Soon)
LearningRX Insider Secrets:  How LearningRX Brain Training is Sold (Coming Soon)
ARE YOU FAMILIAR WITH LEARNING RX AND THE LEARNING RX FRANCHISE OPPORTUNITY? PLEASE SHARE A COMMENT BELOW.
TAGS: LearningRX costs, what does LearningRX cost, Learning RX cost, LearningRX complaints, tutoring franchise, education franchise, brain training, brain training franchise, brain training fraud, brain training scam, Dr. Ken Gibson, Ken Gibson, Learning RX, Learning RX Complaints, Learning RX franchise, Learning RX fraud, Learning RX ripoff, Learning RX scam, LearningRX, LearningRX Complaints, LearningRX franchise, LearningRX fraud, LearningRX ripoff, LearningRX scam, LearningRX results