EXPERIMAC Franchise Complaints – Part 2
Experimac franchise locations are failing in distressing numbers. Experimac franchise owners share their opinions for the failures, including low margins, inadequate inventory, and a lack of support by United Franchise Group (UFG). The list will be updated as more Experimac franchise owners weigh in. Share your thoughts with a comment below.
(UnhappyFranchisee.Com) Our previous post included what we believe to be alarming rates of Experimac franchise store closures and transfers, and the rising number of bankruptcies and SBA loan defaults that are occurring as a result.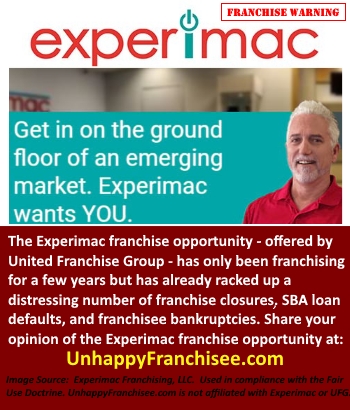 You can read that post here: EXPERIMAC Franchise Complaints – Part 1
In Experimac Franchise Complaints – Part 2, we have compiled and organized the complaints being voiced directly by Experimac franchise owners themselves.
Some of these complaints have been communicated to us directly via conversation, emails or posted comments; others have been posted to other review websites including Glassdoor, Indeed, and Pissed Consumer.
As we have combed through the complaints and organized them by major themes, a picture is emerging of an overly aggressive sales organization that may be misrepresenting the nature, sales potential and success of this new and struggling franchise chain.
As is our policy, United Franchise Group (UFG), like other franchisors discussed on this site, is invited to provide corrections, clarifications, rebuttals or other statements which we will share with our readers.
Are you an Experimac franchise owner or corporate employee? Please share your experience and opinions with a comment below, or by contacting us in confidence at UnhappyFranchisee[at]Gmail.com.
Experimac Franchise Complaints: Store Failures
Experimac franchise complaints confirm our research that an alarming percentage of franchise locations are failing.
Experimac franchisees stated:
"Ten stores were opened in the DFW area at one time, driving up the prices of product from the community as the stores competed against one another. Now, only 2 remain."
"90% of all Australian Experimac stores are struggling with no help in sight. Huge closure rate in the US and starting to happen in Australia"
"Out of 100 stores, I would guess that maybe 10 break-even and maybe 5 are profitable."
Experimac Franchise Complaints: Dishonest Salespeople, Deceptive Sales Claims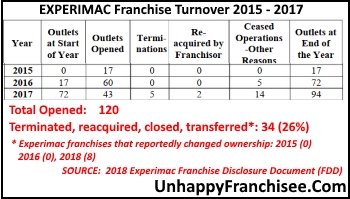 Over the years and across multiple franchise brands, franchisor United Franchise Group (UFG) has earned a reputation for being an aggressive sales organization known to make questionable sales claims. Complaints received by Experimac franchise owners seem to confirm that this corporate culture and sales approach has continued.
Experimac franchise owners stated:
"I was an Experimac Franchise Owner in Colorado until recently. I was forced to close my doors and file for Bankruptcy because of the lies I was told when looking into purchasing the franchise. Myself like ALL the other Colorado Owners feel that we were deceptively lied to and told how all the other franchises around the US are making so much money. I was told that 'Most franchises in business over 9 months are averaging sales over $100,000 a month'. After talking to the other owners I quickly found out that this was not true. In fact after the first year none of the stores in Colorado had a profitable month yet."
"They fool you by only showing Jim Muir's store numbers. What those numbers don't show is he makes his money by selling all starting stores their beginning inventory, and overcharges the franchisees."
"They lie about the prospective outlook; they only show you positive guestimate based on their flagship store. They have data from all stores but don't share the truth: don't be fooled. Steer clear!!!"
"Broken promises of guaranteed revenue"
"Business is not what corporate promises franchisees"
"Corporate way over projects the income these franchises can produce."
Experimac Franchise Complaints: Low Margin, Inadequate Inventory
Franchisees complained of inadequate inventory supply and low margins. Some reported having to scrounge for inventory on Amazon and eBay:
"No margins on any supplies; or really any products"
"recommended vendors" have minimal margin on resale at best
"Franchise flat out lied to the franchise owners about the availability of inventory."
"They misrepresent that they have a supply for inventory. They don't. Franchisees are basically pawn shop owners."
"They sell the franchise as a merchandise-based business, but most of the business is fixing broken phones and that's not enough."
Experimac Franchise Complaints: Lack of Training, Marketing or Support
Franchisees complain that United Franchise Group fails to provide adequate training and support in all areas:
"They are sales centric, and seem to be more in the business of opening stores, not supporting stores."
"Only interested in opening new stores without helping existing stores."
"UFG has a flawed model and offers no support."
"lack of effective training or support, lack of communication from the Franchise Group;
"No support"
"They charge an advertising fee and do NO advertising."
"Advertising is weak at best"
"Social media support is expensive and worthless"
"Website was controlled by UFG and was pathetic."
"Real estate support is poor. The marketing analysis is cookie cutter and every location is a 'good location'"
Experimac Franchise Complaints: Celtic Bank, Paul Bosley, First Financial SBA Loans
On May 14, 2018, PlantIbizanHound posted this complaint on the Pissed Consumer website:
Celtic Bank participated in the fraudulent origination of countless loans used in the startup of Experimac franchises. A third party, Paul Bosley acted as the intermediary charging upfront fees to handle the creation and assembling of loan applications which included falsified financial projections for Experimac locations.

The documents produced were identical in nature across more than 50 applicants and were soley produced Bosley and presented to Celtics underwriting group. It was well known by Celtic that this practice was in place and Bosley held close ties with this lender at the Florida branch.

At least one applicant was released by Celtic due to fraud and there are many more individuals that entered into agreements with United Franchise Group and the Experimac frnachise who have suffered great financial losses and bankruptcy due to this illegal and fraudulent scam. The SBA would be wise to investigate this lender and cease making funds available to them.
Experimac Franchise Complaints: Required Purchases and Kickbacks
One Experimac franchisee complained:
"They also overcharge you for the equipment lease they make you purchase. You have to take out a loan on all of the stores equipment, and Experimac receives payment from the leasing company. They also charge you a storage fee for storing your inventory until your store opens. You're better of doing this on your own instead of involving UFG."
The 2018 Experimac Franchise Disclosure Document indicates that the business model enables the franchisor and its affiliates to extract substantial fees, markups and kickbacks in addition to the franchise fee and royalties.
While this subject is large and important enough to warrant its own separate post, here's an indication from the FDD:
For the year ended December 31, 2017, our gross revenue from the sale of equipment and supplies to franchisees was $7,007,419 or 56.3% percent of our total revenue of $12,449,439. We are the only approved supplier of the required equipment package.

For the year ended December 31, 2017, Premium Supplier's gross revenue from the sale of the inventory packages to franchisees was $1,861,175 or 94.4% of Premium Supplier's total revenue of $1,970,786. Premium Supplier is the only approved supplier of the required inventory packages. Our President, Jim Muir, owns an interest in the Company.
In addition, the company and UFG CEO Ray Titus generate income from the sale of website, domain and email hosting and maintenance services, real estate services, and payments from suppliers in connection with franchisee purchases.
It seems that United Franchise Group (UFG) and Experimac Franchising LLC have done a much better job creating their own revenue model than the one they provide to Experimac franchisees.
WHAT DO YOU THINK? ARE YOU AN EXPERIMAC FRANCHISE OWNER OR FRANCHISEE OF A UNITED FRANCHISE GROUP BRAND?
DO YOU KNOW WHY EXPERIMAC FRANCHISES ARE FAILING? PLEASE SHARE A COMMENT BELOW.
ALSO READ:
FRANCHISE DISCUSSIONS by Company
UNITED FRANCHISE GROUP (UFG) Franchise Complaints
SIGNARAMA Franchise Complaints
EMBROIDME, SIGNARAMA: United Franchise Group Responds to UnhappyFranchisee.com
Dr. John Hayes & His 12 Amazingly Deceptive Franchises
BIZCOM ASSOCIATES: Franchise PR Firm or Troll Farm?
6 AMAZING Franchise Deceptions of Dr. John Hayes
Contact us:
TAGS: Experimac, Experimac franchise, Experimac franchise opportunity, Experimac franchise complaints, Experimac FDD, United Franchise Group, United Franchise Group franchise, United Franchise Group franchise opportunity, United Franchise Group UFG, Ray Titus, Palm Beach Atlantic University, UFG franchise complaints, SBA loan defaults, unhappy franchisee