DICKEY'S BARBECUE PIT Franchise SBA Loans Investigated by U.S. Senator
Dickey's Barbecue Pit franchise SBA-guaranteed loans, which we've reported have an unusually high and growing default rate, are being investigated by Nevada Senator Catherine Cortez Mastro. Senator Mastro sent a letter to Acting Administrator of the Small Business Administration (SBA) regarding the Dickey's Barbecue Pit franchise as well as Complete Nutrition, Experimac, and Subway.
(UnhappyFranchisee.Com) Nevada Senator Catherine Cortez Mastro is investigating complaints against four franchise organizations (Dickey's Barbecue Pit, Complete Nutrition, Experimac, and Subway) whose franchisees obtained loans guaranteed by the Small Business Administration (SBA).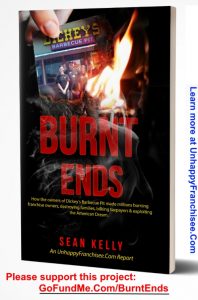 Through the SBA 7(a) loan program ensures that participating banks are repaid for a substantial balance of the loan in the event the franchisee defaults.
[Support our reporting on the Dickey's Barbecue Pit franchise on our Burnt Ends GoFundMe page]
Critics contend that some of these banks knowingly approve applications with fraudulent and unrealistic financial projections for unproven or high-failure franchises, knowing that the defaulted loans will be repaid with taxpayer (SBA). Some brokers allegedly reap high profits from upfront fees and banks increase their returns selling these guaranteed loans on the secondary market.
While the franchisor and the banks get paid, the failed franchisee often loses his or her assets and is pursued by the Department of Treasury for the debt plus penalties & fees.
We've reported extensively that the Dickey's Barbecue Pit franchise (owned, promoted & sold by Dallas Based DBRI) opportunity has an especially troubling franchise failure and loan default rate. (See the DICKEY'S BARBECUE PIT Closed Location List – UPDATED and DICKEY'S Franchise Graveyard)
Franchisees allege that DBRI and Dickey's Barbecue Pit engages in the unethical practice of churning: reselling failed franchise locations over and over to a succession of new franchisees for new fees.
Senator Mastro's Letter to the SBA re: Dickey's Barbecue Pit Franchise Loans
Senator Mastro's letter begins:
Dear Acting Administrator Pilkerton:
I write to request information regarding Small Business Administration (SBA) guaranteed loans to four franchises. In recent months, my staff have heard about problems with Complete Nutrition, Dickey's Barbecue, Experimac and Subway from franchisee owners who have SBA guaranteed loans and are having trouble with the franchisor. These problems reported by Nevada business owners are similar to that of other franchisees across the nation…
The Nevada Senator includes a brief synopsis of each of the four franchise companies. Of Dickey's Barbecue Pit , she writes:
Dickey's Barbecue. Press reports find that Dickey's Barbecue franchises are closing at an alarming rate, including two in my state over the past few years.1 According to Dickey's Barbecue Franchise Disclosure Document (FDD) dated September 4, 2018, for the fiscal year ended May 1, 2018, the brand opened 72 new franchised units, but had 89 terminations and 24 ceased operations, for a net store loss of 41 units.2 They ended the year with 521 units. An additional 44 units transferred to new owners. The previous year showed 88 units opened, 70 ceased operations, and 67 transfers. It appears that some of
the loan failures may be due to Dickey's Barbecue providing misleading and inaccurate information to potential franchisees, resulting in failed businesses and bankrupt owners.3

It appears Dickey's Barbecue was telling franchisees to expect revenue of up to $80,000 per month but stores earned much less than that. 4 Last year, at my request, your staff provided default data to my office that showed taxpayer-guaranteed loans to Dickey's Barbecue franchisees failing at a higher rate than is typical for fast-casual restaurants. It appears that a change in ownership at Dickey's Barbecue has dramatically raised costs for the franchisee
While Senator Mastro has not (yet) called for a full investigation, she has requested detailed information about the process with which SBA franchise loans are granted, and specific, detailed information about the loans granted to franchisees of the four franchise brands in question:
I would like to inform my constituents of the resources SBA can provide to help them avoid default.

I would also like to ensure other franchisees do not receive government-guaranteed loans for franchises with a history of complaints about unfair and deceptive practices.

Therefore, I request the following information:

1) How is the SBA working with franchisees with SBA loans when a franchisee runs into trouble?

a. Specifically, when the SBA notices high rates of defaults in a franchise, what action does your staff take to prevent loan failures?

b. If there is a major change in an agreement, like those that occurred with Complete Nutrition, Subway or Dickey's Barbecue, what recourse does the SBA have to prevent loan failures?

c. How does SBA review ownership changes and what can SBA do when such changes have the potential to harm the revenue of franchisees with existing SBA loans?

d. Regarding Complete Nutrition, what can SBA do when a franchisor terminates the franchise agreement entirely? Does Complete Nutrition have affiliated brands seeking
SBA-guaranteed loans? If so, what are the other brands?

e. Are there examples of other SBA-guaranteed franchisors making similar decisions as the one Complete Nutrition made to stop being a franchise? If so, how were the franchisees compensated? Did the franchisor make payments on outstanding loans of the franchisees?

f. Can the SBA exclude a brand if there are significant problems with one of the franchises in its portfolio? Has the SBA stopped loan guarantees to one brand because of problems in a franchise within its portfolio? If so, which franchise brands and franchise owners and when?

2) How many total loans did SBA make to the four mentioned franchises over the past six years — 2013-2019? Please break out the loans by year and state.

3) How many of the four franchises have loans that defaulted? How soon after the loan closed were those loans charged off? Please break out this information by year and state.

4) How many of the four franchises mentioned are behind in their loans but are not listed as defaulting yet? How soon after the loan closed were those loans charged off? Please break out this information by year and state.

5) What information on revenue, defaults and store closings does the SBA require franchisors to provide to franchisees seeking SBA-guaranteed financing? Is that information provided within the Financial Disclosure Document?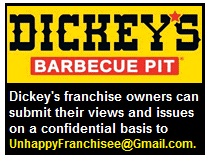 While the outcome and significance of Senator Mastro's inquiry is not yet clear, we applaud what is hopefully the first step toward investigating and addressing the problems with the SBA guaranteed franchise loan program.
Read Senator Catherine Cortez Mastro letter to the SBA.
HELP FUND MORE REPORTING ON DICKEY'S BARBECUE PIT
Help us finish our special report:
ALSO READ:
DICKEY'S BARBECUE PIT Franchise Complaints
DICKEY'S Franchise Owners Share Frustrations & Fears
Roland Dickey Jr. Extracted Millions While Dickey's Franchise Owners Fought for Survival
DICKEY'S BARBEQUE PIT Franchise Closures, Internal Turmoil Revealed By UnhappyFranchisee.Com
DICKEY'S Franchise Class Action Lawsuit Filed in CA
ARE YOU FAMILIAR WITH THE DICKEY'S BARBECUE PIT FRANCHISE OPPORTUNITY & PROGRAM? SHARE A COMMENT BELOW.
TAGS: Dickey's Barbecue Pit, Dickey's, Dickey's Barbecue Pit franchise, Dickey's franchise, DBRI, Dickey's Barbecue Restaurants Incorporated, Dickey's closed, SBA guaranteed loans, SBA 7(a) franchise loans, Small business Administration, Senator Mastro, Senator Catherine Cortez Mastro, franchise, franchise opportunity, franchise complaints, unhappy franchisee