Craig Tractenberg Complaints
Attorney Craig Tractenberg was with Nixon Peabody for 13 years and recently joined Fox Rothschild LLP as partner.  He is a well-known franchise attorney who represents franchisors in their disputes against their franchisees.  He has twice threatened to sue the publisher of UnhappyFranchisee.com.  Tractenburg's threat to smear the publisher's reputation by releasing supposedly damaging financial and marital information prompted an ethics complaint about Tractenberg to the  Disciplinary Board of the Supreme Court of the State of Pennsylvania.  We ask:  Is Craig Tractenberg's ethical lapse an isolated incident, or does Craig Tractenberg have a history of bullying and unethical, if not illegal,  tactics?  Share your experience below, or email in confidence to UnhappyFranchisee[at]gmail.com.
(UnhappyFranchisee.Com)  Franchise attorney Craig Tractenberg, a partner at Philadelphia-based law firm Fox Rothschild, threatened not only to sue web publisher Sean Kelly if he did not remove unflattering opinions voiced by School of Rock franchise owners from UnhappyFranchisee.Com, but to smear his reputation by releasing sensitive documents Tractenberg claimed to have uncovered, including Kelly's divorce records.

Tractenberg's unethical and likely illegal bullying tactics surprised Kelly – both by their thuggishness and their ineptitude. Kelly has been married for 36 years to his first and only wife – he has no divorces nor divorce records.   Additionally, Kelly has a well-established policy of rewarding threats with increased – not decreased – editorial exposure.  In this case, Tractenberg's bullying tactics earned his clients increased scrutiny and coverage and earned Tractenberg an ethics complaint with the Disciplinary Board of the Supreme Court of the State of Pennsylvania.
Is Craig Tractenberg an upstanding franchisor attorney or a highly paid bully with a disregard for legal ethics?
Craig Tractenberg is a well-known franchise attorney and an inductee into Franchise Times' "Legal Eagle Hall of Fame."
One franchise attorney who is a friend of our website was disappointed to hear of the bullying complaint, saying "I'm sorry to hear that.  I've always liked Craig Tractenberg."
However, a franchisee attorney who has twice faced off in arbitration with Tractenberg reports that he witnessed the former Nixon Peabody litigator use unethical tactics to bully and intimidate a witness.
Attorney Harry Rifkin states that Tractenberg used legal threats and intimidation to prevent a witness from presenting truthful testimony that supported Rifkin's franchisee client.
Mr. Tractenberg launched into an attack on the witness and threated to sue him on behalf of his client for alleged violation of his confidentiality agreement, conversion of trade secrets and defamation arising out of events a few years earlier if the witness [testified]… He went ahead and sued this witness who was intimidated and ended up not testifying. The allegations included violation of the computer abuse and fraud act, breach of fiduciary duty, tortious interference with contract, conversion of confidential information, breach of contract and conversion, After my arbitration was over, the suit was dismissed. Mission accomplished.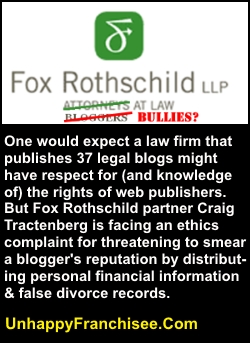 Rifkin noted that Tractenberg never cited a single defamatory statement the witness allegedly made, indicating that the lawsuit was simply a meritless intimidation tactic.
Rifkin was appalled at Tractenberg's repeated conduct, stating "we lawyers are supposed to be professionals and held to a higher standard than others by the Rules of Professional Conduct."
Says Rifkin, who has been lauded for his passionate representation of underdog franchisees, wrote to Tractenberg:  "litigation is not a game and it is certainly not a situation where all is fair and anything goes."
Have you had dealings with attorney Craig Tractenberg?  Have you found him to be an ethical legal professional?  Or not?
Is Tractenberg simply an aggressive & effective advocate for his clients… Or does he cross the line into ethically questionable and underhanded tactics?
Read Kelly's letter to the Supreme Court of PA Disciplinary Committee here: Craig Tractenberg Ethics Complaint.
Further reading on the School of Rock / Sterling Partners Controversy:
Craig Tractenberg Complaint Submitted to Disciplinary Board of the Supreme Court of PA
How Do Craig Tractenberg's Irresponsible Tactics Benefit Clients?
School of Rock Attorney Craig Tractenberg Threatens Unhappy Franchisee Publisher
Attorney Craig Tractenberg Threatens Web Publisher (Press Release)
Craig Tractenberg also threatened UnhappyFranchisee in 2014:
PRIMOHOAGIES & Nick Papanier Tax Evasion: A Clarification
PRIMOHOAGIES Owner of Nellie's Provisions Pleads Guilty to Tax Fraud [Updated]
PRIMOHOAGIES Franchise Complaints [REVISED]
ARE YOU FAMILIAR WITH CRAIG TRACTENBERG, & HIS PROFESSIONAL CONDUCT AT FOX ROTHSCHILD OR NIXON PEABODY?  SHARE A COMMENT BELOW.
TAGS: Craig Tractenberg, Craig Tractenberg complaints, Craig Tractenberg Ethics Violation, Fox Rothschild law firm, Nixon Peabody law firm, Rick Elfman, Sterling Partners Rick Elfman, Sterling Partners,  Nick Papanier Sr., Primohoagies, Nellie's Provisions,  Disciplinary Board of the Supreme Court of PA