GRN Global Recruiters Network Franchise Complaints [UPDATED]
The Global Recruiters Network franchise (GRN franchise) is promoted as an opportunity to join an industry-leading "family" of permanent placement professionals and receive world-class training, service, support and business tools.  Anonymous franchise complaints, a franchise lawsuit and GRN's own disclosure documents raise several issues worthy of further investigation. [UPDATED 4/26/17]
(UnhappyFranchisee.Com)  The Global Recruiters Network franchise website refers to GRN franchise owners as "family":
For the past forty years, our management team has developed a finely tuned process and trained the very best search professionals.

We continually support our family so they can perform with the quality, integrity and professionalism clients have come to expect from GRN.

That's the GRN difference.
The franchise-as-family  seems to be a common theme and featured benefit of Global Recruiters Network franchisee recruitment:
When you join the GRN Family, you'll get this world-class support before you open your business, continuing as you grow towards your goals and beyond. Our franchise support system features:

Training
Business development
Technology
Accounting
Vendor management
Site Selection
Recognition programs, meetings and events
Legal/HR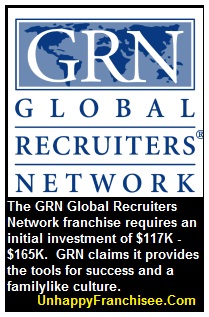 However, both a scathing anonymous comment left on a prominent complaint site and the counter-suit against the company filed by a Global Recruiters Network franchise owner specifically challenge the idea that the GRN network is one big happy family… or even acts as a family at all.
GRN Global Recruiters Network Franchise Complaint:  Illegal Termination
UPDATE 4/26/17:  We've been informed that a former GRN franchise owner named Melissa B., has issued an apology for the online complaint she made on RipoffReport which we referenced in our original post.  Melissa B. has stated that the allegations contained in her complaint were false and defamatory.  Updates to our original post are in red.  See our related post:   GRN Global Recruiters Network Franchise Owner Retracts Online Complaint, But Questions Remain
A since-recanted comment left on the website Ripoff Report on July 23, 2015 by a commenter named A former GRN franchise owner* states:
We first joined GRN and met Brad Baiocchi, John Demsher, Glen Louthan and the rest of the executives back in 2003 when they had their location in Downer's Grove, IL.  They try to paint the picture of how they are one big happy family.  And exagerate [sic] how successful all of the offices are and show you big numbers as to how much you can make.
A former GRN franchise owner claims he and many other GRN franchisees were terminated from the GRN family by Brad Baiocchi, founder and CEO of Global Recruiters Network:
After several years we noticed a lot of odd things happening to where the president Brad Baiocchi started closing down franchise offices without giving any notice to the owners and offices started disappearing with no explanation.

…We had heard there were rumors that Brad was trying to sell the company so we started talking to other owners and our friends at corporate to find out what would happen to the franchisees if GRN did sell.

Ironically, the following week we walked into our office and couldn't log into the system.  When we called corporate's IT department we were redirected to Brad's brother Mark who is an attorney.  We were advised that we were no longer a franchisee!  This was all done without cause, without any written notice or warning…

We contacted an attorney of our own as well as former owners and found out that GRN has done this to over 87 other offices…  In addition, they have scammed everyone out of the $90,000 franchise fees.  When our attorney reviewed the franchise agreement, they illegally terminated us…
GRN responded to the anonymous complaint stating that it is false, and has since received an admission from franchisee Melissa B. that the complaint was false and defamatory.  RipoffReport redacted the comment after receiving a court order to do so.
Read: GRN Court Order & Melissa B's Admission/Apology Letter to Brad Baiocchi (PDF)
*Since identified as Melissa B.
The GRN FDD Reveals a Disturbingly High Franchise Termination Rate
To see if there is any validity to the since-recanted  A former GRN franchise owner allegation of widespread franchisee terminations, we looked to the Item 20 disclosures of the 2015  Global Recruiters Network Franchise Disclosure Document.
The company disclosed that between the beginning of 2012 and the end of 2014, there were a total of 270 GRN franchises in operation.
Of those 270 franchises, 92 (34%) had been terminated by the GRN franchisor and another 11 (4%) had "Ceased Operations – Other Reasons"
A 38% franchise turnover rate, according to the company's own numbers, is certainly a cause for concern for every prospective franchisee.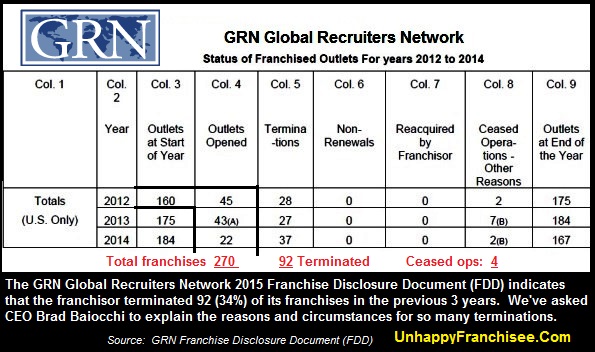 According to the company's 2016 Franchise Disclosure Document, GRN terminated 5 additional franchises in Indiana, Kentucky, New York, North Carolina, and Texas in 2015.
We have contacted GRN Founder & CEO Brad Baiocchi for the reasons that so many Global Recruiters Network franchise family members were terminated, and whether these terminations resulted in the loss of the franchisees' investments.
GRN Founder & CEO Brad Baiocchi Invited for Clarification
We are reaching out to the Founder & CEO Brad Baiocchi of the Global Recruiters Network franchise family and inviting him to clarify the nature of the terminations.
Key questions for Mr. Baiocchi:
What are most common reasons that the 92 franchises were terminated?
How much time were these franchisees given to cure their defaults?
Should prospective GRN franchise owners fear that they might be terminated, even if they follow the rules?
  We again invite GRN Founder & CEO Brad Baiocchi to explain the reasons for the high number of franchise terminations, and whether a high level of terminations will continue.
ALSO READ:
FRANCHISE DISCUSSIONS by Company
ARE YOU A GRN GLOBAL RECRUITERS NETWORK  FRANCHISE OWNER OR FORMER GRN FRANCHISEE?   SHARE YOUR EXPERIENCE OR OPINION BELOW.
TAGS: Global Recruiters Network, Global Recruiters Network franchise,  Brad Baiocchi, Glen Louthan, John Demsher, GRN, GRN franchise, Global Recruiters Network franchise opportunity, Global Recruiters Network franchise complaints, recruitment franchise, GRN franchise complaints, unhappy franchisee .