Closed NY Bagel Café Franchise is Now Gem's House of Bagels
The NY Bagel Café franchise location in Middletown, NJ was reportedly used as a sales tool for this controversial bagel franchise.   Even though it's listed as open on the NY Bagel Café website, it's now part of the new Gem's House of Bagels franchise chain.
(UnhappyFranchisee.Com)  The NY Bagel Café in Middletown, NJ was where controversial franchise salesman once charmed prospective franchise owners into parting with their hard-earned money.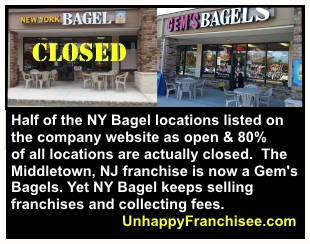 According to victims of the alleged NY Bagel Café scam, Dennis Mason and Joe Smith promised them 100% financing and a chance to open a lucrative, profitable NY Bagel café for just a low upfront payment ranging from $17,500 to $29,500.
Some alleged victims claimed that the franchise owner, John Caristi, had been on hand to provide positive encouragement and his endorsement of the franchise.
The victims allege that NY Bagel salesman Dennis Mason (who used the name Denis Maason and other aliases) wooed them with fraudulent documents and misrepresentations, took their money, but never delivered on the financing he and Joe Smith had promised.
When they asked for their franchise fees back, as was promised in their contracts, Mason and Smith refused.
It turns out that franchisees John Caristi and Debra Caristi may have been receiving as much as $3,000 for each franchise he helped sell.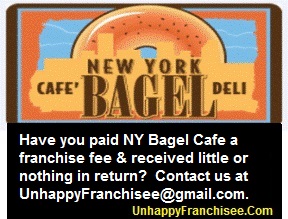 And contrary to Mason's claim of few-to-no failures, an estimated 85% of the NY Bagel Cafes that opened have ceased operation.  See our list here:
NY BAGEL CAFÉ Franchise: How Many Have Closed? [UPDATED]
NY BAGEL CAFÉ Franchise Graveyard
NY Bagel Café Franchise Scam Overview
ARE YOU FAMILIAR WITH NY BAGEL CAFÉ, THE NY BAGEL CAFÉ FRANCHISE OPPORTUNITY, JOE SMITH OR DENNIS MASON?
PLEASE SHARE YOUR OPINION BELOW or Contact UnhappyFranchisee.com TAGS: Joe Smith, Joseph Smith, Dennis Mason, Denis Maason, NY Bagel, NY Bagel Café franchise, NY Bagel franchise, NY Bagel Café, NY Bagel Cafe franchise scam, New York Bagel franchise, New York Bagel Cafe, NY Bagel complaints, NY Bagel lawsuits, California franchise registration, unregistered franchises, illegal franchise