How NY BAGEL CAFÉ Hides its Franchise Failures Part 1
NY Bagel Café franchise sellers Denis Maason (Dennis Mason) and Joe Smith claim that they have a small but growing chain with no failed locations…  and you can open one of their NY Bagel Café franchises for just $19,500 down (Or $17,500, or $24,500).  However, a closer look at the claims on their website and in their disclosure documents suggests that NY Bagel may be an elaborate ruse to collect franchise fees from trusting individuals and families, and that few of those who pay will end up with a viable business.

(UnhappyFranchisee.com)  Denis Maason and Joe Smith run business opportunity ads on Craig's List promising to put individuals in business for a low up-front fee ranging from $17,500 to $29,500.
Dennis Mason (who often uses the spelling Denis Maason to throw off Google searches) then sends pictures of beautiful NY Bagel Cafes franchises from Florida to California.
He sends prospects to the corporate website where they see that the growing chain has 14 locations open in states and 6 more opening in 10 states across the country.
Later in the process, he sends an official looking "franchise disclosure document" that indicates that the company has had no litigation and had no store closures.
These representations help convince a steady stream of wannabe-business-owners to either overnight a cashier's check to Mason, or meet him and Joe Smith at a NJ diner to sign papers and make payment.
No one seems bothered that they are not invited to meet at the corporate office, which is listed on the website as "301 Rt 17N, Suite 800, Rutherford New Jersey 07070"
What Denis Maason & Joe Smith Aren't Telling Prospective Franchisees
When we dug a little deeper, here's what we found:
Beautiful store photos?  Almost all of the stores pictured have closed.
14 open locations? 6 they list as open are actually closed, and 1 left the chain. We found that there are only 7 locations open.
Of those they list as coming soon, two have opened and closed and 1 operates as an independent.
No litigation?  Far from true.
No store closures?  We've identified 36 NY Bagel Café locations that have opened and closed.  See here and here.
And the corporate "Home Office" in Rutherford, NJ?  It's one of those rented address suites that forwards mail.  There's no staff.  No home office.
More Than Half of the NY Bagel Café Franchise Locations on Its Website Are Closed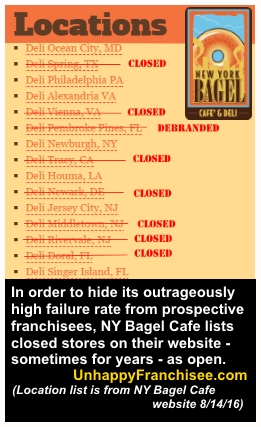 Here is the comparison of locations listed as open on the NY Bagel website on 8/14/16 and the truth.
NY Bagel Café – Ocean City, MD – This location is open and operating under the name NY Bagel Café, but is not part of the chain and is being operated independently.  It was determined by the Maryland Attorney General that this was an illegal franchise sale in violation of Maryland franchise law. NY BAGEL CAFÉ Franchise Fraud Investigation by MD Attorney General
NY Bagel Café – Spring, Texas – The Houston-area NY Bagel Café opened and closed in less than a year.  It's still listed on the NYB website as open.
NY Bagel Café – Vienna, VA  – This franchise was sold illegally and without proper registration in violation of VA franchise law.  The franchisee closed in less than 1 year. It's still listed on the website as open.  Complaints have been filed with the VA Attorney General.
NY Bagel Café – Pembroke Pines, FL    It appears that this franchisee broke away from the chain before opening and is operating under its own name and logo.  Pembroke Pines is still listed on the NYB website as "Coming soon."
NY Bagel Café – Tracy, CA  Read the sad, sad story of Amber Robinson, a U.S. military veteran and widowed mother of two who was illegally sold an unregistered franchise in California and closed in less than a year.  She lost her home and went bankrupt.  Joe Smith and Dennis Mason have the nerve to list it as open and use her store pictures to sell franchises. Complaints have been filed with the CA Attorney General.
NY Bagel Café – Newark, DE  There were 2 locations in Newark, DE.  Both closed years ago.
NY Bagel Café – Middletown, NJ  See the post Closed NY Bagel Café Franchise is Now Gem's House of Bagels.  The Middletown, NJ location is currently listed as Open on company website.
NY Bagel Café – River Vale, NJ  Multiple owners failed in this location and it's permanently closed. Still listed on the NYB website as Open.
NY Bagel Café – Doral, FL  The Doral store was used as a fake success story in lure in other victims, but in actuality it was never profitable.  The long-closed Doral, FL location is listed on the NY Bagel Café website as Open, and photos of the failed store are used prominently in ads
How does NY Bagel Café franchise sellers Dennis Mason (Denis Maason) and Joe Smith Hide their Franchise Failures?
It appears that they:
List closed stores on their website location list as open
Keep the Facebook pages of closed stores active
Keep the Twitter accounts of closed stores active
Plant false information in their disclosure documents (See How NY BAGEL CAFÉ Hides its Franchise Failures Part 2 for more on this)
Have you given money to NY Bagel Cafe, Dennis Mason or Joe Smith and not been able to get financing or open a store? Contact us in confidence at UnhappyFranchisee[at]gmail.com.
Be sure to read:  NY Bagel Café Franchise Scam Overview
ARE YOU FAMILIAR WITH NY BAGEL CAFÉ, THE NY BAGEL CAFÉ FRANCHISE OPPORTUNITY, JOE SMITH OR DENNIS MASON? PLEASE SHARE YOUR OPINION BELOW or Contact UnhappyFranchisee.com TAGS: Joe Smith, Joseph Smith, Dennis Mason, Denis Maason, NY Bagel, NY Bagel Café franchise, NY Bagel franchise, NY Bagel Café, NY Bagel Cafe franchise scam, New York Bagel franchise, New York Bagel Cafe, NY Bagel complaints, NY Bagel lawsuits, California franchise registration, unregistered franchises, illegal franchise