BUILDINGSTARS Franchise Complaints
Buildingstars Franchise Complaints:  Are you familiar with the Buildingstars franchise opportunity?
Please share your opinion and experience – good or bad – with a comment below.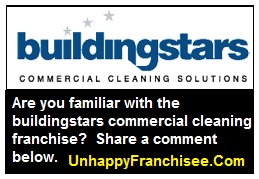 We have received both positive and negative comments about the Buildingstars commercial cleaning franchise opportunity.
The Buildingstars website claims "…a unique business model… truly separates Buildingstars® from any other commercial cleaning franchise company. This unique business model provides our franchise owners with the best way to start their business, the best way to manage their business and the best way to grow their business.
"This is not just an empty promise as; we provide a written earnings claim that shows our Corporate franchise owners have the highest average revenue in the industry.
"Every franchise owner is supported by a team of industry professionals through their local support center.
"From start-up throughout the development and growth of the business, our hands-on team is there to help with acquiring customer accounts, customer service, account retention and administrative support."
An anonymous commenter wrote:
buildingstars cleaning solutions downers grove Illinois

I signed up with this cleaning franchise hoping to make some money this was back in march 2013  its already almost july and they haven't offered  me any extra cleaning accounts. 

very  sad  and when you call them they are always away from there phone or out of their office for fews days  give me a break, if your looking to sign up with any franchise do not choose this one  despite what you read on the web or on their website or anywhere else they under bid any contract you get  

so lets say  I clean 2 days a week which I  didn't ask for in the beginning I wanted a fulltime account which is 5 days. anyways getting on with the story  my total per month and this is no lie is only 240 dollars I get paid on the 15th every month thats it.   for a investment of 900 dollars really thats the best this franchise can  do 

they are total scammers don't care about there franchise owners at all  their all about themselves  so anyone out there run far away from this franchise   BUYER BEWARE.
Larry wrote:
I spoke to the local Buildingstars Guy in White Plains, NY (Westchester County, directly north of the Bronx, NYC) and after emails, he refused to give me the franchise contract so I could read it prior to going to his office to get the hard sell !

So, finally, I told him in an email that until I got that document and either sample or actual customer contracts there would be no meeting. So far, no documents . . .
However, Edward writes that he is happy with his BuildingStars franchise:
Edward says:
I am a current franchise owner in Phoenix. I bought my franchise about a year ago from Buildingstars. I have been very Happy with the business I've received in the last year. The manager of the branch is fair and he stands up for his franchise owners and makes sure that everyone is happy. He will not allow us to do a bad cleaning job, though. If we don't do a good job more than once we lose the account.

My wife and I have not lost a single account in the last year because we care about the way We do the job.

I really like this company. At first, we started with just a couple accounts part-time. Now we both average about $15 an hour.

When we get to a higher level we can hire employees and our money will go up. It just depends on how fast we can grow our business.
ARE YOU FAMILIAR WITH THE BUILDINGSTARS FRANCHISE OPPORTUNITY?  SHARE A COMMENT BELOW.
TAGS: Buildingstars, Buildingstars franchise, Buildingstars janitorial franchise, Buildingstars commercial cleaning, Buildingstars complaints, Buildingstars franchise complaints, janitorial franchise, commercial cleaning franchise