Is 4CATS ARTS STUDIO a Great Franchise Opportunity?
Is 4Cats Arts Studio a great franchise opportunity?  Is it possible to get a strong return on a $100,000+ investment in a 4Cats Arts Studio?
4Cats Arts Studio franchise looks like a fun and fulfilling business to run.
Currently, the 4Cats website lists 71 locations in Canada, 4 in the U.S., and 1 in Australia.
4Cats Arts Studio franchisees run art studios for children ages 2-15 . According to 4Cats Arts Studio marketing, kids get to work in a variety of mediums, taking inspiration from the works of famous artists.
According to the 4Cats Studio website, "we are incredibly organized and because of our size, have great purchasing power which means the best prices [for franchisees] possible."
Included in the cost of a franchise is a 7 year franchise licensing agreement (with option to renew after seven years) ans "start-up and ongoing training and support from Head Office personnel who live and breathe 4Cats!"
According to the 4Cats website:
"4Cats training program is designed to be user friendly, extensive and ongoing. We prepare you to successfully and confidently operate your studio.

.

"You will be trained on all aspects of the studio curriculum, studio set up, art history training, curator training and the big picture of managing and marketing the entire business. The program is a combination of extensive online videos, skype video conference demonstrations, slide shows and pdf's. Training includes the added benefit of attending hands on studio training in a certified training studio.

.

"We are commited to making in-store operations as efficient as possible for franchisees…

.

"Our incredible training program prepares you for running your location. Successful studios are located in both large cities and small communities.

.

"Simple online step by step process that guides you through the opening of the business and training program.
Extensive support developing a community & marketing plan.

Extensive location selection support &approval

Extensive and ongoing training & support.
4Cats Arts Studio Franchise Investment:  Approximately $71,900 – $103,000
The initial and ongoing investment required for a 4Cats Arts Studio franchise is not insignificant.
According to the 4Cats Arts Studio Franchise Disclosure Document 2011 (FDD), the initial franchise fee is $40,000.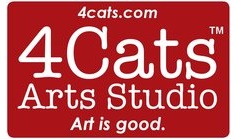 The total initial investment (including franchise fee) ranges between $71,900 – $103,000.
Ongoing costs include a continuing franchise fee of 10% of gross sales (paid monthly), an advertising and promotional fund of 3% of gross sales and a software fee of $35 – $170 per month.
Additional ongoing costs include purchase of required materials from 4Cats corporate ($1000 – $3500 per month), 1% of gross sales on local marketing, and $1000 for renovation/redecorating every 6-8 months.
[Left, 4Cats logo.  Source:  4Cats.com website]
According to the FDD, 4Cats franchise owners have to pay a "proportionate share" of the franchisor's costs for the Annual Meeting.
The franchisor derives income franchisee required purchases and can use vendor rebates on franchisee purchases to "benefit the system."
Some franchisees are maintaining that the high cost structure makes it virtually impossible to achieve profitability.
Read and comment on that issue here:  4CATS ARTS STUDIO Franchise Complaints
Also see:  4Cats Arts Studio Franchise Disclosure Document 2011 (California)
ALSO READ: FRANCHISE DISCUSSIONS by Company
ARE YOU A 4CATS ARTS STUDIO FRANCHISE OWNER OR THE FRANCHISOR?
IS THE 4CATS FRANCHISE A GREAT OPPORTUNITY?
SHARE A COMMENT BELOW.
TAGS: 4Cats franchise, 4Cats Arts Studio franchise, 4Cats Arts Studio franchise opportunity, 4Cats Arts Studio franchise complaints, children's franchise, art franchise opportunity, franchise complaints, Joey Simon, Darryl Simon, unhappy franchisee