4CATS ARTS STUDIO Franchise Complaints
4Cats Arts Studio franchise complaints include an unprofitable business model, unfair termination of franchise owners and "predatory" franchise practices by the franchisor.
(UnhappyFranchisee.Com)  4Cats Arts Studio franchisees run art studios for children ages 2-15 and adults.
At 4Cats Arts Studios, kids get to work in a variety of mediums, taking inspiration from the works of famous artists.
4Cats Arts Studio was founded in British Columbia and the franchise has grown to over 70 locations throughout Canada, USA and most recently, Australia.
According to a report on CBC News, eleven 4Cats Arts Studio franchise owners in British Columbia, California and South Carolina have launched a legal action against the franchisor, claiming that "the franchise agreement makes it impossible to make a profit."
Are you familiar with the 4Cats Arts Studio franchise opportunity?  Is it a good franchise opportunity or a predatory scheme as some franchisees contend?  Share a comment below.
CBC reports that
"Put simply, 4Cats is a predatory system designed and operated by 4CE to extract all of the available profits from the operation of the system in favour of the franchisor and leave nothing for the franchisee," the parties claimed in an arbitration notice.

.

The claimants are collectively demanding more than $4 million in compensation.

.

"There have been some misrepresentations for profitability — there's been no profit whatsoever. No return on investment," [franchisee] Galeano said.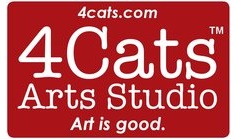 The CBC reports that franchisee Emaly Galeano had continually lost money for the four years that she ran her 4Cats Art Studio franchise, despite having grown the school to 350 active students.
[Left: 4Cats Arts Studio logo.  Source:  4Cats.Com]
The franchisor allegedly terminated her franchise agreement, and left her unable to teach art in her market due to a non-compete clause in her agreement.
According to lawyer Jennifer Pocock, of Sotos law firm, who is representing the franchisees:
"In essence, the claim is one based on no one is able to derive any profits from this franchise system," said Pocock. "This claim revolves around sharing profits and the franchisees claim that the franchiser hasn't shared the profits from the system."

.

The group is seeking damages in the range of $4 million.

.

Galeano said she invested around $100,000 since she opened her doors and has not gotten any return investment.
The 4Cats Arts Studios franchise was founded by Joey and Darryl Simon and is based in Victoria, British Columbia, Canada.
Are you familiar with the 4Cats Arts Studios franchise?
Do you think that it's a great franchise opportunity run by franchisors dedicated to their franchisees' success?
Or do you agree with the allegations in the arbitration notice that it's a predatory system designed to generate profits for the franchisor at the expense of the franchisees?
ALSO READ:
FRANCHISE DISCUSSIONS by Company
ARE YOU A 4CATS ARTS STUDIO FRANCHISE OWNER OR THE FRANCHISOR?  ARE YOU FAMILIAR WITH THE 4CATS FRANCHISE OPPORTUNITY?  SHARE A COMMENT BELOW.
TAGS: 4Cats Arts Studio franchise, 4Cats Arts Studio franchise opportunity, 4Cats Arts Studio franchise complaints, 4Cats Arts Studio lawsuit, franchise, franchise opportunity, franchise complaints, unhappy franchisee