MAC TOOLS Distributor's Wives Share Stories of Deception, Hardship
MAC Tools distributors are sold the idea that the MAC Tools franchise is their path to the American Dream:  a way to be their own bosses, control their own destinies,  gain financial independence and build stronger futures for their families.

However, two wives of MAC Tools distributors characterize their experience with MAC Tools as more of a nightmare than a dream.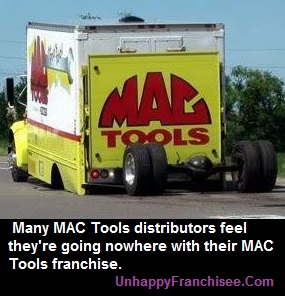 Two MAC Tools wives sent UnhappyFranchisee.Com  a revealing conversation (See the link to A Nice Conversation Between Two Mac Tools Wives at the bottom of this post).
In the dialogue, they describe the despair that results from devoting long hours to a business that not only doesn't turn a profit, but is sinking them further and further into debt.
The MAC Tools wives describe the toll the business is taking on their husbands, who are caught between a franchisor that demands payment according to rigid terms, and their mechanic/customers who struggle to make their tool bill payments.
Many MAC Tools franchisees, it seems, end up in the unenviable position of selling high-priced tools to undercapitalized customers, then assuming their credit risk.
MAC Tools Challenges are a Family Affair
When a MAC Tools distributor struggles, it can take a devastating toll on the entire family.
MAC Tools distributors have told UnhappyFranchisee.Com they while their initial motivation was to create opportunities for their families, they find themselves not only battling for financial survival, but fighting to save their homes and keep their marriages intact as well.
MAC Tools franchise owners complain that they assume most of the risk (by putting their own money out "on the street"), work a grueling schedule and spend countless hours performing uncompensated warranty repair work.
MAC Tools distributors also complain that their franchisor sells the same tools to their competitors at deep discounts, enabling them to drastically undercut the MAC Tools franchisees in the marketplace.
"MAC Tools Has All Our Money…" – A MAC Tools Wife
In their dialogue, the two MAC Tools wives commiserate about the financial trap they're in:
MAC Tools Wife #2: No wonder me and my husband get so frustrated when a mechanic can only pay $20.00 towards his account some weeks! I start wishing that he did not make a sale because of it. My husband and I end up losing money hand over fist in situations like this. And believe me- it happens a lot!

…But when it comes to paying your own tool bill to Mac Tools- we can't get away with it! This week alone we dished out $2,000.00 one day and another $3,000.00 the following day. And it's only Wednesday! Can't wait to see what we owe them tomorrow!

MAC Tools Wife #1: I agree. The bank account is drained. Our line of credit is maxed out. Our credit cards are outrageous. Where did all the money go? Oh – Mac Tools has all our money because they get paid first. Our other money is out on the street not getting paid back to us. We certainly don't get a pay cheque. All we wanted was to own our own business! How I regret that we ever got into doing this. My husband had a dream when he first got into this! The dream is now turning into a nightmare. This is only our first year in business.
While this dialogue is between two specific MAC Tools wives, it likely represents conversations in tool dealer's households and tool trucks across the U.S. and Canada every day.
READ:  A Nice Conversation Between Two Mac Tools Wives (WORD Doc)
Read more posts on MAC Tools.
Read more about Mobile Tool Franchises:  Mobile Tool Franchise Issues & Index
If a tool truck distributorship or franchise has had an effect on your family – good or bad – please leave a comment below.
ARE YOU FAMILIAR WITH THE MAC TOOLS FRANCHISE DISTRIBUTOR OPPORTUNITY?  PLEASE SHARE YOUR EXPERIENCE BELOW.