MAC Tools Screwed Us: A MAC Distributor Speaks Out (Video)
"MAC Tools screwed us" states a MAC Distributor in a video that warns would-be franchise owners from owning a MAC Tools mobile tool distribution franchise.

(UnhappyFranchisee.Com) In the video [which has now been taken offline], Cory & his wife Michelle tell how MAC Tools sold them a tool truck route (at an investment, thus far, of $130,000) without telling them that three prior distributors had failed with the same route.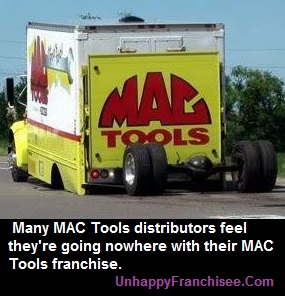 The franchisees contend that many MAC distributors fail, in part because of a lack of corporate support, inadequate tool financing, and independent competitors who sell the same products at significantly lower prices.
They claim their MAC District Manager (DM) had no concern for their success, and was only interested in collecting a "huge sign up bonus."
Are you a MAC distributor or former distributor?  Please share your opinions and experiences with a comment below.  If you are willing to take a short survey, see the link below.
"MAC Tools Screwed Us" Video Transcript
Cory:  My name is Cory and this is my wife Michelle. I am a Mac tools distributor and this is how MAC tools screwed us.
Michelle:  They started off by painting a beautiful picture of how life would be like as a distributor; being your own boss, running your own business, having more time to spend with your family and having a much a larger wallet. We invested over $130,000 and Cory is yet to draw a paycheck after 14 months. We are struggling. The DMs paint a great picture because they are thinking of the huge sign up bonus that they will get.
Cory- Mac did not tell me that there were 3 prior failed distributors on my route.
They claimed that there was tons of support; I received no support from MAC Tools, my RM or My DM when I needed them!
MAC took away the MAC card 8 months in, which means no financing for customers. Especially on tool boxes so I could not even compete with the competitors.
Michelle: They put me in a route knowing that there was an independent dealer selling the exact same products for much lesser prices and again I couldn't compete.
There was even a light that Cory sold to all his customers that was advertised as a MAC exclusive product. A month later it was out in the Canadian Tire flyer. He sold it for $133.00 and CT for $20.99. We paid $95.19 as distributors for those. Customers were furious and his DM did nothing to help him. Cory lost a lot of money and people's trust
MAC expects you to put each customer on a Time payment plan so the tool is paid off in 5 weeks. But MAC you wants you pay them within 30 days, if not you will be put on hold and that means no tool orders shipped. Most trade's people cannot afford to pay a large tool off in 5 weeks. But we have to pay MAC. There were even orders placed on our behalf that we didn't order. It is not humanly possible for a distributor to do this alone ….that is why they want the wives to be involved.
Cory: we were really taken advantage of and now we could lose everything. Don't make the same mistake that I did and get screwed by MAC Tools.
ALSO READ:
MAC TOOLS Franchise posts on UnhappyFranchisee.Com
Mobile Tool Franchise Issues & Index
MAC Distributor's Wives Share Stories of Deception, Hardship
MAC Franchise Owners Claim They Can't Compete (Slideshow)
ARE YOU FAMILIAR WITH THE MAC FRANCHISE DISTRIBUTOR OPPORTUNITY?  PLEASE SHARE YOUR OPINION BELOW.