GOLDEN CORRAL Franchise Owner Sherrance Henderson Letter to U.S. Senate
Golden Corral franchisee Sherrance Henderson, the disabled single mom who lost more than $3M when her Pughkeepsie, NY franchise was terminated after just 51 days, is not going away quietly.  Here's the letter she sent today to the U.S. Senate committee on Banking, Housing & Urban Affairs.
(UnhappyFranchisee.Com)  Sherrance Henderson claims to have been the only woman-of-color franchisee in the 600-store Golden Corral chain.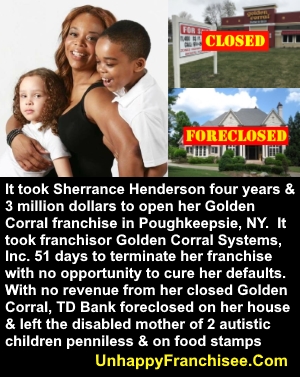 She also has the distinction of having the shortest operating history in the chain's history:  Golden Corral terminated her franchise agreement and ordered he restaurant closed only 51 days after it opened.
With no restaurant revenue with which to repay her SBA loan of $3.7M, TD Bank enacted default proceedings and foreclosed on Sherrance Henderson's $1.7M home (which they resold for less than $1M).
It appears that the American Taxpayer may be on the hook for as much as $2.8M or more for the guarantee made to TD Bank through the SBA loan program, as well as the cost of food stamps, Medicaid and other social services the once-millionairess Henderson and her two autistic children are now eligible for.
So it appears that Golden Corral Systems, Inc., TD Bank, and the Golden-boy franchisee Niral Patel (who took apparently took ownership of the Poughkeepsie franchise location without paying Henderson a cent) made out like, say, bandits leaving a disabled mother destitute and the American Taxpayer potentially on the hook for millions.
Well, Golden Corral Systems,
Golden Corral CEO Lance Trenary, Senior VP of Franchising Irwin Roberts, VP Richard Chase, Niral Patel, and Brian Misenheimer (formerly with TD Bank, now VP of Cooperative Bank) haven't gotten away scot-free.
Sherrance Henderson does not appear to be someone who is going away quietly.
Here's the Sherrance Henderson / Golden Corral letter sent today to the U.S. Senate Committee on Banking, Housing, and Urban Affairs.
Note:  UnhappyFranchisee.Com did not assist with or have prior knowledge of Sherrance Henderson's letter, though she included text from our email newsletter and links to our site (Thanks, Ms. Henderson).
Neither Golden Corral Systems, TD Bank nor their attorneys have responded to our request for comment, clarification or rebuttal as of this writing.
Note #2:  Ms. Henderson's letter is posted exactly as received.  Misspellings and typos also appear in the original document we received.  (Sherrance Henderson's Golden Corral Complaint to the U.S. Senate)
Sherrance Henderson

6600 Sugarloaf Parkway, 400-343

Duluth, GA 30097

April 30, 2019

U.S. Senate Committee on Banking, Housing, and Urban Affairs
534 Dirksen Senate Office Building
Washington, D.C. 20510

Re: RECO+ ME TOO+ Racism+ Unethical Business Practices= TD Bank and Golden Corral lawsuit filed by African American Female..$350 Million Dollars

Dear Committee on Banking and Urban Affairs:

Please give ear to my plead. I am desperate need of your assistance. I have been taken advantage, illegally mistreated by both TD(TD) Bank and Golden Corral(GC). I was simply set-up by these two originations. I have been set-up so Golden Corral and TD Bank could robed me easily. Now the American Tax Payer will foot the bill. My Small Business Administration Protected loan was "ONLY" for the benefit of both TD and GC. However, I paid the premium of $10,000 during my loan application process. GC order me to use ONLY TD for my business loan and GC stated that I MUST apply for a SBA loan product. GC and TD furthermore supplied with numbers for my business plan, loan application, and proforma so the "SBA" loan would be a sure shot. I thought they were helping me. That was furthest away from the truth. They..GC and TD had a wicket plan to steal from me. To take ever dime so I could not fight but I would simply die and be buried alive with my two children.

TD has a long of participating in many different win-falls types of illegal banking practices. Like the 2nd largest Ponzi scheme in the World, TD was the money launderer. TD concealed the origins and protected Stanford Finical. Over a billion dollars went though complex sequences to foster a pathway for Stanford Finical to steal money. No other bank accepted Stanford finical, yet TD did. TD has countless lawsuits from stealing peenies from a coin star counting machine to charging high interest rates to up selling banking products unbeknownst to TD's customers. It just shows that TD will steal pennies to billions. Not amount is too small to "steal." I am not the only one and I am not the first but yet TD keeps its banking license. GC has been practicing Racketeering for many years. Within the franchisee food business they (other food franchises) call it "churning." Its simply bring in an unexperienced buyer of wealth, making them do all the hard leg -work of building a store, acquiring a team of workers, and opening a business. Then the franchisor "takes" the business. They set it up to make it seem like the business owner does not know how to run the franchise. The franchisor sends in "fake" customers, know as secret shoppers. These shoppers then places false reports on leading consumer review websites like "Yelp." These shoppers will do anything that has been requested. They will complain to managers at the store, support false complaints with the franchisor, cause fights at the location. Whatever it takes to destroy the integrity of the store and its management.

This is how the franchisor "devalues" the store and thus starts growing roots to take over the store for pennies on the dollar. This is a just an example. Then the franchise has another owner of "another" location to become involved with the "unexperienced" franchisee to be set up for a take over. The franchisees uses a group approach. This is what they did to me, Sherrance Henderson they ONLY women of color franchisee owner out of 600 plus stores.

Please read the below. Please help. Please do not ignore. Me and my family's life depends on your help and the American Tax payer is depending on your help as well.

I await your reply. Please feel free to call me directly at 347-421-4451.

Best,

Sherrance Henderson
Sherrance Henderson's letter to the Senate included this excerpt from a UF email newsletter:
http://www.unhappyfranchisee.com/golden-corral-franchisee-loses-3-million/

Golden Corral PR Nightmare: Disabled African American Mom Loses $3M in 51 days.
We contacted you because you are a franchise professional with ties to Golden Corral & this story.  We value your opinion and invite you to share it through a comment or email.

It took Sherrance Henderson 4 years and $3 million to open her Poughkeepsie NY Golden Corral.  It took Golden Corral Systems, Inc. just 51 days to terminate her with no opportunity to cure her alleged defaults.


GOLDEN CORRAL Wealth-loss Diet: Franchisee Loses $3M in 51 Days



Sherrance Henderson is a partial paraplegic African American mother of two autistic children who has lost her $2M savings account and her $1.75M house (foreclosed on by TD Bank).
She is on food stamps, trying to raise money on GoFundMe, and acting as her own attorney in a lawsuit against Golden Corral, TD Bank and others.
Question: Could Golden Corral corporate have created a worse potential PR disaster for the franchise program and the Golden Corral brand?
GC:  What were you thinking?


We invite you to share your opinion either through a comment on the site (anonymous is fine) or by emailing (in confidence) to UnhappyFranchisee@gmail.com.

Please share your opinion and see what others say.

All responses and comments are confidential. We are an independent discussion site not affiliated with any other company or group, and not affiliated with Sherrance Henderson or Golden Corral.

✓✓✓✓✓✓✓✓✓✓✓✓✓✓✓✓✓✓✓✓✓
Sherrance Henderson's letter to the Senate also included the text of and a link to her GoFundMe campaign:
Disabled Single Mom Seeks Help Fighting Injustice

It is a David v Goliath story of the modern age.  A disabled single mother is taking on two major corporations, in an effort to put right the wrongs they inflicted on her.  Sherrance Henderson, a former Miss America, and Miss USA beauty pageant contestant is speaking out about the corruption within two businesses, which has seen her loose over two million dollars.

Ms Henderson has named TD Bank, and Golden Corral as the companies, whose action has lead to herself and her children relying on food banks and homeless.  Were it not for Ms.Hendersons mother, they would be out on the street – a far cry from the two million dollar home they resided in before the ill-fated involvement with the aforementioned companies.

What has become a desperate and unjust situation began when Ms Henderson went into business with Golden Corral, by purchasing a license to open a franchise in the Newark, NJ area.  Immediately after receiving the license money from Ms.Henderson, Golden Corral began backtracking, changing the terms of the deal, and stating that Ms.Henderson could no longer open in Newark area.

She was instead, forced to open her franchise in the less desirable and less profitable area of Poughkeepsie.  During the following months, Ms.Henderson was subjected to sexual harassment and intimidation by a corporate executive at Golden Corral.  As a result, she was left feeling trapped, both in an area, she had not wished to open a business in, and within a company in which she was being sexually and emotionally exploited.  The business subsequently closed after just 51 days, which is little surprise given the circumstances surrounding the opening.

It was following the closure of the business, that Ms.Henderson faced TD Bank in court, they forced the sale of Ms.Hendersons home by lying that Golden Corral didnt have a buyer for the franchise, however, shortly after the judgment forcing the sale, Golden Corral emerged with a buyer.

It is with great sadness that Ms.Henderson seeks assistance to get her day in court.  It is vital that the sexual exploitation, harassment, and mis-truths  surrounding this case are exposed.  It is only with your help that this will be a possibility, as Ms.Henderson has been left destitute by the corruption of the companies involved.  If you would like to help with please visit the go fund me page at

https://www.gofundme.com/golden-corral-and-td-bank-bullies.

For more information contact:

Name: Sherrance Henderson

Address: Metro Atlanta Area

Tel: [redacted]

U.S.A.
Sherrance Henderson apparently copied a number of governmental, trade and media organizations on her letter, including: United States Federal Reserve , Rosie Rios, United States Treasurer , Securities and Exchange Commission, American Association of Franchisees and Dealers , American Franchise Association, American Trade Commission (FTC), New York State Bar Association Franchise Law Committee, New York Attorney General Office Complaint with Investor Protection Bureau, New York Times, New York Daily News, New York Post, and the Canada Business and Banking News
MEDIA INQUIRIES:  The Unhappy Franchisee (UF) website and publisher Sean Kelly do not represent either Sherrance Henderson nor Golden Corral.  Sean Kelly is a 30-year veteran of the franchise industry and has published this website for over 10 years.  He is available to writers and editors interested in covering this story.
INVITATION TO GOLDEN CORRAL, TD BANK & NAMED INDIVIDUALS:  Companies & individuals discussed on this site have an open invitation to provide clarifications, corrections, rebuttals and other expressions of their points-of-view.  They can post in the comment section below, or contact ADMIN via email at UnhappyFranchisee[at]Gmail.com.
ALSO READ:
FRANCHISE DISCUSSIONS by Company
GOLDEN CORRAL Wealth-loss Diet: Franchisee Loses $3M in 51 Days
ARE YOU FAMILIAR WITH THE GOLDEN CORRAL FRANCHISE OPPORTUNITY, TD BANK, SHERRANCE HENDERSON, OR THE POUGHKEEPSIE GOLDEN CORRAL FRANCHISE?  SHARE A COMMENT BELOW.
TAGS: Golden Corral, Golden Corral franchise, Golden Corral franchise opportunity, Golden Corral complaints, Golden Corral Poughkeepsie, Sherrance Henderson,  Sherrance Henderson lawsuit, Golden Corral Lawsuit, TD Bank, TD Bank SBA Loans, TD Bank complaints, U.S. Senate, Senate complaint letter, Lance Trenary, Irwin Roberts, Richard Chase, Niral Patel, and Brian Misenheimer Anthony Segreti, SBA fraud, SBA franchise loan fraud, failed franchises