Email to GRN Global Recruiters Network CEO Brad Baiocchi
The Global Recruiters Network franchise (GRN franchise) has a disturbing statistic in its Franchise Disclosure Document:  Nearly 100 franchisees have been terminated in the past few years.  More than a year ago, we asked GRN CEO Brad Baiocchi for an explanation of what happened, and whether prospective franchisees could face a similar fate.  After a year of silence, we'll try again.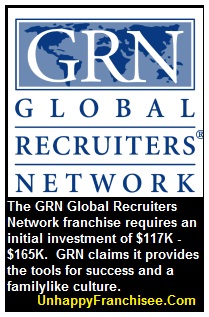 (UnhappyFranchisee.Com)  The Global Recruiters Network franchise website refers to GRN franchise owners as "family" stating that they "continually support our family so they can perform with the quality, integrity and professionalism clients have come to expect from GRN."
However, you can terminate franchisees (unlike family members) and GRN has certainly exercised that option.
Here's out initial post:
GRN Global Recruiters Network Franchise Complaints
Here's our more recent post:
GRN Global Recruiters Network Franchise Owner Retracts Online Complaint, But Questions Remain
We've posted the initial email we sent to GRN CEO Brad Baiocchi in the hopes that he would embrace transparency and open communication in favor of bullying and litigation.
We received no response, but will try again.
GRN Global Recruiters Network Franchise: Email to Brad Baiocchi, 1/11/16
Ima Franchisee <unhappyfranchisee@gmail.com>

1/11/16

to brad, glen, jwilson, jdemsher

Mr. Baiocchi:

Good afternoon. UnhappyFranchisee.Com is a franchise issues and discussion website that (among other things) helps prospective franchisees evaluate franchise opportunities, and determine whether online criticism or observations about particular franchise concept is meaningful or should be dismissed as anonymous sniping.

We saw the rather scathing allegations on Ripoff Report posted by an anonymous commenter who claimed to be a former GRN franchisee who was unfairly terminated.  While the commenter made a number of accusations, the most substantive allegation appeared to be that a large number of GRN franchisees have been terminated without warning or being given a chance to cure defaults.

We reviewed the GRN 2015 Franchise Disclosure Document and were rather shocked to see that GRN appears to have terminated 92 (34%) of its franchisees in the past three years.  We've reviewed a lot of FDDs and can't recall seeing such a high percentage of terminations. We have published an initial post regarding our investigation into the allegations made on Ripoff Report, and included an invitation to you and GRN to provide clarification and an explanation for the rash of terminations:

GRN Global Recruiters Network Franchise Complaints

http://www.unhappyfranchisee.com/grn-global-recruiters-network-franchise-complaints/

Can you explain the circumstances under which such a high percentage of franchises were terminated?

Were these terminations the result of incurable breaches?  If not, were the franchisees given notice and an opportunity to cure?

Do you anticipate maintaining this number (28-38) of yearly terminations going forward?

Should prospective franchisees be concerned that more than 1/3 of your franchisees appear to get terminated?

Also, why Franchisees must "current and former franchisees sign provisions restricting their ability to speak openly about their experiences with the franchise system."  Aren't many of the requirements of the FTC Franchise Rule based on the fact that prospective franchisees should be able to speak with both current and former franchisees as part of their due diligence process?
Mr. Baiocchi, we strongly believe that prospective franchisees should have access to as much information and as many differing opinions as possible – including yours.  So please know that you have an open invitation to provide clarifications, rebuttals, explanations, or other statements which we will try to publish in full, unedited and with the same prominence as the original complaints.

Thanks you in advance in engaging in open and contructive dialogue, and for addressing our questions.

All the best,

ADMIN

UnhappyFranchisee.com

PS We are not acting on behalf or in conjunction with any franchisee, franchisee group, attorney, competitor or other party involved with GRN past or present.  The current scope of our research is the ROR complaint, and publicly available documents and news sources.  And no, we aren't a complaint site that seeks payment for taking down negative material.  we don't take anything down, nor do we disclose any information regarding the identity of our commenters.
ALSO READ:
FRANCHISE DISCUSSIONS by Company
ARE YOU A GRN GLOBAL RECRUITERS NETWORK  FRANCHISE OWNER OR FORMER GRN FRANCHISEE?   SHARE YOUR EXPERIENCE OR OPINION BELOW.
TAGS: Global Recruiters Network, Global Recruiters Network franchise,  Brad Baiocchi, Glen Louthan, John Demsher, GRN, GRN franchise, Global Recruiters Network franchise opportunity, Global Recruiters Network franchise complaints, recruitment franchise, GRN franchise complaints, unhappy franchisee .