GRN Global Recruiters Network Franchise Owner Retracts Online Complaint, But Questions Remain
Former Global Recruiters Network franchise owner Melissa B. has apologized for an online complaint against the recruitment franchise and executives Brad Baiocchi, John Demsher, and Glen Louthan posted on Ripoff Report.   But while Melissa B. has recanted her tale of illegal termination from GRN, questions remain unanswered about the franchisor's high number of franchisee terminations. 
(UnhappyFranchisee.Com)  In January, 2016, our post GRN Global Recruiters Network Franchise Complaints referenced and quoted from a complaint posted on RipoffReport (RoR) made by a disgruntled GRN franchisee.
The commenter (since identified as former franchisee Melissa B.) stated that GRN Global Recruiters Network had suddenly terminated her franchise agreement, as well as the agreements of many other franchisees.
We stated that the company alleged that the statement was false and was trying to force the publisher of RipoffReport.com  to disclose the identity of the commenter.
We recently received a letter from GRN's Attorney Mark J. Baiocchi stating that the publisher of Ripoff Report (Xcentric Ventures) is obeying a court order demanding that they redact most of the complaint.
Mark J. Baiocchi states:  "After a Rule 224 action in Illinois, two additional lawsuits in two separate states, and one appeal, all since August 2015,  Xcentric Ventures and Ripoff Report have substantially redacted the article and are now considering whether to remove the article in its entirety."
Baiocchi provided both a certified copy of the court order and a letter from Defendant and former GRN franchise owner Melissa B. admitting that she authored the comment, and that it contained false and defamatory statements about the company and its executives. (See below).
GRN Franchise Owner Melissa B. Admits to Online Defamation, Apologizes
The documents submitted to us by the attorney for Global Recruiters Network contained this letter from former Clearwater, FL GRN franchise owner Melissa B. to her former franchisor, Brad Baiocchi:
March 7, 2017

Dear Brad,

I am writing to you to personally apologize to you, your family, Mark, Glen, Johnny, and anyone else who I may have victimized with the article I authored and posted on Ripoff Report and www.ripoffreport.com, specifically Ripoff Report #1243731.

I authored and posted the article for personal reasons.

At the time I authored the article, I had already been separated from GRN for more than one year. At the time I posted the article, I was upset, angry and desperate. I had lost my family and friends and then, I had lost you and everyone at GRN as well.

After getting rejected for a job opportunity, I blamed you for what was happening to me.

Although I did not intend to be, I made the malicious post. I didn't take the time to identify if something was true, or to make sure I understood what I had read or heard. It was purely emotional. I didn't think it through.

The statements about you and GRN are false and untrue. At the time I posted the article, I knew the statements were false and untrue.

I am sorry for any harm I caused you both personally and professionally. I am sorry for any harm I caused GRN and to the other individuals.

This was a huge mistake on my part and I sincerely regret writing and posting this article.

I will instruct Ripoff Report to take down and delete the entire article. I will also ask other websites, including Unhappy Franchisee, to take down the article as well.

Brad, for what it's worth, please know from the bottom of my heart i truly do regret making the post and I am very sorry. I feel so ashamed and embarrassed. I know I don't deserve it, but I hope someday in time, you will eventually forgive me. Sending you my deepest apology.
Sincerely,

[Melissa B.]
UnhappyFranchisee.Com Declines Request to Remove Original GRN Post
The Court Order directs Melissa B. to remove or redact her complaint on the Ripoff Report site and anywhere else she may have posted it.
The Defendant [redacted] shall remove or redact in its entirety, the article in question (RipoffReport: #1243731) on all websites and social media including, without limitation, www.ripoffreport.com (and all of its subpages), within 21 days of the date in this Order.

Xcentric, the Respondent in the 1399 Case, shall cooperate with the Defendant [redacted] and remove or redact the article in its entirety.

… Except as to [redacted]'s confession attached as Exhibit B, [redacted] , shall not post or publish any further statements about the Plaintiffs, Global Recruiters Network, Inc. (" GRN" ), its management team and/or employees.

… [redacted] shall not disparage GRN and its management team or it employees in any manner.
As far as we know, Melissa B. has never posted a comment to UnhappyFranchisee.Com, which is why, we assume, Unhappy Franchisee was not a party to the Rule 224 action or the other two lawsuits.
We simply were reporting on the dispute between the anonymous commenter and the company that denied the allegations and was seeking to determine the former franchisee's identity.
In a letter to us via Attorney Jonathan Fortman, Attorney Baiocchi wrote:  "We respectfully request that your client, Sean Kelly d/b/a unhappyfranchisee.com, comply with the court order now and remove the article as quickly as possible."
As there is nothing in the court order that directs Unhappy Franchisee to make any modifications or to remove to our article, we must respectfully decline Mr. Baiocchi's request.
However, we have updated the original article and posted his letter and court order to make it abundantly clear that Melissa B's statements have been deemed false and defamatory.
The Question Remains:  Why Were Nearly 100 Franchisees Terminated?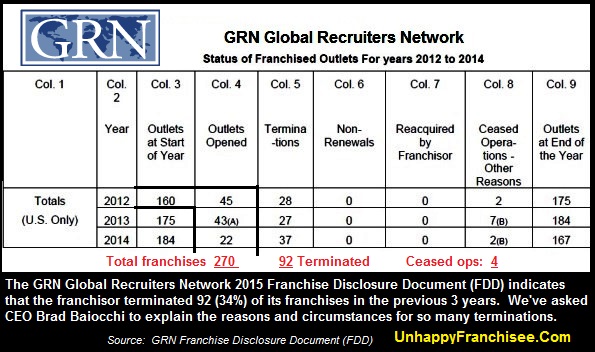 The near-total redaction of Melissa B's anonymous complaint is puzzling.
Melissa B. had stated that "president Brad Baiocchi started closing down franchise offices without giving any notice to the owners and offices started disappearing with no explanation."
Is this not true?  Nearly 100 GRN disclosure documents state that the franchisor terminated nearly 100 franchisees in four years.  Were all of these terminations communicated to the franchisees well in advance?
Melissa B. had stated that:  "…we walked into our office and couldn't log into the system.  When we called corporate's IT department we were redirected to Brad's brother Mark who is an attorney.  We were advised that we were no longer a franchisee!  This was all done without cause, without any written notice or warning…  We contacted an attorney of our own as well as former owners and found out that GRN has done this to over 87 other offices…"
Melissa B. has stipulated that this is not true, but what does that mean?  That they gave her notice well in advance before shutting her down?
Is it not true that GRN terminated over 87 other offices?  Because GRN's own documents state that that's true.
Unhappy Franchisee to Global Recruiters Network:  Let's Work Together
When we first published our article last year on the high termination rate of Global Recruiters Network, we sent a long email to CEO Brad Baiocchi and his senior management inviting them to be transparent and explain some of the disturbing statistics in their FDD.
We also posted three questions for Founder & CEO Brad Baiocchi of the Global Recruiters Network:
What are most common reasons that the 92 [now97] franchises were terminated?

How much time were these franchisees given to cure their defaults?

Should prospective GRN franchise owners fear that they might be terminated, even if they follow the rules?
We never received a response to our questions.
A year later, Brad's brother Mark J. Baiocchi writes:
We understand that your client Sean Kelly d/b/a was not a party to the Rule 224 action or the other two lawsuits. However, we are seeking his cooperation rather than embark on another year long journey of unnecessary litigation.
While we do not remove content unless absolutely necessary, we do accept Mark's invitation to cooperate and avoid unnecessary litigation.
For this reason, we will post our original email to his brother, and ask Mark to urge brother Brad to consider transparency and open dialogue over threats and litigation.
It not only will be less costly, it will be much less likely to prompt an avalanche of negative attention and inquiry into the disappearance of 1/3 of GRN's franchisees.
ALSO READ:
GRN Global Recruiters Network Franchise Complaints
Letter to Brad Baiocchi, CEO, Global Recruiters Network
GRN Court Order & Melissa B's Admission/Apology Letter to Brad Baiocchi
FRANCHISE DISCUSSIONS by Company
ARE YOU A GRN GLOBAL RECRUITERS NETWORK  FRANCHISE OWNER OR FORMER GRN FRANCHISEE?   SHARE YOUR EXPERIENCE OR OPINION BELOW.
TAGS: Global Recruiters Network, Global Recruiters Network franchise,  Brad Baiocchi, Mark J. Baiocchi, Attorney Mark Baiocchi, Glen Louthan, John Demsher, GRN, GRN franchise, Global Recruiters Network franchise opportunity, Global Recruiters Network franchise complaints, recruitment franchise, GRN franchise complaints, unhappy franchisee .