Dickey's Barbecue Franchise Woes Reach U.S. Senate
Unhappy Franchisee has been publishing the warnings and pleas for help from Dickey's franchise owners since 2014.  Franchisor DBRI has ignored its franchisees and continued to be one of the most exploitive franchise sellers in recent history.  The voices of Dickey's franchise owners (and former franchise owners) have finally reached the chambers of the U.S. Senate.  Hear what Keith R. Miller told the Senate Committee on Banking, Housing & Urban Affairs about the taxpayer-funded Dickey's Barbecue disaster.
(UnhappyFranchisee.Com)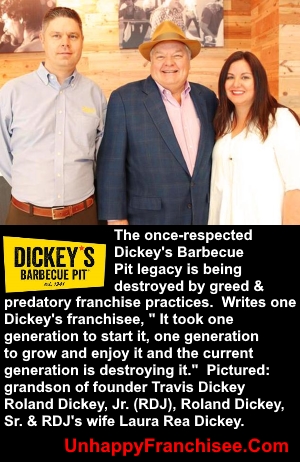 The reign of bullying & financial terror perpetrated by Roland Dickey, Jr., Laura Rea Dickey, and the Dickey's Barbecue Restaurants, Inc. (DBRI) may soon, at long last, be coming to an end.
We've published more than 50 blog posts on the complaints we received and evidence we've found of bullying, intimidation, hard-sell tactics, dishonesty, and location churning by DBRI since 2014.
Hat's off to friends of Unhappy Franchisee Mr. Keith Miller and U.S. Senator Catherine Cortez Masto (D-Nev).
We previously reported that Senator Masto had written a letter asking for an investigation into franchise loans guaranteed by the SBA (DICKEY'S BARBECUE PIT Franchise SBA Loans Investigated by U.S. Senator).
Yesterday, Cortez Masto introduced legislation to curb predatory practices from franchise sellers like Dickey's Barbecue Pit (Cortez Masto Introduces Legislation to Protect Prospective Franchise Owners from Predatory Practices).
On 7/17/19, Keith Miller presented "Economic Mobility:  Is The American Dream in Crisis?" to the United States Senate, Committee on Banking, Housing and Urban Affairs Subcommittee on Economic Policy.
Below is the excerpt of Mr. Miller's statement referencing the Dickey's franchise problems (Links to the full presentation and Mr. Miller's written statement are included further below.)
U.S. Senate Learns of the Predatory Dickey's Franchise Trap
Excerpt from Keith Miller's Written Statement to the U.S. Senate Concerning Dickey's
Read the full statement here:   "Economic Mobility:  Is The American Dream in Crisis?" by Keith Miller
Let's look at some examples of the breakdown in this industry, and how dreams have been shattered.

Amin Abdelkarim is an immigrant from Egypt, who moved to the Dallas area.

He worked double shifts at the Dallas  Fort Worth airport and saved enough money to think about going into business, in search of his American Dream.  He ended up purchasing a Dickey's Barbecue Pit franchise.  He was given the FDD, and a spreadsheet showing estimated startup costs, and was provided assistance with applying for an SBA 7(a) loan.  Unfortunately for him, the estimates given were grossly incorrect, and all his startup capital was spent getting the business open.

He opened his business in August 2018, and Amin contacted me in September 2018, one month after opening, asking for help.  He was already broke, he could not pay his SBA loan, and feared he would lose his home, rendering his family homeless.  Dickey's idea of assistance was reminding him of the 60-month liquidated damages clause in his contract. His other option was to sell his business to a buyer Dickey's found, for pennies on the dollar.  Either way, he knew his SBA loan was going in default, and he was going to lose all his assets.

At one point he said to me, "in a few weeks, I will find myself, my disabled wife, and my 89-year old mother in law in the street, with no house, no car, and no money".

Some will argue, it's his fault, he didn't have the skills to be a business owner.  This is what franchisors will always blame, the franchisee was not a good owner, so it's not the company's fault.
Here's the problem in the industry.

When a franchise is sold, both the franchise corporation and the franchise business should profit. However, the franchise corporations, brokers, and/or "consultants" make money up front. They earn a profit from the initial franchise fee, then the franchise corporation continues to make money on the ongoing royalties, most often based on revenue, not profit.  The franchise corporation has little risk, while the franchise owners often struggle to make a decent living.viii The franchise owner has all the risk.

The bank profits from the loan, a loan they often would not approve without the SBA's guarantee. In fact, banking regulators do not even consider government-guaranteed loans and do not get involved when those loans fail.
See the video of Keith Miller's full presentation here:  U.S. Senate Learns of Franchise Industry Problems
Read Keith Miller's full written statement to the U.S. Senate: Keith Miller Franchise Senate Statement
HELP FUND MORE REPORTING ON DICKEY'S BARBECUE PIT
Help us finish our special report:
READ THE 2019 DICKEY'S FRANCHISE OWNER SURVEY (by section):
Dickey's 2019 Franchisee Survey Excerpt 1:  Demographics, Future & Past
Dickey's 2019 Franchisee Survey Excerpt 2:  DBRI Leadership, Roland Dickey Jr., Laura Rea Dickey


ALSO READ:
Most Dickey's Franchises Are Unprofitable, Franchisees Report
Dickey's Franchisees Blame CEO Laura Rea Dickey, Roland Dickey Jr. for Franchise Crisis
DICKEY'S BARBECUE PIT Franchise SBA Loans Investigated by U.S. Senator
DICKEY'S BARBECUE PIT Closed Location List
DICKEY'S BARBECUE PIT Franchise Complaints
DICKEY'S Franchise Owners Share Frustrations & Fears

Roland Dickey Jr. Extracted Millions While Dickey's Franchise Owners Fought for Survival
DICKEY'S BARBEQUE PIT Franchise Closures, Internal Turmoil Revealed By UnhappyFranchisee.Com
DICKEY'S Franchise Class Action Lawsuit Filed in CA
ARE YOU FAMILIAR WITH THE DICKEY'S BARBECUE PIT FRANCHISE OPPORTUNITY & PROGRAM? SHARE A COMMENT BELOW.
TAGS: Senate Hearing on Franchising, Keith Miller,  Senator Catherine Cortez Masto, Dickey's Barbecue Pit, Dickey's, Dickey's Barbecue Pit franchise, Dickey's franchise, DBRI, Dickey's Barbecue Restaurants Incorporated, Dickey's closed, Laura Rea Dickey, Roland Dickey Jr., Dickey's Pit Owner's Association, Dickey's Franchisee Survey, franchise opportunity, franchise complaints, unhappy franchisee