Cold Stone Creamery Franchise Assets Seized, to be Auctioned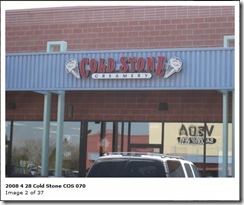 (UnhappyFranchisee.com)    It doesn't get more sadly ironic than this:  to not only have the assets of your failed Cold Stone Creamery franchise seized for unpaid taxes, but to have them publicly auctioned by a company named SchurSuccess.
Franchise owner Ralph Pittman's Chocolate Fantasy is now item COS 066
His empty table and chairs are COS 001
His Cold Stone display case is COS 003
And his Atlas Metal WF-5 marble slab coolers, including COS 048 slabs, seem like decor befitting a morgue, only not as festive.
A story on FranchisePick.Com reports that the third Colorado Springs Cold Stone Creamery to fail within a year "was seized after owner Pittman Investments LLC, failed to pay $23,985 in state sales tax, according to a sign posted on the door… The city also has a tax lien against Pittman Investments. Company owner Ralph S. Pittman Jr. could not be reached for comment.
The Colorado Springs Gazette reports that Cold Stone Creamery is eager to resell the failed franchise:
Company spokeswoman Anne Christenson said Cold Stone hopes to reopen the Southgate location under new ownership in a few months, despite the failure of two franchisees.
   "We believe this location is a strong store with a lot of potential especially because of its proximity to the military base," Christenson wrote in an e-mail. "We believe that under the right ownership of a franchisee that is involved and dedicated to the business, the store will thrive."
 Auction Info:
Cold Stone Creamery – Colorado Springs – Dept. of Revenue** New Date**
Related Story:
Cold Stone Creamery Franchise: 50%+ Failure Rate in Colorado Springs
Share your story:
Are You an Unhappy Franchisee? Tell us why.
Photo source:  SchurSuccess Auctions
ARE YOU FAMILIAR WITH COLD STONE CREAMERY FRANCHISE?  SHARE A COMMENT BELOW.