AMWAY Addiction Kills Marriage
Amway is an addiction, claims this forlorn fiance.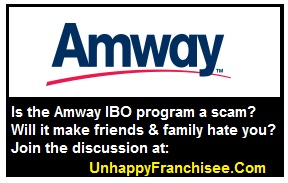 He missed their wedding shower to go to an Amway conference.
When forced to choose between his future bride and Amway, he chose Amway… despite the fact that, in 2 years, he has no downline and only one customer: his mother.
Is it possible that the Amway multilevel marketing "cult" can be as addictive as gambling, alcohol or drugs?
Share your opinion or experience below.
Amway stole my boyfriend, claims forlorn fiance
Here is the account we received from a forlorn fiance, who wishes to remain anonymous:
"Up until two days ago I was engaged to the man of my dreams. We had great plans for the future…for us…for a family. He had always been in Amway and he never actually worked at it until I pushed him to do it. I told him that if he was going to do it he should do it 100% or he would never see a profit, because he wasn't seeing one. I challenged him that if he didn't make a profit or see any prospect that he should quit or drastically cut back on the money he wasted on it. He agreed. Time came…no profit…he didn't keep his promise.
"Lately, he became more and more distant from me. He wasn't even himself anymore. He was hiding things from me and I knew he wasn't happy but he could never put into words why. It was very comparable to someone addicted to drugs and hiding it from their loved ones. I comfronted him about my fears and he only shut me out. He turned me into his enemy. Everything I said was against him and against amway in his opinion. Every decision he made was based on amway instead of based on us.
"One night it got very bad and he randomly stated that he had bought tickets for an amway conference the day of our bridal shower. I know boys don't usually go to the shower, but he had already promised me he would be there to help clean up afterwards and go through everything with me. I was excited. I knew there was a conference that day, but he promised me he would be there for me. He went behind my back and bought a ticket anyways. I explained to him that it was very hurtful and there would be other conferences, but only one memory of our shower celebrating us.
"He looked me straight in the face without any emotion and said he cared more about amway than he did my feelings.
"Now he says he can't remember saying it, but he knows he did. This is the kind of mentality and addiction it has become for him. He regrets this action now, but he knows it isn't exactly something you can just take back. He is sick…just like someone addicted to drugs. Only I don't know how to help him with this addiction. We couldn't even go on one date without him trying to contact our waitress/waitor. It consumed his every though like a crack addict desiring one more hit and doing anything to get it.
"I wanted to believe that amway was safe and it could be done in moderation. Hey, I liked the idea of retiring young too. I was there for him and supported him through it all. Now I see that it isn't right. A half lie is still a lie and amway cannot be done in moderation. A gambler can't just gamble a "little."
"At this point I wouldn't care if amway were possible and being a millionaire was only one contact away. I would rather be homeless than a millionaire and see someone I love so sick and not be able to help them.
"This is the result of amway in my life. I have to watch someone I love deeply be consumed by it and addicted to it and make nothing from it. I fear he will be like that for the rest of his life. It will never be enough. He will always need one more customer, one more prospect.
"He has been in amway 2 years…has no people under him…and no customers but himself and his mother when she can afford it. He did everything they asked, went to the meetings, listened to the cd's, went out 3.4.5.6.even 7 times a week to contact.
"I even would take him back after everything if he could just give amway up. I tried to be reasonable and accomodating and let him do it as he pleased in moderation. All things in moderation…anything good can be bad if it consumes your life right? Well you can't do amway in moderation that is what the cd's and everything teaches…every person you meet is a potential client.
"I would do anything to have the real him back. I know what he said was hurtful, but I also know that it is the addiction talking, but he wont quit.
"I am afraid he will never see the light that it isn't worth this. He is giving up his fiance and who is to say what is next. His friends…whom he has already lost many…his job as an accountant….his family?"
WHAT DO YOU THINK?  HAVE YOU KNOWN ANYONE WHOSE RELATIONSHIPS CHANGED AFTER THEY GOT INVOLVED WITH AMWAY OR OTHER CULTLIKE MLM ORGANIZATIONS?  SHARE A COMMENT BELOW.