7-ELEVEN Cyber FOA Franchisees Post "Declaration of Independent Contractor"
7-Eleven franchisees are represented by 40 local or regional Franchise Owners Associations (FOAs) and one umbrella organization:  The National Coalition of Associations of 7-Eleven Franchisees.
It's also represented by the (assumedly) unrecognized group the 7-Eleven Cyber FOA.
So far, the Cyber FOA is the only 7-Eleven franchise owners groups with the cojones to speak out publicly in defense of 7-Eleven franchisees.
According to the Cyber FOA website, the 7-Eleven is a closed discussion group dedicated to the rights and fair treatment of 7-Eleven franchisees:
Cyber FOA is not a replacement for your local FOA.

Cyber FOA has members in 22 states including Washington D.C.

What happens when 6,000 Franchisees can communicate with each other?

Lets find out!

The Cyber FOA is not affiliated with The National Coalition.

Competition is essential to keep business honest, on track, & competitive.
July 11, 2013, the 7-Eleven Cyber FOA posted its Declaration of Independent Contractor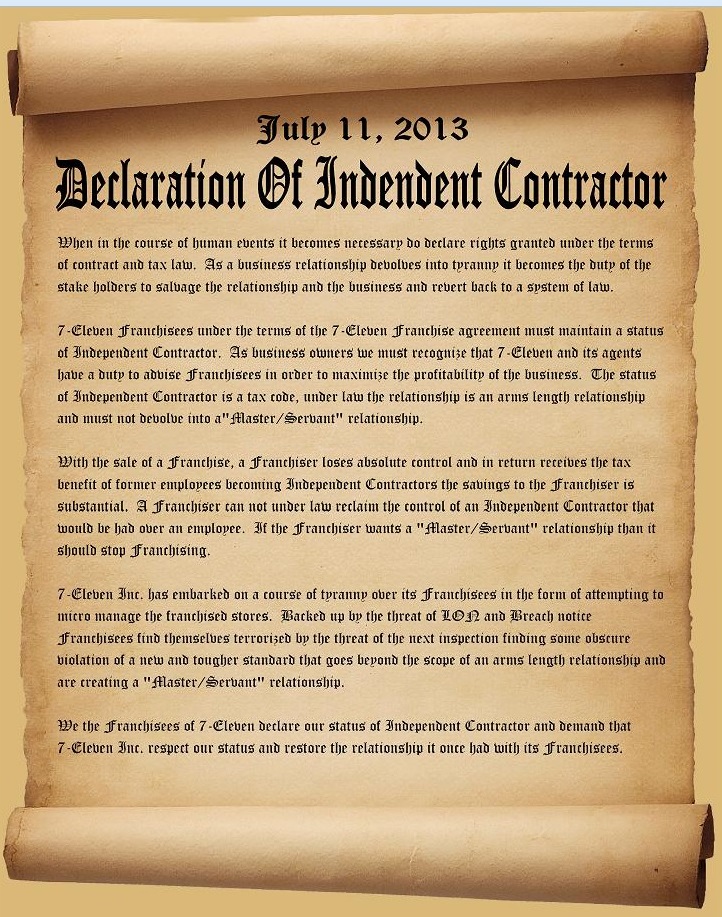 July 11, 2013

Declaration of Independent Contractor

When in the course of human events it becomes necessary to declare rights granted under the terms of contract and tax law, As a business relationship devolves into tyranny it becomes the duty of the stake holders to salvage the relationship and the business and revert back to a system of law.

7-Eleven franchisees under the terms of the 7-Eleven Franchise agreement must maintain a status of Independent Contractor.  As business owners we must recognize that 7-Eleven and its agents have a duty to advise franchisees in order to maximize the profitability of the business.  The status of Independent contractor is a tax code, under law the relationship is an arms length relationship and must not devolve into a "Master/Servant" relationship.

With the sale of a franchise, a Franchiser loses absolute control and in return receives the tax benefit of former employees becoming Independent Contractors the savings to the franchiser is substantial.  A Franchiser can not under law reclaim the control of an Independent Contractor that would be had over an employee.  If the Franchiser wants a "Master/Servant" relationship then it should stop franchising.

7-Eleven, Inc. has embarked on a course of tyranny over its franchisees in the form of attempting to micro manage the franchised stores.  Backed up by the threat of LON [Letter of Notification] and Breach notice Franchisees find themselves terrorized by the threat of the next inspection finding some obscure violation of a new and tougher standard that goes beyond the scope of an arms length relationship and are creating a "Master/Servant" relationship.

We the franchisees of 7-Eleven declare our status as Independent Contractor and demand that 7-Eleven respect our status and restore the relationship it once had with its franchisees.
Be sure to check back daily for new developments, posts and comments.
Also read:
7-ELEVEN: How the 7-Eleven Franchise Works
7-ELEVEN to Open up to 21,500 New U.S. Stores
7-ELEVEN Downplays Japanese Ownership
7-ELEVEN Franchise Lawsuits 2013
7-ELEVEN's Japanese Parent Posts Record Profits… Again
7-ELEVEN Franchise Owner Claims Franchisees Are Being Bullied
7-ELEVEN: Is 7-Eleven a Good Franchise to Own?
7-ELEVEN Franchise Owners Complain, Allege Churning
7-ELEVEN Franchises Raided by DOJ, Homeland Security
7-ELEVEN Franchisee Tariq Khan: Villain or Victim?
7-ELEVEN: UnhappyFranchisee.Com Invites Views of 7-11 Franchisee Groups
WHAT DO YOU THINK?  ARE 7-ELEVEN FRANCHISE OWNERS ACTUALLY EMPLOYEES?  SHARE A COMMENT BELOW.
TAGS: 7-Eleven, 7-Eleven franchise, 7-Eleven lawsuit, 7-Eleven lawsuits, 7-11 franchise, 7-11 lawsuits, 7-11 complaints, 7-Eleven Cyber FOA, 7-Eleven Franchise Owners Association, 7-Eleven New Jersey lawsuit, franchisees as employees, 7-Eleven litigation, 7-eleven franchise complaints, Marks & Klein law firm, attorney Jerry Marks, SEI, 7-Eleven Inc., Seven and i Holdings Co