1-800-Vending / Healthy You Vending Machines: Overpriced & Inferior?
1-800-Vending / Healthy You Vending is suing competitor Chris Wyland of Grow Healthy Vending for defamation.
(UnhappyFranchisee.Com)  1-800-Vending claims that Wyland seeded the Internet with bogus complaints about its company, its vending machines and its owner Jeff Marsh.
In a comment responding to our post on the lawsuit (CHRIS WYLAND, GROW FRANCHISE GROUP, SPROUT HEALTHY VENDING Sued by 1.800.VENDING, HealthyYOU VENDING), Grow's Wyland denies that either he or any member of his household posed as disgruntled customers and left Internet comments about 1-800-VENDING or Jeff Marsh.
Wyland says that he believes that 1-800-Vending filed the lawsuit in an attempt to discredit Grow and to discredit "all reviews ever written against them regarding poor equipment, poor locations, poor services as a way to distance themselves from their own past."
Chris Wyland further states that Grow Healthy Vending is "currently filing a lawsuit against 1800 Vending and Healthy You Vending"
WYLAND:  Healthy Vending Competitors Are Deceptive, Predatory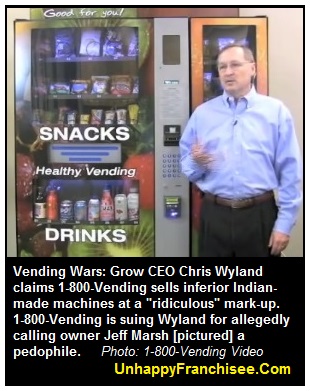 While Wyland vehemently denies placing the online comments about 1-800-Vending & Jeff Marsh (including one characterizing Jeff Marsh as a pedophile), he does not hold back when it comes to criticizing competitors in the healthy vending industry, including 1-800-Vending / Healthy You Vending.
Wyland states:
First of all I do not deny that in the past I have made very specific comparisons to not only our business model and 1-800 Vending/Healthy You but also to other competitors in our industry.

I do so because I believe these companies do not always tell the truth, they overcharge for inferior equipment, they use last minute discount offers to pressure prospective operators into doing business with them and ultimately their operators fail because of it.

We run into equipment all the time offered at a steep discount from what the operators originally purchased them at because the equipment is of a much lower quality than they expected, they overpaid for it and then didn't receive qualified locations to place machines.
Wyland states that the 1-800-Vending / Healthy You Vending lawsuit is a desperate response to the fact that Grow Healthy Vending "provides better equipment and services but we do so at a lower cost than anyone else in our industry."
Regarding the lawsuit, he states:
I personally believe based on recent events and after speaking to some potential operators that 1-800 Vending/Healthy You Vending is only using this lawsuit as a way to steer prospective clients away from us and to them.

I think it is the only ammunition they have.

I have expressed more than once that I would compare our equipment and business model one on one against this company anywhere in the country.
WYLAND:  1-800-Vending machines are inferior, overpriced & made in India
Grow Healthy Vending CEO Chris Wyland states that the vending machines provided by 1-800 Vending/Healthy You Vending and Jeff Marsh are manufactured in India, are of inferior quality, and are sold to  inexperienced, trusting business owners at a "ridiculous" mark-up.
Chris Wyland states:
We have never stated anything that we do not believe to be 100% factual.

.

1. The 1800/Healthy You Vending Machine is manufactured by Seaga.

.

2. I have personally purchased machines from Seaga and visited their location in Frankfort, IL. I did not see machines being manufactured there and have been told that this machine is actually made at their facility in INDIA. A company by the way that we are actually suing because of the poor equipment and services we received while doing business with them.

.

3. The machine has limitations when it comes to the type of product it can vend. It is a gravity fed system that vends only round bottles and round cans in the refrigerated section.

.

4. The snack coils are welded in so the snack portion cannot be re-configured. I believe this puts operators at a dis-advantage.

.

5. The machine has an "upper" snack portion which is not refrigerated and has a "lower" drink portion and does not have the ability to vend yogurts, smoothies, fresh fruit, vegetables, etc.. It is not health and safety rated.

.

6. The machine uses lexan plastic instead of glass. The machine in comparison to the Grow equipment uses a lower quality metal and compressor.

.

7. Operators who purchase machines from 1800/Healthy You Vending must pay 100% in advance for their equipment prior to securing locations.

.

8. The cost of this machine from the manufacture is I believe in the range of $2000. They routinely sell this machine for between $8000 -$9000 per machine.  I personally believe this markup is ridiculous and takes advantage of new business owners.

.

9. This machine has less capacity and offers less variety than our standard G3 machine which is priced much less. In fact it costs us more money to purchase our machine from our factory and we sell it for less markup than any other company in our industry.

.

10. The 7 year "limited" warranty is exactly that. "Limited". Essentially when an operator needs a part they must pay 50% of the "list" price of that part. The "list" price is created by the company, which is typically marked up to cover 100% of their cost.
Chris Wyland claims, it seems, that his passion arises from his concern for individuals who are seeking to build legitimate businesses in healthy vending but are being preyed upon by his unscrupulous competitors.
He contends that his Grow Healthy Vending / Sprout Healthy Vending company is different than his dubious competitors in the healthy vending racket:
I believe that we have a great industry that operators can be very successful at if they receive high quality equipment and services that they do not overpay for.

I will not apologize for attempting to build a model and protect our brand because I know that over the past 4 years we have always had the best interests of our operators at heart.

We are not perfect but when issues arise we fix them quickly…

Regards,

Chris Wyland

Grow Healthy Vending
READ THE COMPLAINT HERE:  1.800.VENDING, Inc. v. CHRIS WYLAND, GROW FRANCHISE GROUP, LLC, SPROUT HEALTHY VENDING, LLC, GROW HEALTHY INCORPORATED, et al.
ALSO READ:
CHRIS WYLAND, GROW FRANCHISE GROUP, SPROUT HEALTHY VENDING Sued by 1.800.VENDING, HealthyYOU VENDING
FRESH HEALTHY VENDING Ties to Mark Trotter, Nick Yates Disclosed (Chris Wyland)
HEALTHY VENDING Unhealthy Lies
ARE YOU FAMILIAR WITH CHRIS WYLAND, GROW FRANCHISE GROUP, or SPROUT HEALTHY VENDING?
WHAT ABOUT 1.800.VENDING, HealthyYOU VENDING OR JEFF MARSH? 
SHARE YOUR OPINION OR VIEWPOINT BELOW.
Tags:  Chris Wyland, Grow Franchise Group, Sprout Healthy Vending, 1-800-VENDING, HealthyYOU Vending, Healthy you Vending, Jeff Marsh, Jeffrey Marsh, Seaga Vending machines, Online Defamation Lawsuit, Healthy Vending franchise, Healthy Vending machines