FRESH HEALTHY VENDING Ties to Mark Trotter, Nick Yates Disclosed
The Fresh Healthy Vending franchise disclosure document used to sell hundreds of franchises nationwide is "materially deficient,"  according to a consent order issued by the Washington State Department of Financial Institutions, Security Division.
Fresh Healthy Vending failed to disclose that its predecessor is YoNaturals.
Fresh Healthy Vending failed to disclose that Mark Trotter and Nicholas Yates actively hold franchise management positions with the company.
Fresh Healthy Vending failed to disclose that Mark Trotter and Nicholas Yates and their partners were previously fined $10 million and $3.5 million respectively in unrelated fraud cases.
Washington State has issued a Consent Order (see below) requiring Fresh Healthy Vending to come clean in regards to its ties to Trotter and Yates.
Mark Trotter owns all preferred shares of FHV (Fresh Healthy Vending)
According to the WA Consent Order, "Mark Trotter ("Trotter"), a California resident, is the president, secretary, and sole shareholder of FHVHC, which holds all preferred shares of FHV. FHV consults Trotter before selling FHV vending machine franchises."
The Consent order states that since Trotter manages franchise sales, Fresh Healthy Vending must disclose his relevant litigation history:
Trotter's relevant litigation history includes his being the subject of an action involving the alleged violation of the Controlling the Assault of Non-Solicited Pornography and Marketing Act of 2003, and the Texas Electronic Mail Solicitation Act, and the Deceptive Trade Practices-Consumer Protection Act in connection with sending unsolicited e-mail messages containing false, misleading, or deceptive information. On June 6, 2006, the US District Court for the Western District of Texas entered a Final Judgment and Order for Permanent Injunction and Monetary Relief against Mark Trotter.
Nick Yates has sales and operations oversight at FHV (Fresh Healthy Vending)
According to the Consent Order, both Trotter and Yates have management responsibility over franchise operations and sales.  Nick Yates should have be fully disclosed in the Fresh Healthy Vending FDD, along with his relevant litigation history:
Yates' relevant litigation history includes a February 2006 judgment involving a monetary penalty that was entered against him by the Federal Court of Australia for misleading and deceptive conduct regarding the operation of pre-paid phone card and vending machine distributorships.
Fresh Healthy Vending concealed its true ownership & management
In 2008 – 2010, numerous negative comments appeared on such websites as Ripoff Report and ComplaintsBoard warning would-be investors to steer clear of the YoNaturals vending opportunity because of its connection to Trotter and Yates.
It appears that YoNaturals changed its name to Fresh Healthy Vending and installed Jolly Backer as the new owner.  Jolly Backer and then-Sales Director Chris Wyland claimed that Trotter & Yates no longer had any connection to the company.
According to the WA Consent Order, Fresh Healthy Vending represented to at least one Washington franchisee that Backer bought YoNaturals, that FHV had taken over YoNaturals' franchisees, and that Yates and Trotter were not involved with FHV.
In a conference call with FHV, Jolly Backer and Chris Wyland (now CEO of Sprout Healthy Vending) assured the Administrator of UnhappyFranchisee.Com that Yates and Trotter had no ownership of management role with the company.
In February, 2011, a prospective franchisee of Fresh Healthy Vending allegedly met with FHV Sales Director Chris Wyland, who assured them that Mark Trotter and Nick Yates had no relationship with the company.  The franchisee prospect reports that after the meeting, Wyland accidentally sent the franchise prospect an email update intended for Nick Yates (see below).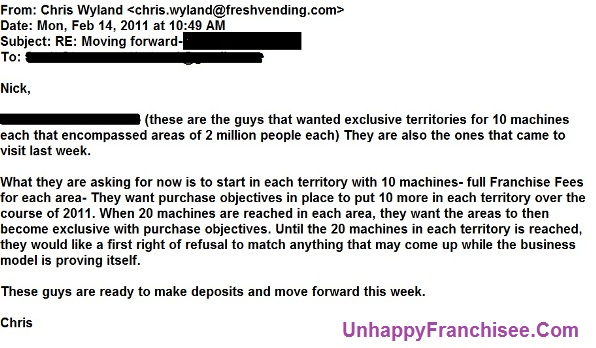 After catching Wyland in the obvious lie, the franchise prospect declined to move forward with Fresh Healthy Vending.
ARE YOU FAMILIAR WITH THE FRESH HEALTHY VENDING FRANCHISE OPPORTUNITY, MARK TROTTER OR NICK YATES?
SHARE A COMMENT – POSITIVE OR NEGATIVE – BELOW.