UNHAPPYFRANCHISEE.COM Response to Legacy Academy 2nd Cease and Desist Letter
UnhappyFranchisee.Com responds to a nasty legal demand by Legacy Academy attorney M. Kathleen Hart of Andersen, Tate & Carr PC to remove a Legacy Academy logo and a supposed replacement logo from a 2 1/2 year old post.  We aren't sure how to comply, since no logo has appeared on that page for 21 months. #bullying #harrassment
(UnhappyFranchisee.Com) On September 24, 2015 attorney M. Kathleen Hart sent us a our 2nd cease and desist letter demanding that we remove the Legacy Academy logo from a 2013 blog post.
She claims that she had made the same demand 21 months ago and we refused to comply.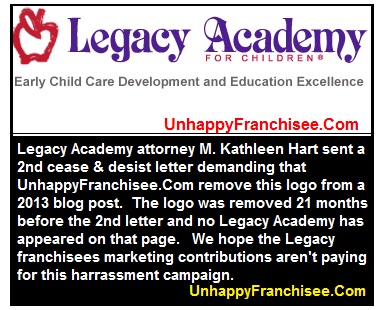 (See LEGACY ACADEMY 2nd Cease & Desist Letter to UnhappyFranchisee.Com)
Then she went off on how we had added disclaimer copy to the logo, but that wasn't enough to qualify for "nominative fair use" because it didn't meet the "minimum necessary test."
M. Kathleen's letter was delightfully condescending and snarky, in that arrogant attorney style we've come to enjoy so well:
Since you claim to be just a "simple blogger," I'll try to be simple…
…I don't want to repeat myself, so let's just keep this simple…
… you presumably know how to use email…
I was just about to start Googling "nominative fair use" and "minimum necessary test" when it occurred to me to check the web page.
Lo and behold, there isn't a single Legacy Academy logo (or replacement logo) on that page, and there hasn't been since I removed it in January, 2014.
Now I must inform the fiery and irascible Ms. M. that I cannot remove what no longer exists.
.

.

.

.

.

M . Kathleen Hart, Esq.

Attorney for Legacy Academy, Inc.

Andersen, Tate & Carr , P . C .

1960 Satellite Boulevard , Suite  4000

Duluth, Georgia 30097

September 29, 2015

Dear M.:

Thank you for your letter of September 24, 2015.

.

However, your representation that we have continued to use the logo (or replaced it with one with a disclaimer) on the page that you first objected to in your letter of January 28, 2014 is incorrect.

.

You state "On January 24, 2014, we issued a written demand on behalf Legacy [sic] that you cease and desist violating Legacy's protected rights in the Mark by removing the logo displayed on the webpage http://www.unhappyfranchisee.com/index.php?s=legacy.   Despite this demand, you have chosen to continue using and displaying the Mark on your webpage…"

.

Your original letter (attached) contained a scan of a printed post published December 18, 2013 titled "ICHTER THOMAS Another Win Against Legacy Academy Franchise." The logo was removed from that post shortly after we received your January 24, 2014 letter and was not replaced. There has not been a Legacy Academy logo on that page for the 21 months since you last communicated with us.

.

If you would like us to be able to accurately respond to objections in the future, please indicate the specific text or graphics you object to by providing a screen capture or printed/scanned page, as you did with your original letter.

.

Also, when providing web addresses to designate specific online content you find objectionable, it would be advisable for you to refer to static web pages rather than dynamic web pages that contain changing indexes of category contents (as you did in both your letters when you referenced the dynamic web page http://www.unhappyfranchisee.com/index.php?s=legacy.) Referring to a dynamic category index of blog posts will inevitably cause confusion, as the content of that web page changes every time a post in that category is added, updated or recategorized.

.

Learning the difference between the two types of web pages should help you communicate more effectively in the future not only with us, but with other blogging miscreants, infringers and roustabouts.

.

Please let me know if there's anything else I can do to address your concerns and put your clients' minds at ease. But please don't wait 21 months to respond this time! My memory span is not what it used to be!

.

Cheers… ADMIN (UnhappyFranchisee.Com)

.

CC via email Mr. Frank Turner, Mrs. Melissa Veal Turner, Legacy Academy

Attachment: Legacy Academy 1st cease and desist letter

Read:
LEGACY ACADEMY 2nd Cease & Desist Letter to UnhappyFranchisee.Com
ALSO READ:
FRANCHISE DISCUSSIONS by Company
LEGACY ACADEMY Franchise Complaints
LEGACY ACADEMY Ichter Thomas Wins Suit for Legacy Academy Franchise Owners
ICHTER THOMAS Another Win Against Legacy Academy Franchise
LEGACY ACADEMY Franchise Marketing Representations
We have also had our own issues with Legacy Academy and its attorneys:
LEGACY ACADEMY Issues Cease & Desist Letter to UnhappyFranchisee.Com
LEGACY ACADEMY Are Frank & Melissa Turner "Disreputable"?
LEGACY ACADEMY UnhappyFranchisee.Com Complies With Legal Request/Threat
LEGACY ACADEMY Invited to Respond to Franchise Complaints
ARE YOU FAMILIAR WITH THE LEGACY ACADEMY, FRANK TURNER, MELISSA TURNER OR M. KATHLEEN HART?
ARE THEY JUSTIFIED IN HARASSING US?  SHARE A COMMENT BELOW.
TAGS: Cease and Desist letter, takedown demand, nominative fair use,  Legacy Academy,  Legacy Academy franchise, Early Learning franchise opportunity, Legacy Academy franchise complaints, Andersen, Tate & Carr PC, Frank Turner, Melissa Turner, M. Kathleen Hart, cease and desist, takedown demand letter