FRONTIER ADJUSTERS Franchise Owners Sue for Deceptive Practices, Conspiracy
Frontier Adjusters franchise owners Jayson Contino and Mamye Contino are suing franchisor Frontier Adjusters, Inc. and related entities, parent company MerryMeeting, Inc., and executives John M. Davies, Edward Ferrie, Patrick Enthoven, Jeffrey Harcourt, and Milo Bolender for breach of contract, civil conspiracy, violation of the North Carolina Unfair and Deceptive Trade Practices Act, Violation of the Fair Labor Standards Act and the Wage and Hour Act, and Negligent Hiring and Retention.
(UnhappyFranchisee.Com) The lawsuit was filed October 6, 2014 in the U.S. District Court for the Western District of North Carolina, Charlotte Division.  A downloadable copy of the initial Complaint and the Defendant's Answer to the Complaint are posted below.
The Continos are represented by the prominent franchisee law firm Marks & Klein of Red Bank, New Jersey and local counsel DeVore, Acton & Stafford, P.A. of Charlotte, N.C.
The Defendants are represented by Cleveland, OH-based Ulmer & Berne, LLP.
Frontier Adjusters parent company MerryMeeting, Inc. also owns Sunbelt Business Brokers and a number of franchise companies, including Geeks on Call, Computer Troubleshooters,  Inspect-It 1st, MTO Clean, Inner Circle, Pro Energy Consultants, and CPR Cell Phone Repair.
Are you familiar with Frontier Adjusters and/or other MerryMeeting franchises?  Please share your opinion below.
Lawsuit Alleges Greed is Driving Frontier Adjusters' Franchise Dictatorship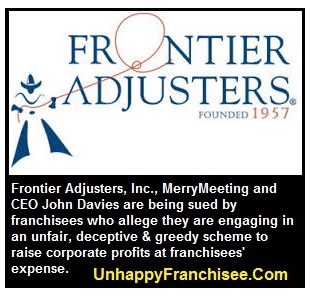 According to the lawsuit, Frontier Adjustors has been in operation since 1959, and operated as a system of hundreds of individual franchisees who were granted exclusive territories.
Frontier Adjusters franchisees were already-experienced insurance professionals who performed a variety of insurance-related services, such as claims investigations and appraisals, for insurance companies and self-ensured entities in their territories.
For decades, individual franchisees were responsible for attracting, developing and servicing their own client bases in their exclusive areas.
The lawsuit contends that when Frontier Adjusters was acquired by John M. Davies' MerryMeeting, Inc., a multi-concept franchisor, Davies had a secret agenda to centralize control of the Frontier Adjusters sales process, and significantly diminish the autonomy of its regional franchisees.  In 2009, Frontier intiated its Frontier Adjusters National and Regional Customer Program, aka "FANRCP."
According to the suit, the "FANRCP" program stripped franchisees from the direct relationship with prospective clients in their markets, and transferred so much control to the franchisor that Frontier Adjusters franchisees should no longer  be considered business owners.
According to the suit:
In furtherance of the secret implementation of the FANRCP program in the years 2001 to 2009, Defendants put into place multiple aspects of the FANRCP program, including, but

not limited to:

.

(i) a call center to receive client assignments;

(ii) a required computer system which provided to Frontier the names, contact information, and claim specifics of all assignments received, and claims investigations conducted by all the franchisees;

(iii) seeking ownership by the Franchisor through its required computer system, of all data related to clients and client assignments;

(iv) seeking authority for the Franchisor to dictate to the Franchisee the rates that would be charged for assignments;

(v) seeking authority for the Franchisor to determine the Franchisee's legal rights regarding collection of invoices for work performed;

(vi) establishing unreasonable minimum billing requirements for the Franchisees which the Franchisor used selectively, arbitrarily and capriciously for the purpose of eliminating Franchisees who were disfavored; and

(vii) use of Software and other computer systems, mandatory disclosure of their insurance industry client and associated contact information prior to the effective date of FANRCP.

.

Despite emphatic opposition from franchisees, between September of 2009 and April 5, 2010, Frontier forcefully implemented the FANRCP against its franchisees.

…The Franchisor, in anticipation of its imposition of FANRCP, had engineered Franchisee reliance on the Franchisor to obtain assignments from clients, and planned to use that reliance against any Franchisee that did not accept the program.

… As such, the consequential franchisee-dependence stemming from the FANRCP, endowed the Franchisor with the capacity to make its threats and coerce franchisees into

compliance.
Frontier Adjusters Allegedly Sells Claims to Direct Competitors of its Franchisees
One of the most disturbing allegations of the lawsuit is that Frontier is not centralizing its marketing and sales functions to improve efficiency or service, but to make the greatest corporate profit – even when doing so hurts its franchisees by selling accounts to their direct competitors (!).
According to the suit:
…Frontier sell claims to direct competitors, Custard Insurance and Bulldog Insurance, because these entities pay a forty percent (40%) fee, rather than the fifteen percent (15%) fee paid by Frontier franchisees.

… Upon further information and belief, Defendant [Frontier Manager Edward] Ferrie  has his own side-business and a secret Frontier franchise location in the State of Arizona. Through Ferry's secret franchise, Ferry intercepts claims from the home office and sells them to business [sic] throughout the United States.
Is Greed Redefining the Frontier Adjusters Franchise?
There are several interesting aspects of this Frontier Adjusters franchise lawsuit which we hope to delve into as the litigation progresses.
If the allegations are true, Frontier Adjusters, like 7-Eleven, may have to justify why their franchisees should not be considered employees (thereby eligible for wage and benefit protections afforded employees) when they have stripped them of the decision-making power and autonomy associated with independent contractors and business owners.
If the allegations are true, Frontier Adjustors may become another cautionary tale that we'll use to warn prospective franchisees that no matter how carefully you research a franchise concept or its management, all bets are off when new owners take over.
Are you Familiar with Frontier Adjusters and MerryMeeting, Inc.?  Share a Comment below.
Note to Plaintiffs and Defendants & Attorneys:  UnhappyFranchisee.Com offers all those discussed on this site an open invitation to provide corrections, clarifications, rebuttals or other statements which we will publish with the same prominence as the original post.  Our intent is to provide both sides a chance to state their views, and let our readers make up their own minds.  Email ADMIN at UnhapyFranchisee[at]Gmail.com.
ALSO READ:
FRANCHISE DISCUSSIONS by Company
COMPLAINT:  JAYSON CONTINO, ET AL. vs. FRONTIER ADJUSTERS, INC., ET AL. Complaint Document
ANSWER TO COMPLAINT:  JAYSON CONTINO, ET AL. vs. FRONTIER ADJUSTERS, INC., ET AL. ANSWER OF DEFENDANTS
TAGS:  Frontier Adjusters franchise, Frontier Adjusters franchise complaints, Frontier Adjusters lawsuit, Frontier Adjusters complaints, MerryMeeting Inc., MerryMeeting lawsuit, MerryMeeting complaints, John M. Davies, Edward Ferrie, Patrick Enthoven, Jeffrey Harcourt, Milo Bolender, insurance franchise, franchise opportunity, franchise complaints, franchise lawsuits, franchise opportunity, franchise complaints, unhappy franchisee, Jayson Contino, Mamye Contino,