SCHOOL OF ROCK Franchise Update – 2 Years A.D. (After Dzana)
It's been 2 years since School of Rock ousted CEO Dzana Homan in a firestorm of controversy involving UnhappyFranchisee.Com and bullying by her attorney Craig Tractenberg. At that time, School of Rock franchisees were distressed by a dictatorial corporate atmosphere and an indifference to their concerns and success. Franchisor parent company Sterling Partners acted swiftly, replacing CEO Dzana Homan with Rob Price. We return to School of Rock franchisees to ask: Have things improved since Rob Price became the School of Rock frontman? by Sean Kelly
(UnhappyFranchisee.Com) Two years ago this month, I received complaints from School of Rock franchisees who were afraid to voice their complaints lest they be targeted for retaliation by School of Rock CEO Dzana Homan, who they claimed was a tyrannical bully.
I posted their anonymous complaints publicly, and contacted Ms. Homan and execs at School of Rock parent Sterling Capital for comment and rebuttal.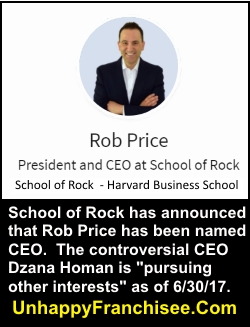 To be honest, I thought the accounts of Ms. Homan's bizarre behavior had to have been exaggerated, and the franchisees' fear of retaliation a bit paranoid and overblown.
Then I received a menacing call from Ms. Homan's attorney, Craig Tractenberg, who threatened to destroy me personally and professionally if I did not immediately delete all mention of Ms. Homan & School of Rock.
I immediately published Tractenberg's threats and contacted the General Counsel of Sterling Capital, who disavowed knowledge or participation in the threats.
I filed a complaint with the Supreme Court of PA over Tractenberg's misconduct and granted Franchise Times an interview about the controversy.
June 30, 2017, just a little over a month from my first post on School of Rock franchise complaints, School of Rock announced that CEO Dzana Homan had left "to pursue other interests" and that the former President of Edible Arrangements, Rob Price, would be taking on the role of CEO.
Rob Price stepped into a very difficult situation with many justifiably disgruntled and distrustful franchise owners. How has he done so far? Have things improved at School of Rock for franchise owners and employees?
For our chrologogical index of posts, read: SCHOOL OF ROCK Franchise, Sterling Partners CEO Controversy (Topic Index)
Please share your candid opinions and observations either by leaving a comment below (anonymous is fine) or by emailing me, in confidence, at UnhappyFranchisee[at]Gmail.com. This page will be updated as new comments are received.
School of Rock Franchise Updates Indicate Strong Improvement
Some initial franchisee comments about CEO Rob Price's performance and the situation for School of Rock franchisees seem encouraging. As I receive additional comments, I will update this page to reflect the broader franchisee perspective.
A formerly disgruntled School of Rock franchise owner recently wrote:
OMG we are in such a better place. Rob is doing a terrific job… He's cleared out the useless people that were in exec ranks and people he kept are held to high standards.

He's a clear communicator. There are some very cool things launching this Fall/winter that will be game-changers in our market.

My franchise has grown exponentially since DZ left. Honestly I couldn't be happier.
A previously critical School of Rock franchise owner recently wrote:
I am happy to report that SOR has made a 180 and are a pleasure to work with.

Rob Price has done a fantastic job and has mobilized his team to work with franchisees in true partnership fashion.

They have launched many initiatives that will help our business. I think most of the franchisees would say the same thing.
Another franchisee wrote:
Rob is an amazing CEO! He is an engaging and wonderful leader.

It is clear to see that he treats his corporate staff with the dignity and respect that seemed to be lacking under prior leadership.

The corporate crew are all a pleasure to work with, efficient, friendly and knowledgeable.

Rob himself has a great sense of humor and is very accessible to his franchisees.
What do you think? Share a comment below.
ALSO READ:
FRANCHISE DISCUSSIONS by Company
SCHOOL OF ROCK Franchise, Sterling Partners CEO Controversy: UPDATED (Topic Index)
ARE YOU A SCHOOL OF ROCK FRANCHISE OWNER OR FRANCHISEE? ARE YOU FAMILIAR WITH THE SCHOOL OF ROCK FRANCHISE OPPORTUNITY? SHARE A COMMENT BELOW.
TAGS: School of Rock, School of Rock franchise, School of Rock franchise opportunity, Sterling Partners, Rob Price, Dzana Homan, Craig Tractenberg, Craig Tractenberg complaints, franchise complaints, unhappy franchisee