SCENTSY MLM Scam Deceptive Advertising by Sleazy Independent Consultants?
Is Scentsy a deceptive MLM company that uses fraudulent tactics and sleazy independent consultants to sell dangerous, overpriced products?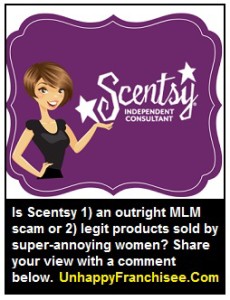 According to Carol B. it is.  We received this angry complaint from Carol, who felt that she was deceptively tricked into attending a sales presentation by a coworker.
Here's Carol's story:
"I started working at a new job in a new town.  Since I don't know too many people here, I was really happy when a coworker sent me an email saying that she was having a few people over on Sunday afternoon, and she would love it if I would be able to come.
"I really appreciated her thinking of me, and I was really looking forward to meeting some new people.
"When I arrived, I found out that instead of a social get together, this was a home party and that my new 'friend' was an 'independent consultant'  for some multi-level marketing scam called 'Scentsy.'  Instead of a real party, I had to listen to a presentation about these stupid, overpriced warmers that melt scented wax with a light bulb.  She was pushing  these stupid warmers and wax bars packages for like $75 – $85.  The Scentsy plug-in warmers are glorified nightlights they sell for $20, and the tabletop warmers are like $35.  Of course, if you're stupid enough to buy those you'll have to buy their ridiculous scented wax bars for the rest of your life.
"I discreetly asked around and none of the other guests knew they were attending a sales presentation.  Yet still they allowed themselves to be manipulated into buying these ridiculously overpriced air freshners just to be polite.  I was the only one who didn't buy.
"I have some advice to people who do these home parties like Scentsy and invite people under false pretenses:  You are scum.  You might think you are clever, and you might get some free products or whatever, but all those people you tricked, even the ones you tricked into buying and tell you they love the product, now know you're scum and can't be trusted.
"My advice to people who unknowingly show up to sales parties:  You should leave.  Or eat a bunch of their free food and then leave.  Do not buy a thing!  Make it clear you don't appreciate being lied to and that if your friend needs money that bad she just should have asked you for a loan.  Do not be ashamed.  It's your scummy host who should be ashamed.  Go buy yourself a Glade Air Freshner and buy some new shoes with all the money you saved!"
The only good thing that came out of Carol's experience with the Scentsy home party is a new goal she has at work.
Says Carol:  "I now have a work fantasy that I will get promoted to supervisor over the sleazebag Scentsy consultant.   I will call her in for a meeting to discuss a promotion and a raise.  When she gets there, I'll say 'Oh, I didn't mean a promotion and a raise!  Sorry!  The meeting was to let you know you're fired!  Good luck with your Scentsy MLM scam!"
ARE YOU FAMILIAR WITH THE SCENTSY MLM HOME PARTY OPPORTUNITY?  IS IT A SCAM OR LEGITIMATE OPPORTUNITY?  SHARE A COMMENT BELOW!