MAC TOOLS Distributor Problems – Your Input Invited
MAC TOOLS Distributors: What problems are you dealing with in your mobile tool business?
Are you dealing with:
– Not enough qualified customers?
– Being put on hold?
– Price competition?
-Collection problems?
– Cash flow problems?
– Constant pressure to buy more tools?
– Trouble getting support and advice from your BM other than "put more tools on the street"?
Please share your current problems below.
Anonymous comments are fine.
Buddy the Business Manager will address your problems with tips, ideas and advice.
The Mobile Tool Dealers Association is proud to introduce Buddy the Business Manager.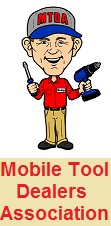 Buddy the Business Manager is a seasoned, battle-tested tool industry veteran whose priority is tool dealer profitability and success.
Through this site and our online newsletter, Buddy will tackle tough tool dealer challenges and situations, and provide you with hype-free, no-nonsense, unbiased advice and resources.
Tell Buddy your problems by leaving a comment!
Sign up for the MTDA email newsletter by joining the Mobile Tool Dealers Association here. It's free and confidential!
ARE YOU A MAC TOOLS DISTRIBUTOR OR FRANCHISEE?  SHARE A COMMENT BELOW.
Tags: MAC Tools, MAC Tools franchise, MAC Tools distributors, MAC Tools complaints, Stanley Black & Decker, Tool truck franchise, tool truck dealer, tool truck complaints, mobile tool dealer association