LIBERTY TAX Fraud: Preparer Could Get Prison Time
Liberty Tax fraud: UnhappyFranchisee.com has received information alleging that JTH, Inc., parent of Liberty Tax franchise system, not only condones but has provided training to its franchisees and employees in using deceptive techniques for maximizing customer refunds from the IRS.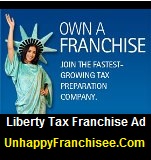 One of those alleged techniques is to encourage tax filers to add non-existent business income in order to maximize Earned Income Tax Credit.
This past Tuesday, a tax-preparer working for a Michigan Liberty Tax franchise pleaded guilty U.S. District Court to preparing and filing more than 40 fraudulent income tax returns.
According to the Detroit News,  "Marquitta Nicole Jackson, 28, worked as a tax preparer at a Liberty Tax franchise from 2007-10 when she worked on the fraudulent returns for various taxpayers, according to court records.
"Jackson admitted she had prepared the returns to falsely claim the taxpayers had received self-employment income from a business they operated to maximize the Earned Income Tax Credit, according to court records. The taxpayers were not entitled to the credit."
The Liberty Tax franchise preparer's fraudulent returns caused the government to lose $155,000.
A sentencing hearing was set by Judge Judge John Corbett O'Meara for January 15, 2013.
Marquitta Nicole Jackson faces a maximum penalty of three years in prison and a $250,000 fine.
DO LIBERTY TAX PREPARERS ENCOURAGE CUSTOMERS TO LIE ON THEIR TAX RETURNS?
HOW PREVALENT IS THIS PRACTICE?
SHARE A COMMENT BELOW.
Also read:
LIBERTY TAX SERVICE Franchise Complaints