SHONEY'S: Our Response to the David Davoudpour Take-Down Request
Shoney's CEO David Davoudpour, through his lawyer, has requested the take-down of an angry comment posted by a former Shoney's franchisee.  UnhappyFranchisee.Com responds.
by Sean Kelly, UnhappyFranchisee.Com

Shoney's was recently named one of the worst franchises in America by Forbes magazine.
(See AMERICA'S WORST FRANCHISES… According to Forbes.)
As we did with the other 29 franchises named to Forbes' "worst" list, we invited commenters to agree or disagree with Forbes' inclusion of Shoney's in the list.
(See SHONEY'S Rated a Worst Franchise by Forbes. Do You Agree? )
Two comments were quickly posted, both of which were critical of Shoney's owner and CEO David Davoudpour.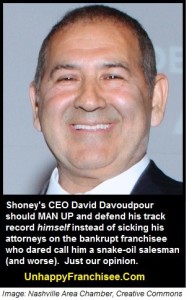 The first, posted by "Edward Bay," stated "Since buying the company and taking the reigns at Shoney's in 2007, David Davoudpour has taken Shoney's from a chain of 282 restaurants, with an average unit volume of $1.6 million dollars operating in 18 states down to around 160 restaurants in 16 states. Shoney's won't reveal AVU even to franchisees.
"Their method of dealing with problem franchisees is to drive them out of the system and then sue them…"
The second, posted by "Former Franchisee," stated "I wouldn't deal with David Davoudpour again if franchises were free. Shoney's is a dead brand. He is a crook and a liar. Run from this guy as fast as you can!"
It was this second comment that raised the ire and prompted a take-down request from the attorney for Shoney's North America, LLC, Mark S. VanderBroek of Nelson Mullins Riley & Scarborough LLP.
(See SHONEY'S: Request to Remove Anonymous, Defamatory Posting on unhappyfranchisee.com)
While Mr. VanderBroek's email to us was reasonable and non-threatening, we do not remove comments or other content.
We do, however, give any person or company the opportunity to refute, rebut, disprove or otherwise disagree with any comment or statement made.
Response to the Shoney's / David Davoudpour Take-Down Request
Here is my response to the David Davoudpour take-down request (with a couple of new tweaks):
Mark S. VanderBroek

Attorney for Shoney's North America

Nelson Mullins Riley & Scarborough LLP

Atlantic Station

201 17th Street NW, Suite 1700

Atlanta, GA 30363

June 6, 2014

Dear Mr. VanderBroek,

As your request for me to remove a comment regarding your client, Shoney's CEO David Davoudpour, was cordial and professional, I shall respond in kind.

.

The mission of UnhappyFranchise.Com is to provide parties on both sides of each issue with the opportunity to express their views and opinions so that our readers can consider each side and make up their own minds. While we would prefer that commenters not engage in ad hominem (personal) attacks, the fact remains that CEOs like Mr. Davoudpour are public figures who use their personas to humanize their brands and to sell franchise opportunities with investments running into the millions of dollars.

.

When those investments fail, or when franchisees feel that there have been misrepresentations, those who have held themselves up as figureheads often become the object of anger and resentment.

.

It kind of comes with the territory, doesn't it?

.

Those who stand to get the credit when things go well also tend to get the blame when they don't.

.

That's why CEOs make the big bucks, right?

.

Unfortunately, I must respectfully decline your request to delete the comment you deem offensive.

.

While I sympathize with Mr. Davoudpour, I would like to share my thoughts on why seeking a legal solution to this issue would be a mistake and, secondly, propose a constructive and beneficial approach to this and future criticism that may appear on our site.

.

Why seeking a legal solution to online criticism will likely backfire.

.

Legal action against me or UnhappyFranchisee.Com publisher Relentless, Inc. would be a mistake.  Section 230 of Title 47 of the United States Code (47 USC § 230) states that web publishers such as myself are not legally liable for the content of 3rd party comments posted to our site.

.

In order for us to be liable for defamation, we would have to be the publisher or speaker of the offending information. Section 230 states that "No provider or user of an interactive computer service shall be treated as the publisher or speaker of any information provided by another information content provider."

.

We have been threatened numerous times to remove content or face legal action, and we have refused. We have been sued twice and prevailed both times. Each attempt to force the removal of content through legal threats and bullying resulted in significantly more negative attention for the Plaintiffs than they would had received had they done nothing.

.

I also believe legal action against the anonymous commenter would be a mistake.

.

As for your claim that the commenter's statements (I wouldn't deal with David Davoudpour again if franchises were free.  Shoney's is a dead brand.  He is a crook and a liar.  Run from this guy as fast as you can!) are defamatory, I wouldn't be so sure.

.

In the $35M case against me that was recently struck down (See Judge Henderson's decision in Golob v. Kelly on my site), the judge stated that "statements of opinion are constitutionally protected." He then went on to make the point that the same words that would be a statement of fact in "fact-based documents, such as corporate press releases or SEC filings" may be interpreted as opinions in anonymous Internet postings on forums like UnhappyFranchisee.Com that tend to be "full of hyperbole, invective and short-hand phrases."

.

As you stated, "Mr. Davoudpour is… a respected restaurant entrepreneur with a successful 30 year plus career in the restaurant business…" and "Shoney's is clearly not a 'dead brand,'" so it seems unlikely that the franchisee's statements will be interpreted as provable fact, rather than an angry franchisee's opinion.

.

In my case, Mr. Golob attacked me for stating my opinion that he has a "checkered past." Since it was ruled to be my constitutionally protected opinion, Mr. Golob not only has to pay his and my attorney fees, references to the allegation of his alleged "checkered past" and "history of litigation" are now widespread across the Internet due to his failed attempt at suppression.

.

Having an attempt to silence criticism backfire in this way is a phenomenon known as the Streisand Effect (worth Googling).

.

An invitation for David Davoudpour, CEO, Shoney's, to join the conversation

.

With all due respect to you and your profession, Mr. VanderBroek, a CEO paying an attorney to go after name-callers on the Internet is a little like a rich boy paying the big kid to threaten anyone who calls him names on the playground.

.

If Mr. David Davoudpour believes that someone is making untrue allegations about him, I would suggest that Mr. David Davoudpour speak up and set the record straight himself.

.

I invite Mr. David Davoudpour to provide me with a clarification, correction, rebuttal or other statement.   I will publish Mr. Davoudpour's statement in its entirety with the same or greater prominence as the nasty comment regarding him and Shoney's.  I will place links to Mr. Davoudpour's statement on the original post and near the offending comments so that anyone reading the criticism will see link to Mr. Davoudpour's rebuttal.

.

I would also invite David Davoudpour to address Shoney's being named to the Forbes worst franchises list. We have received one such response from a CEO whose company is also on the list, and I think he makes some good points in defense of his brand.

.

Additionally, I would also like to invite Mr. Davoudpour to join the conversation, and share comments now and in the future, by directly commenting on any of our pages. He has the ability to immediately rebut any falsehood that might appear by responding with a professional and factual comment. I doubt Mr. Davoudpour would be where his today if he did not have the ability to convincingly respond to critics and criticism.

.

Finally, please assure Mr. Davoudpour that since I started UnhappyFranchisee.Com I have been insulted, threatened and slandered all over the Internet (I am, supposedly, a drunk living out of my car, according to one.) I know the unpleasantness. But Social Media is a huge, 24-7 conversation that can't be fully controlled or manipulated.

.

All we can do is speak out, speak the truth, and trust that those who matter are smart enough to figure out who's right and who's just blowing smoke.

.

Thanks again for your email.

All the best,

Sean Kelly

Publisher, UnhappyFranchisee.Com

President, Relentless, Inc.
ARE YOU FAMILIAR WITH THE SHONEY'S FRANCHISE OPPORTUNITY? SHARE A COMMENT BELOW.
[Matched Content w/ ad]
TAGS: Shoney's, Shoney's franchise, Shoney's franchise complaints, Shoney's North America, David Davoudpour, Mark VanderBroek, cease and desist letter, takedown request, Worst franchise, Forbes Worst franchises, franchise, franchising, Unhappy Franchisee