LIBERTY TAX Franchise Warning Part 2
LIBERTY TAX Franchise Warning Part 2 is a continuation the guest post by a Liberty Tax franchisee, who posts on UnhappyFranchisee.Com as NCHillBilly.
NCHillBilly warns prospective about the downsides of the Liberty Tax franchise opportunity.
Also see LIBERTY TAX Franchise Warning Part 1.
Liberty Tax founder John Hewitt has stated "It is our goal to continue to offer an affordable chance at the American dream of business ownership to all enterprising persons who are ready to embrace our proven Liberty operating system, and be aggressive competitors in this industry."
However, Liberty Tax franchise owners tell us a much different story – stating that the Liberty Tax franchise provides more burdens and impediments to success than benefits.
In a series of comments left on our LIBERTY TAX SERVICE Franchise Complaints post,  NCHillBilly warned of a misrepresentation of Liberty Tax as business ownership, use of misleading sales numbers used to sell territories, gag orders and non-compete agreements, poor sales and retention rates, and a system that is ineffective and ever-changing.
What follows are the opinions of commenter NC Hill Billy.  We have added the bolded subheads for readability.
Are you familiar with the Liberty Tax franchise?  Please leave a comment – positive or negative – below.
A Warning from a Liberty Tax Franchise Owner
NCHillBilly writes:
Part II: Why I would not recommend Liberty Tax Service:
Liberty convinces you that you are purchasing a business. That is far from the truth, let's look at what you are being told that you purchased.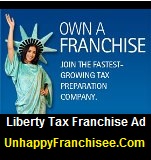 With Liberty Tax, you don't own a business
You do not own the customers, if you decide to leave before your contract is up, Liberty wants your processing equipment and any customer lists that you have.
They provide no deed or document that says you physically own a territory. If you sell your business to someone outside of the Liberty system, Liberty will come after you, like a big dog.
You are basically leasing a system for a fixed period of time. You are purchasing a very expensive lease.
Liberty Tax Gag Orders & Noncompete Agreements
Not only are you banned from talking about Liberty Tax Service for a minimum of 2 years when you leave. You are prohibited from filing taxes within 25 miles of the territory you once owned. Don't expect the right to work laws to protect you, because they will not. If you are caught doing taxes, be ready to pay some steep fines and be prepared to go and visit the federal judges in Norfolk, VA. This also means that you cannot own or operate a business doing taxes within 25 miles.
Liberty Tax gets paid before you do
Liberty's financing sounds too good to be true. Read the fine print, Liberty has a very aggressive fee intercept program. What this means that they intercept you bank product fees first. This means that when you do a bank product for a client, "Refund Anticipation Loan/Instant Cash Advance" or "Expected Refund Check" your fee will be intercepted and applied to your debt. The big issue with this concept, a large percentage of your income in first 6 weeks of tax season is from bank products, so instead of receiving any income from the work you are doing to help continue operations and increase your marketing efforts. Instead Liberty intercepts your fees and extremely limits you're the remainder of your tax season. Liberty gets paid first.
Liberty Tax gives misleading sales numbers
Your will be mislead on what are the number of returns your competitors are doing within the area that you are considering purchasing.
The reason Liberty uses these numbers is it helps sells territories.
John will stand in front of you and will tell you that 40% of tax customers are always on the move, looking for a new tax preparer. I guess John needs to explain where these 40% clients were this past tax season, as Liberty only grew by 15000 clients in the brick and mortar stores. This averaged out to 3.75 new clients per office.
Liberty Tax has a poor customer retention rate
Retention is a key factor in growing any type of service business. Just ask a financial, insurance, real estate agents and many more service industries. Liberty offices have a very poor retention rate. If 40% tax clients are on the move that means the industry retention rate is around 60%. There may be a couple of offices that have a good retention, but the majority of Liberty offices have retention rates in the 40's.
The Liberty Tax system is constantly changing and ineffective.
When you do not meet your inflated projected budget, it is quickly determined that you are not following the system. Liberty does not have a defined system. It is constantly in flux, depending on what hot item is working at the moment. John has conference calls, but he says very little. It is usually some Zee that has been selected and they will tell you what they are doing and suddenly it is the new system. That is Liberty' advantage of owning a living document, their system was originally designed on low income, cheap rent areas, but most or all of these territories are gone.
The Liberty system is not designed for middle income America.
Also read: LIBERTY TAX SERVICE Franchise Complaints (2600+ comments)
LIBERTY TAX Franchise Warning Part 1
LIBERTY TAX JTH Holding, Inc. Receives NASDAQ Notice of Non-Compliance
LIBERTY TAX Leaked Email Exposes Sleazy Sales Tactics
LIBERTY TAX Service Fiscal 2013 First Quarter Results
LIBERTY TAX IPO: Fiscal 2012 Full Year Results, OTC Trading
LIBERTY TAX: Are Liberty Tax Franchise Owners Living Their Dreams?
Are LIBERTY TAX SERVICE Franchise Owners Happy?
ARE YOU FAMILIAR WITH THE LIBERTY TAX FRANCHISE OR JTH HOLDING INC.? SHARE A COMMENT BELOW.
Tags: John Hewitt, JTH Holding Inc., Liberty Tax, liberty tax complaints, Liberty Tax Franchise, Liberty Tax franchise complaints, Liberty Tax franchise costs, Liberty Tax franchise warning, Liberty Tax sucks, Nasdaq: TAX