KNOCKOUTS Haircuts For Men Franchise Complaints
Knockouts Haircuts for Men Franchise Complaints include allegedly lack of support, inadequate marketing, and suing a franchisee of more than ten years.  Have you had experience with the KNOCKOUTS franchise?  Share your opinion below!
(UnhappyFranchisee.Com)  According to the Knockouts Haircuts for Men website, "With over 50 Locations and counting, Knockouts is the most complete and trusted Haircut and Grooming salon for men."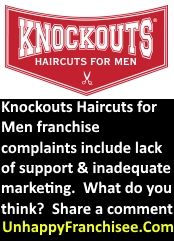 Wikipedia states that "The enterprise was founded as a limited partnership by Thomas P. Friday, his wife, Karin, and friend, Steven Turman, in Dallas, Texas in the summer of 2002. The first Knockouts salon opened on October 3, 2003 in Addison, Texas. In January 2005, the Fridays bought majority control in the partnership.
"The partnership was converted to a limited liability company, Knockouts LLC, in January 2008 and is now based in Irving, Texas. Tom Friday is Chief Executive Officer of the company, while Karin Friday is President and Steve Turman is Chief Compliance Officer."
It appears that Knockouts has taken a few blows in recent years, with locations closing in Norristown, PA, Norwood, MA, Naperville, IL, and Parker, CO, among others.
A Knockouts Haircuts for Men franchise owner of ten years alleges that the company provides inadequate support and marketing, and will sue even a long-time franchise owner in order to take over a location without paying full market value.
Knockouts Franchise Owner writes:
Be careful with this franchise headquartered in Texas!  I just completed my 10 year contract with them and got sued for not letting them just walk in and TAKE the business!  They had the first right of refusal for the lease (which expired the same day as the contract) and the right to make a "fair market value" to buy the business.  They did neither!

I elected to leave the franchise after 10 years as there was no support, no assistance in marketing and advertising, although they collected a 1% creative fee each month on top of their 5% franchise royalty.  No support, no adequate CRM systems, no vision on where to take the business is going and with locations that closed they would only blame the franchisee for failures!  It is suspected that the 1% creative fee they collected went to lavish vacations and international travel.  The fee was never used to promote the brand either regionally or nationally in any form.

The business I closed and sold to another party was very successful, profitable and popular in the area it was located.  This franchisor just expect me to hand over the key's and give the business to them which I did not do!  After 10 years of faithfully paying my royalty and creative fee with nothing in return, I had enough and informed them I was done.

I gave sufficient notice to the franchisor that I was not renewing and their response was an immediate "I will sue you" which they have done and I am now fighting that lawsuit!  Everything I did was as expected with leaving the franchise per their contract, but because I believe they could not offer a fair market value to buy the "business" they elected the lawsuit.  All I got from this franchise was pictures and decorations!

Stay away from this franchise as 10 years of fulfilling your obligation just might land you in a lawsuit!
ALSO READ:
FRANCHISE DISCUSSIONS by Company
ARE YOU A KNOCKOUTS HAIRCUTS FOR MEN FRANCHISE OWNER OR FRANCHISEE?  ARE YOU FAMILIAR WITH THE KNOCKOUTS FRANCHISE OPPORTUNITY?  SHARE A COMMENT BELOW.
TAGS: Knockouts franchise, Knockouts franchise opportunity, Knockouts franchise complaints, Knockouts Haircuts for Men franchise, Knockouts Haircuts for Men franchise opportunity, Knockouts Haircuts for Men franchise complaints, unhappy franchisee