Federal Judge Gerald Pappert REQUIRES Convicted Franchise Scammer to Sell Franchises as Condition of Bail
In July, 2020, Federal District Judge Gerald "Jerry" Pappert signed a bail order that appears to require convicted franchise opportunity scammer Dennis Mason to maintain his current employment (selling franchises opportunities) as a condition of bail. In addition to decades of state enforcement actions and lawsuits for franchise fraud, Dennis Mason pled guilty to defrauding as many as 160 franchise investors. by Sean Kelly
(UnhappyFranchisee.Com) NOTE: We have requested clarification and/or comment from the Department of Justice & Judge Pappert's Chambers and will post their response if/when received.
If the prosecution of known franchise scammers Joseph Smith and Dennis Mason were a movie – even a dark comedy – I would want my money back.

The writers of this bad, sad comedy have "jumped the shark," that is, created a scenario so implausible as to defy rational belief.
Well, I'm sorry to say, friends and neighbors, that truth once again has exceeded the zaniest fiction:
Gerald "Jerry Pappert, who was nominated to serve as a United States District Judge of the United States District Court for the Eastern District of Pennsylvania by Barack Obama in 2014, is presiding over the trials of convicted franchise scammers Joseph Smith and Dennis Mason.
In what's called the NY Bagel Franchise Scam, the two ran deceptive ads on Craig's List and other sites promising turnkey, fully financed bagel shop franchises for flat franchise fees of $24,000 to $49,000. The two used deceptive claims and false documents to lure some of their 160 victims into losses in the hundreds of thousands of dollars.
Victims included a widowed military veteran with two small children, retirees who needed to supplement their fixed income, and a man who is legally blind. The scam resulted in home foreclosures, bankruptcies, shattered marriages and at least one defaulted SBA loan paid by the taxpayers.
Dennis Mason sold the bogus franchise opportunities using a number of aliases (Brian Scofield, Keith Samuels, David Malin) to hide decades of state enforcement orders and civil lawsuits for franchise fraud.
Years of Complaints & Reporting Finally Prompted Federal Charges Against Mason
Victim complaints and interviews shared with and reported by the UnhappyFranchisee watchdog site exposed the massive NY Bagel Franchise Scam. (See NY Bagel Franchise Scam Links & Complaint Timeline)
As the number of victims and evidence grew in volume, publisher Sean Kelly created the dedicated website NYBagelScam.Com.
On 6/25/20, Dennis K. Mason of Frenchtown, NJ was charged with one count of wire fraud and one count of conspiracy.
On 7/30/20, Judge Pappert signed a Conditions of Release Order (073020 Dennis Mason Bail Conditions) for Dennis Mason.
It not only didn't forbid Dennis Mason from selling franchises, it specifically required him to continue to sell franchises.
Even, it seems, NY Bagel Cafe, NYC Bagel & Sandwich Shop and Davidovich NYC Bagel franchises.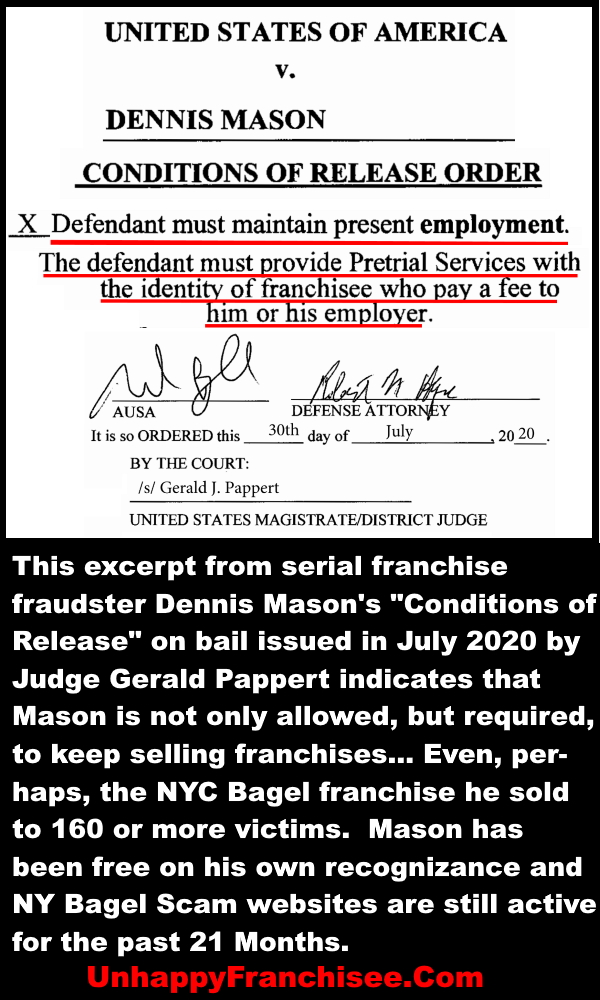 Serial Franchise Scammer Dennis Mason ALLOWED – even REQUIRED (?) to Sell Franchise Opportunities While on Bail
Dennis Mason Conditions of Release Order issued by Judge Pappert states:
Defendant must maintain present employment.
Acknowledging that Dennis Mason's "present employment" is selling fraudulent and illegal NY Bagel scam franchises, a typed addition in the margin reads:
The defendant must provide Pretrial Services with the identity of franchisee who pay a fee to him or his employer.
Dennis Mason Has Franchise Lawsuits Going Back to 1997, Three State Enforcement Orders & Two Guilty Please for Franchise Fraud
Since 2012, UnhappyFranchisee has issued public warnings about the man Judge Jerry Pappert has required to continue selling franchises for the past two years.
In 2012, we posted complaints we received and invited more here: DENNIS MASON Franchise Complaints
In 2015, we posted Joe Smith, Dennis Mason & NY Bagel Café Franchise Exposed: 10 Things You Should Know. That post documents the NY Bagel franchise scheme and lists the lawsuits against Dennis Mason & Joe Smith.
In 2016, we exposed Dennis Mason lawsuits, enforcement orders and fraud allegations going back to 1997: DENNIS MASON Franchise Lawsuits, Controversies, Aliases & Warning.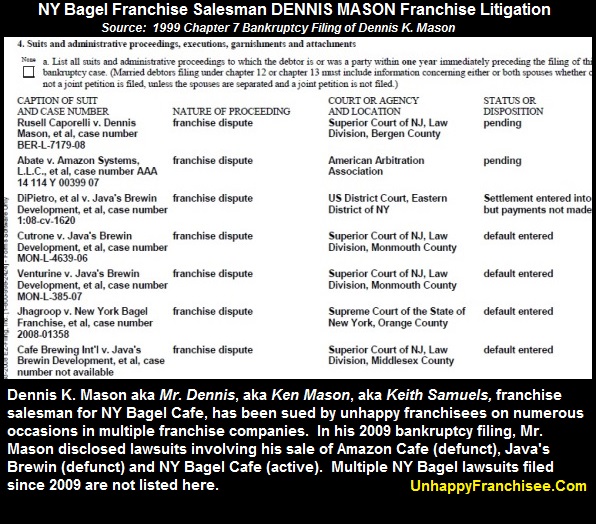 Dennis Mason was sued for deceptive franchise sales practices for numerous companies, including Motorwerks, Petrucci's, Amazon Cafe, Java's Brewin', Mike Schmidt's Hoagies, and more.
He's been hit with state enforcement orders for franchise violations by Maryland ( Davidovich NYC Bagel Maryland Final Order) Virginia (Virginia v. NY Bagel Cafe, Joe Smith, Dennis Mason – Order to Show Cause) and Washington (NY Bagel WA Franchise Order) .
Dennis Mason's Sentencing Hearing is Scheduled for Wednesday, April 13, 10:00 am, Honorable Judge Gerald Pappert Presiding
Dennis Mason's plea deal is sealed and not publicly available on PACER.
His sentencing hearings have been rescheduled multiple times without public notice, making attendance impractical.
Here is the current Notice of Hearing as of this publication: Dennis Mason – Notice of Hearing
We've posted the latest on Joseph Smith's prosecution here: NY Bagel Scammer Joe Smith to Get LESS Than Five Years for Massive Franchise Fraud
SHARE YOUR THOUGHTS BELOW OR CONTACT SEAN KELLY IN CONFIDENCE AT UNHAPPYFRANCHISEE[AT]GMAIL[DOT]COM.
Press inquiries will be quickly answered.
TAGS: NY Bagel Scam, Bagel Franchise Scam, NYC Bagel franchise, Joe Smith scam, Dennis Mason Franchise scam, Joseph Smith Newburgh NY, Bagel scam Trial, US Attorney David Ignall, US Attorney Eric Powers, Judge Gerald Pappert, Judge Jerry Pappert