JANI-KING Franchise Complaints
JANI-KING Franchise Complaints: Add your own – or defend the company – below.
(UnhappyFranchisee.Com) Entrepreneur magazine lavishes high praise on the Jani-King franchise opportunity via its 2010 franchise rankings.  Entrepreneur ranked the 10,000+ unit Jani-King #8 overall in the 2010 Franchise 500, the #2 low-cost franchise, the #1 home-based franchise and #7 in the "America's Best Global Franchise" category.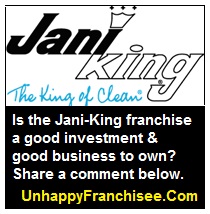 Of course, Entrepreneur states that when compiling their rankings they do not "measure subjective elements such as franchisee satisfaction…" since "…these are judgments only you can make."
In a time when many individuals are struggling to make ends meet, the Jani-King franchise opportunity – with its low start-up cost and guaranteed cleaning contracts – seems especially enticing.  But do a bit of digging and you'll find some troubling – and remarkably consistent – complaints from Jani-King franchise owners.
Lawsuits allege a cleaning-contract shell game.
In an August, 2009 Franchise Times article on lawsuits leveled against commercial cleaning franchise companies, Julie Bennett writes:
…the lawsuits, filed recently in Massachusetts against all three companies and in Pennsylvania, Minnesota and California against Jani-King, contend that the cleaning companies misrepresent their offerings, because they do not have sufficient customers to guarantee each franchisee the amount of monthly cleaning business they purchase. Instead, the lawsuits allege, they breach their contracts by underbidding the amount of time and staffing required for each job, refusing to allow franchisees to inspect cleaning jobs or bid sheets before accepting or rejecting a job, offering geographically inconvenient jobs and unjustly taking jobs from one franchisee to re-sell them to others.
Consumer complaint sites are abundant with specific complaints about the Jani-King franchise, the franchisor and the regional master franchisees who recruit unit-level owners. 
On the Complaints Board, 2009-08-22 letshelp wrote
franchise is a scam

I purchased a Jani-King Commercial Cleaning Franchise after reading they were a great franchise opportunity in several franchise magazines. During my initial meeting with the regional director I expressed concern over the 40% they take off the top of what clients are billed. He told me not to worry as they take all their fees into consideration when giving a cleaning quote to a client.

When they started offerring me contracts I would do the math and tell them there was very little profit in some contracts and absolutely none in others. I was told this was a low profit margin industry and I had to learn to work some "break even" contracts for I would get additional business from those same clients ( floor waxing ).

I accepted some of these contracts since they are only required to offer you the amount of cleaning business you purchased (with the franchise cost ). If you don't accept the accounts they are not required to offer you anymore.

Once I started working accounts, the operations director would go by the account every month to evaluate the franchisee's performance. He would always find something negative to write about to justify taking the account away from the franchisee and reselling it to a new franchisee. So the franchisee ends up losing the original franchise fee and whatever fee he paid for the accounts he was working at hardly no profit.

I later learned this type of scam preys on people who have never been in business for themselves – so trust the Franchisor. If anyone is looking into purchasing this type of franchise, do yourself a favor and run a Google or Yahoo search on Jani-King. They have had numerous lawsuits and government complaints. I lost all my savings, but hopefully others can learn from my mistake.
85 days ago, Rickety Rabbit responded:
Almost the same thing happend to me in Boston. I bought a Jani King franchise in 2006. I paid $15, 000 for $4000 per month in business.  Minus the 22% Jani- King takes off the top. With what is left I pay for labor, chemicals, and equipment.

Jani King has it so they do not have to provide you with the $4000 per month in business, they only need OFFER it to you. If you refuse it, that's it. They don't owe it to you any longer. You had your chance. But here is what they do. They underbid the account by hundreds of dollars. They make false promises to the business owner, and do not tell the franchise owner about it. When the business owner cancels because the promises are not met, the franchise owner is left to make a decision. Take care of the promises never mentioned to you ( such as delivering the newspaper ever morning, or a free strip and wax every month) both are actual cases, and both would have put me in the negative for profit.

So I was forced to give it up. No fault of mine. Also the account is not supposed to cancel before one year. If they do Jani King promises to file suit with a killer legal team. Which they must have because they are still in business. However they only use it to defend itself from angry franchise owners.

They purposely offer you accounts that are way underbid, or too far away. When you deny them, they no longer owe you the account. If I could do it all over again I would invest in real estate on Venus before having to deal with this again.

One last thing. I placed over 40 calls per month to the district manager for four months straight. Not one call answered not one call returned. I had to buy an existing franchise that was already working with history in order to pay the bills while waiting for my $4000 in business. Now I am about to lose those accounts to under bidders. Can you believe that? In this economy there are those worse then Jani King that UNDERBID them. Sorry. Very sorry.
ARE YOU FAMILIAR WITH THE JANI-KING FRANCHISE?  WHAT DO YOU THINK? SHARE A COMMENT BELOW.