JAN-PRO Franchise Complaints
JAN-PRO Franchise Complaints.
Janitorial franchises like Jani-King, Coverall and Jan-Pro are quite controversial, with detractors warning that franchisees are really just buying low paying jobs… or worse.  UnhappyFranchisee.com asked:  Is the JAN-PRO Franchise a Scam?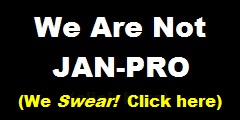 Here are some of the comments we received:
N LYNN wrote:
"We have an account we no longer wish to service – it doesn't pay enough for all the work required.
"We gave them notice that we would no longer be working that account, but they say we can't quit it until they find someone to fill it. I don't think they are trying very hard. "

Jeff wrote:
"These guys underbid all the competition, so low that no one can make any money. If you buy a franchise from Janpro, read their contract before anything. Don't gave them any money until you read the contract. You can Google them and read anything on Ripoff report to see what their former franchise people have to say about Janpro. I agree, they pay so low there is no way you can hire anybody, so low you will have to hire illegal immigrants to work for nothing because you can pay enough for the minimum wage because they bid so low onthe job and suckered you to buy the account because the cleaning is getting done for nothing…. Search and research if this business is for you, it is not a 100K business like you think, it takes a lot of work to earn that."
Patty wrote:
"Beware, Beware, Beware!!!!!!!!! Jan Pro franchise is a huge rip off. The business tactics they use are very deceitful. They lie to you to get you to buy into the business and AFTER you have given your money to them you find out the truth. You will not make money unless you work 24 hours a day and do all the work yourself. Find an ongoing lawsuit and join in if you can or start your own lawsuit against them to get your money back."
Jerry wrote:
"I to got rippedoff by jan-pro. They got me accounts that payed so low that I was making less than minimum wage. Since I posted my Phone number on another site I have been geting Tons of calls from people all over the country. I cant believe how many people from all over the country have called me. I even received a call from Canada. It's really sad how jan-pro keeps ripping off so many people and so many families. What is really sad is when they ripoff single Moms. Now many of us from all over the country are getting together and we are taking legal action. I'm now a member of a National Class Action Lawsuit."
ARE YOU FAMILIAR WITH THE JAN-PRO FRANCHISE?  PLEASE SHARE YOUR THOUGHTS & EXPERIENCES – GOOD OR BAD – BELOW.
READ MORE ON JAN-PRO:
JAN-PRO: Is Jan-Pro a Great Franchise Opportunity?
JAN-PRO: Is JAN-PRO Franchise a Scam?
JAN-PRO UnhappyFranchisee.com Responds to Jan-Pro Threat
JAN-PRO Threatens UnhappyFranchisee.com