GARAGE FORCE Franchise Complaints
Garage Force franchise marketing claims its program provides all the tools for immediate success as a business owner.  Some franchisees claim Garage Force is a deceptively marketed scam that preys on military veterans and illegally hides its many franchise failures.  Which is it?  Let's dig in and find out.
(UnhappyFranchisee.Com) The Garage Force franchise investment is sold by Ilfrich Integrated Solutions, Inc. (f/k/a Garage Force International, Inc.) of Onalaska, WI.
According to its 2018 Franchise Disclosure Document (FDD), "Garage Force® Businesses provide products and services for residential garages, including the application and installation of coatings for concrete and concrete floors; the repair, maintenance and renovation of concrete and concrete floors; and the design and installation of cabinets and related storage accessories and organization systems."
The FDD states that the total investment necessary to begin operation of a Garage Force® franchise is between $68,300 to $137,600, which includes $65,000 that must be paid to the Franchisor or an affiliate.
Garage Force Sells the American Dream of Business Ownership
According to the Garage Force franchise website:
We are looking for motivated entrepreneurs who are looking for a profitable franchise opportunity… We've spent years developing a strong business strategy and marketing plan that will enable you to operate your own Garage Force franchise and begin generating immediate revenue.

When you franchise with Garage Force, we will supply you with all the tools you need to be successful immediately. Be your own boss and build your own company while offering you the training and support you need to transition from working American to a business owner.
Garage Force Targets Military Veterans
Garage Force specifically advertises to and targets U.S. military veterans for it franchise investment.  Its promotional page on a military jobs website states:
Garage Force is dedicated to the men and women who are serving or have served our great Nation. We are looking to assist you in building a strong Franchise business, building legacy for you, your family and our country.

We don't require tens of thousands of dollars down. We've developed a financing system designed for Veterans that will allow anyone, with minimal up-front costs, to get started immediately.
Franchisees Allege Garage Force is Deceptively Marketed, Hopelessly Flawed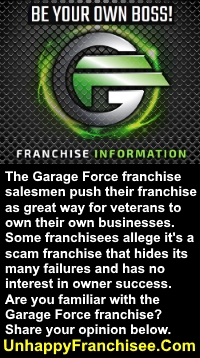 Contrary to the professional, conscientious tone of its franchise marketing materials, some franchisees claim that Ilfrich Integrated Solutions, Inc. is deceptively marketing and selling franchisees a flawed, unsustainable business model, and is concealing its many franchise failures both from prospective franchise owners in violation of the FTC Franchise Rule and state franchise regulations.
We are reaching out to the principals of the Garage Force franchisor, which include Michael J. Peterson, President, Chief Executive Officer, Treasurer, Secretary and Director, and Patrick J. Ilfrey,  Director for clarification, comment or rebuttal on the allegations that follow.
We are also reaching out to attorney Ryan R. Palmer of Gray Plant Mooty who appears to have filed the state registrations for Garage Force and, perhaps, drafted the Garage Force FDD.
Michael J. Peterson swore, under penalty of law, that the representations in the FDD were truthful, complete and accurate, so the franchisee's allegations that failures were not disclosed, one would assume, could have serious ramifications.
Allegation:  The Garage Force Franchise is a Scam
This comment was posted to the UnhappyFranchisee.Com website:
Beware of Garage Force out of La Crosse WI.  [They] charge you for a territory, a trailer full of junk, then mark up the materials so high you cannot compete, plus want 6% off the top.

Zero marketing help, zero business help.

Over 50% of their franchisees have failed, close up, went bankrupt or just quit.

They marketed to American Veterans as "be you own boss" then left them to fail as did others.

They never let new franchisees know the failure rates as the signed more up.
Its a total product pumping scam then the hard working families get screwed. Stay away! Run!
I can back up all this with a report that details the facts on each and every owners.
Total Scam!
Allegation: Garage Force Hides Franchisee Failures
A detailed report compiled in Fall 2018 by one of the Garage Force franchise owners alleges that the company and Mike Peterson blatantly lied about franchisee failures from early on:
…in late 2015 through 2016, there were several franchises that failed during that time, none of which were reported to other owners or incoming owners. In fact, owners purchasing franchises in 2017 related that Mike Peterson claimed the health of the company was great and no owners had left to that point. As of September, 2018, thirty (30) owners both listed and not listed on the company website are no longer operating and an additional eleven (11) are seeking options for exit, leaving twenty-three (23) either not unsatisfied or new.
Garage Force Complaint: No Established Business System
The franchisee's report alleges that there is no established business system as would be provided to new business owners by a more established franchisor:
Garage Force is not and never was a proven business system. Specific detailed installation processes from the manufacturer do exist in their training manual, however, there remains to be no Garage Force Standard Operating Procedures to address all business systems necessary in the successful business operation of the franchise.  New owners, most of which have never run a business, are expected to plan and execute management processes, accounting processes, sales and marketing processes, human resource management processes in addition to the legal requirements of the business setup without any guidance or training.
Simply put, franchisees allege that Garage Force does not provide the necessary tools or training for new business owners to establish and grow their Garage Force businesses.
Garage Force Franchise Complaint:  Lack of Owner Support
The franchisee report claimed that it had gathered input from numerous franchise owners.
[Nearly every owner] expressed strong frustration over lacking owner support from the franchisor. Not one owner claimed the ability to reach Mike Peterson or Tim Trailer by phone directly at any attempt. Returned calls were latent if made at all.

[Technical Director] Roger Hackman received mixed reviews on reachability and mostly negative on reliability of information provided.

[Market Relations Manager] Sam Peterson received the most favorable comments and often cited as the only person regularly in the office.
Garage Force Complaint:  No Interest in Improvement, Just Selling Franchises
Franchisees have expressed the view that the franchisor, as a whole, has no real interest in their success… or even survival.  Selling new franchises and collecting new fees seems to be the greater priority.  The franchisee report states:
Garage Force as a business has remained relatively unchanged for the last three years…

…the franchisor promised an updated training manual branded with Garage Force in 2015, no such manual has ever come to fruition.

The latest promise included an updated website launching in September 2018 to replace the homemade disaster currently online. As per usual, no owner input was solicited. When an owner forum for real-time discussion was requested in order to address immediate issues when office personnel were unavailable, which occurs most of the time, a filtered static posting site was created and used by no one.

The general consensus among owners still operating is that the franchisor is not interested in owner success, but only in moving product and selling more franchises.
Garage Force Complaint:  Poor Owner Selection, Training, Responsiveness
The franchisee report does not claim that all franchisees are unhappy nor unsuccessful.  There are some who are content and doing fine.  However, the report claims that the majority are recruited with little selectivity, provided with inadequate training, a weak and poorly documented business model, and, for the most part, left to founder and fail on their own:
Garage Force sells franchises to whoever will buy them without regard to the fit of the owner to the business structure. Unfortunately, even the owners that seemed right for franchise were destined for failure due to lack of knowledge, training, support, and a stable business model that favored the [franchisor] owner.

Well over half of all the Garage Force owners to-date are no longer operating, although many are still listed on the company website. Many of these owners were contacted and shared their discontent with company management not trying harder to avoid franchise location failures. Two franchise owners, one recently removed from the website, still own the franchises although stopped payments over a year ago. Both have reached out through phone and email to discuss options and have received no response from Garage Force.

Other owners have identified specific areas where the business model is failing and have received no assistance from the franchisor to address the problems within the market. Most owner suggestions and requests have remained ignored for the last three years.
ALSO READ:
FRANCHISE DISCUSSIONS by Company
Posts on Franchise Brokers
ARE YOU FAMILIAR WITH THE GARAGE FORCE FRANCHISE?  SHARE A COMMENT BELOW.
TAGS: Garage Force, Garage Force franchise, floor coating franchise, Ilfrich Integrated Solutions, Michael J. Peterson, Patrick J. Ilfrey, Citadel Floor Finishing Systems, Rust-Oleum, Mike Ilfrey,  Garage Force International, attorney Ryan R. Palmer, Gray Plant Mooty, Roger Hackman, Sam Peterson, Garage Force franchise opportunity,