FRANCHOICE Sued by ILoveKickboxing Franchise Owners
Franchoice and franchise brokers Matt Stevens, Careyann Golliver and Scott Jones are getting pummeled in multiple franchise lawsuits by I Love Kickboxing franchise owners.  I Love Kickboxing franchisees, represented by W. Michael Garner and Garner & Ginsburg, P.C.,   allege that Franchoice, Golliver & Wagner used fraudulent sales tactics and made fraudulent misrepresentations to acquire ILoveKickBoxing ("ILKB") franchise that "had no chance whatsoever of succeeding."
(UnhappyFranchisee.Com)  W. Michael Garner and  attorney Erin C. Johnsen of Garner & Ginsburg, P.C. are delivering stinging blows to franchise broker Franchoice and Franchoice franchise brokers Stephen Wagner & Careyann Golliver.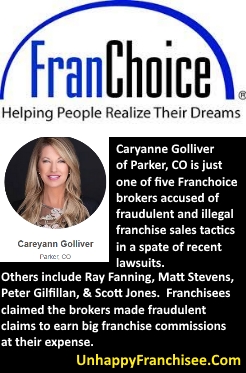 Franchoice has been pummeled by seven separate lawsuits by Garner on behalf of I Love Kickboxing franchise owners.  Six of the suits were filed between February and May, 2019.  The other suit was filed in September, 2017 and closed November, 2018.
A search of the PACER database reveals these cases:
Exciting Brand Holdings LLC et al v. FranChoice Inc. and Matt Stevens
Case number 1:2017cv06972; New York Southern District Court, Filed 09/13/2017  Closed 11/01/2018
Mount Holly Kickboxing, LLC et al v. Franchoice, Inc. and Careyann Golliver
Case number 0:2019cv00300;  Minnesota District Court, Filed 02/07/2019
Golden Polar Bear, LLC et al v. Franchoice, Inc. and Peter Gilfillan
Case number 0:2019cv00484; Minnesota District Court, Filed 02/27/2019
The Orange Rabbit, Inc. et al v. Franchoice, Inc. and Ray Fanning
Case number 0:2019cv00687; Minnesota District Court, Filed 03/14/2019
Hasko et al v. Franchoice, Inc. and Caryann Golliver
Case number 0:2019cv00702; Minnesota District Court, Filed 03/14/2019
JTKB, LLC et al v. Franchoice, Inc. and Scott Jones
Case number 0:2019cv00919; Minnesota District Court, Filed 04/03/2019
Wagner v. Franchoice, Inc. and Careyann Golliver
Case number 0:2019cv00940; Filed Minnesota District Court, Filed 04/04/2019
George Wagner v. Franchoice and Careyann Golliver
The seven open lawsuits brought against Franchoice, Inc. and its brokers by I Love Kickboxing franchisees vary slightly in their details, but allege the same basic fraudulent and illegal marketing and sales tactics.
George Hasko is an I Love Kickboxing franchisee with an unprofitable location in Watchung, NJ.  His complaint alleges:
This is an action brought by Plaintiffs against FCI, a franchise broker, and Ms. Golliver, FCI's agent and representative, arising out of FCI and Ms. Golliver's use of fraudulent and unlawful sales tactics to induce Hasko to purchase and invest in an ILoveKickBoxing ("ILKB") franchise. In short, FCI and Golliver held themselves out as experts in matching prospective franchisees like Hasko to appropriate franchises for purchase. Having gained his confidence, they then told Hasko, among other false statements, that he would make a six-figure income as an absentee owner of an ILKB franchise – statements that not only were false, but were against federal and state law concerning franchise sales – the very business that Defendants were in.
The Hasko lawsuit claims that Franchoice broker Careyann Golliver, of Parker, CO, defrauded him:
Golliver holds herself out as a "franchise expert" and "award-winning franchise consultant" and "former franchisor" who was offering a "rocketship of an opportunity in a semi-absentee opportunity." This opportunity, later revealed to be ILKB…  she stressed that it could "significantly increase your wealth and your income while only working 10-15 hours per week" and that a buyer would be able to keep his day job and current paycheck, and grow three, five or ten franchises.
Careyann Golliver allegedly made a number of fraudulent misrepresentations to prospective franchisee George Hasko:
Defendants' Misrepresentations

15. During his discussions with Golliver, she made the following representations about the ILKB franchise:
a. The business was suitable for absentee ownership, meaning that Hasko would only need to put in 5 to 10 hours a week surprising a manager.
b. Marketing was the key to ILKB and if you followed the franchisor's instructions, the concept was 93 percent successful.
c. With 200 members, the studio would make money; average membership was $125 a month and therefore the breakeven was approximately $25,000 per month.
d. ILKB had never had a single closure.
e. The average net profit was about $10,000 per month.
f. Total investment to open a unit was $200,000 to $250,000.
The reality, according to the lawsuit, is that Hasko's I Love Kickboxing franchise has not been profitable and has accumulated operating losses in excess of $300,000 and rising.
George Hasko's franchise owes a minimum of $370,000 on its lease.
The suit alleges:
The Falsity of Defendant's Representations
19. After opening the business, Plaintiffs learned that the representations that FCI and Ms. Golliver had made to Hasko were not true:
a. Contrary to FCI's representations, the franchise is not suitable for absentee ownership and requires constant attention by the owner.
b. Contrary to the marketing representations made by FCI and Ms. Golliver, ILKB was unable to sufficiently market and promote Plaintiffs' franchise, and Plaintiffs were required to conduct and pay
for their own marketing activities.
c. Breakeven costs were well over $25,000 per month.
d. In 2015 alone, ILKB had closed or repossessed 10 locations.
e. The representations of profit were false, unsupported and in violation of federal and state law.
f. The estimate of necessary startup costs provided by Ms. Golliver proved to be wholly inaccurate and Plaintiffs ultimately invested more than $360,000.
g. Contrary to FCI and Ms. Golliver's representations, Plaintiffs' franchise did not generate a six figure income and has instead lost significant money.
20. Most significantly, FCI never disclosed that attrition made it impossible to attain or maintain the levels of membership needed to "break even."
Please share your opinion below.
Are you familiar with the I Love Kickboxing franchise opportunity?
Are you familiar with Franchoice franchise brokers?
Have you dealt with franchise brokers Careyann Golliver, Ray Fanning, Scott Jones, Peter Gilfillan or Matt Stevens?
Do you find the I Love Kickboxing franchisees' allegations credible?
ALSO READ:
FRANCHISE DISCUSSIONS by Company
Posts on Franchise Brokers
ARE YOU AN ILOVEKICKBOXING FRANCHISEE OWNER?  HAVE YOU WORKED WITH FRANCHOICE, FRANNET OR OTHER FRANCHISE BROKERS?  SHARE A COMMENT BELOW.
TAGS: Franchoice, franchise brokers, Michael Parrella, Caryanne Golliver, Careyann Golliver, Ray Fanning, Scott Jones, Peter Gilfillan, Matt Stevens,  I Love Kickboxing, ILoveKickboxing, I Love Kickboxing franchise, ILoveKickboxing franchise opportunity, ILKB franchise, W. Michael Garner, Erin C. Johnsen, Garner & Ginsburg, P.C. , kickboxing franchise, unhappy franchisee